Staff information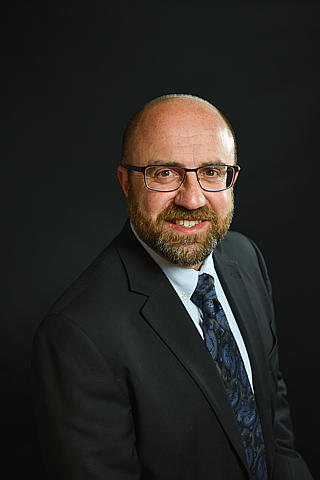 Louis J. Terminello
Physical & Computational Sciences
ALD, Research
Pacific Northwest National Laboratory
PO Box 999
MSIN: J7-10
Richland, WA 99352
Send Email
Biography
Lou Terminello is the Associate Laboratory Director of the Physical & Computational Sciences Directorate at Pacific Northwest National Laboratory. In this role he is responsible for a broad range of fundamental research at PNNL sponsored by the Department of Energy's (DOE's) Office of Science, including work in advanced computing, chemistry, materials science, and particle/nuclear physics. Dr. Terminello led the team for securing a new $89M DOE Science Laboratory Infrastructure facility for the Energy Sciences Capability at PNNL. Represents PNNL to executive-level sponsors and leadership within DOE, industry, and academia.
Immediately before becoming the Associate Laboratory Director, he planned the transition of and served as Acting Associate Laboratory Director for the Fundamental & Computational Sciences Directorate as well as the Physical & Computational Sciences Directorate. Before that, he served as Chief Science and Technology Officer for the National Security Directorate.
Dr. Terminello came to PNNL in 2009 as Chief Scientist for the Fundamental & Computational Sciences Directorate, where he was responsible for setting and implementing a strategic vision to build PNNL's fundamental science capabilities. He provided scientific leadership and oversight for scientists across PNNL within the areas of fundamental and computational sciences and was responsible for building internal investment initiatives. Dr. Terminello led a $29M Chemical Imaging Initiative at PNNL aimed at developing molecular-scale imaging platforms for several science domains. He also led a Laboratory Objective at in the field of Chemical Imaging of Dynamic Systems aimed at developing unique capabilities addressing challenges in the materials, chemical, biological, and environmental sciences.
He previously served as the Deputy Associate Director for Programs in the Physical and Life Sciences Directorate at Lawrence Livermore National Laboratory (LLNL). The organization has responsibility to provide scientific personnel, strategic planning, and development of science and technology capabilities to support Laboratory core programs as well as external contracts at LLNL. In this capacity he worked closely with the Global Security, NIF and Photon Science, Weapons and Complex Integration (WCI), and Science and Technology's principal directorates' to ensure programmatic alignment, implementation, and execution of science and technology activities at LLNL.
Dr. Terminello was the Materials Program Leader for WCI at LLNL from 2003 to 2008. In this role, he restructured and managed a $32M materials science and engineering portfolio responsible for materials aging/lifetime assessments. During this appointment Louis Terminello led the Reliable Replacement Warhead -2 Phase 1 Study and was the Nuclear Forensics Leader at LLNL. Prior to this position, he was Division Leader for the Materials Science and Technology Division (MSTD) in LLNL's Chemistry, Materials, Life, and Energy Sciences Directorate.
Before joining LLNL in 1991, Dr. Terminello was a postdoctoral researcher at IBM Yorktown Heights. He has more than 160 publications on synchrotron radiation studies of nanostructured and interfacial materials. He also has several patents awarded or pending, served on numerous scientific advisory and review committees, organized several national and international conferences (including the 2006 Materials Research Society Fall meeting with more 5000 attendees), and edited 6 books in the field of materials characterization using synchrotron radiation. He is a fellow of the American Physical Society and the American Association for the Advancement of Science.
Education and Credentials
Ph.D., Physical Chemistry, University of California, Berkeley, 1988
B.S., Chemistry, Massachusetts Institute of Technology, 1983
Affiliations and Professional Service
American Physical Society
American Association for the Advancement of Science
American Chemical Society
Materials Research Society
Awards and Recognitions
Fellow, American Association for the Advancement of Science, Chemistry Division, for innovations in synchrotron radiation spectroscopy research in revealing electronic and atomic structure of new materials; and strategic leadership in the field of chemical imaging, 2015
DOE Defense Programs Award of Excellence (Team Leader) for Successful execution of the Pit Lifetime Program, 2006
Fellow, American Physical Society, Materials Physics Division, for Innovative use of synchrotron radiation spectroscopies in revealing the electronic and atomic structure of new materials, 2004
Lawrence Livermore National Laboratory Science and Technology Award for Discovery of Bucky-diamond and unraveling the structure of Si and Ge nanoclusters, 2004
University of California, Berkeley-Chemistry and Regents Fellowships, 1983-85
E.I. duPont Research Fellow, 1983
PNNL Publications
2013
Lee J.R., Y.J. Han, T.M. Willey, M.H. Nielsen, L.M. Klivansky, y. liu, and S. Chung, et al. 2013. "Cooperative Reorganization of Mineral and Template during Directed Nucleation of Calcium Carbonate." Proceedings of the National Academy of Sciences of the United States of America 117, no. 21:11076-11085. PNNL-SA-88837. doi:10.1021/jp400279f
2012
Lee J.R., H.D. Whitley, R.W. Meulenberg, A. Wolcott, J.Z. Zhang, P. Prendergast, and D.D. Lovingood, et al. 2012. "Ligand-Mediated Modification of the Electronic Structure of CdSe Quantum Dots." Nano Letters 12, no. 6:2763-2767. PNNL-SA-88482. doi:10.1021/nl300886h
Thevuthasan S., J.E. Evans, L.J. Terminello, D.W. Koppenaal, K.L. Manke, and C. Plata. 2012. Compact X-ray Light Source Workshop Report. PNNL-22145. Richland, WA: Pacific Northwest National Laboratory. Compact X-ray Light Source Workshop Report
2011
Meulenberg R.W., T.M. Willey, J.R. Lee, L.J. Terminello, and T. Van Buren. 2011. "Erbium Doping Effects on the Conduction Band Edge in Germanium Nanocrystals." Applied Physics Letters 98, no. 20:Article No. 203107. PNNL-SA-79949. doi:10.1063/1.3592999