Mass Spectrometry-Based
Measurement Technologies
Precise and sensitive
molecular analysis
Some of the most challenging scientific problems in disease prevention, diagnosis, and treatment have answers in the mass of individual molecules.
Technologies based on mass spectrometry help to identify individual molecules, intact proteins, lipids, and isotopes in samples as small as a single biological cell. When used for multi-omics applications, mass spectrometry provides information crucial to identifying large-scale patterns in proteins and molecular metabolites, leading to new biological understandings.
PNNL researchers utilize mass spectrometry instruments with ultra-high resolution to analyze intact proteins and thousands of other molecules in complex mixtures extracted from soil and microbes. They also develop mass spectrometry-related technologies to improve analytical sensitivity; when combined, not even an invisibility cloak can let a compound hide in samples. Click the links in each description to learn more, including licensing potential.
Ion Mobility Spectrometry-Mass Spectrometry (IMS-MS)-based Analysis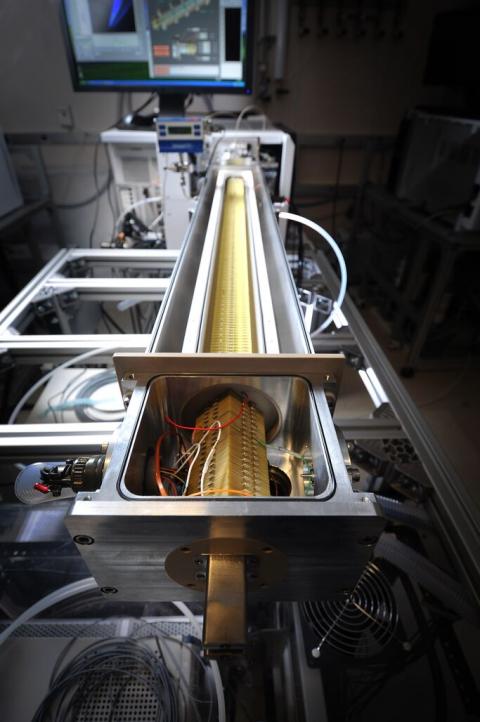 Our researchers developed an ion funnel, funnel trap, and a IMS multiplexing technique to improve the connection between a region of an instrument that separates ions based on their mobility and another that separates based on mass and charge. When used together, these innovations led to an incredibly sensitive ion mobility device that can be easily coupled with liquid chromatography-mass spectrometry systems to enable more informative and sensitive measurements.
Improvements to Drift Tube IMS
A traditional type of ion mobility spectroscopy is a drift tube. It consists of a series of ring electrodes spaced along a tube as long as 2 meters. An ion funnel trap at one end accumulates ions and "pulses" them into the drift tube.
Ion funnels, a technology also developed at PNNL, are also used at the exit of the tube to collect dispersed ions and direct them through a small opening with negligible losses, providing significantly improved sensitivity. PNNL researchers also created and patented several technologies to further improve analysis, including a means of ion filtering and additional separations.
Structures for Lossless Ion Manipulation (SLIM)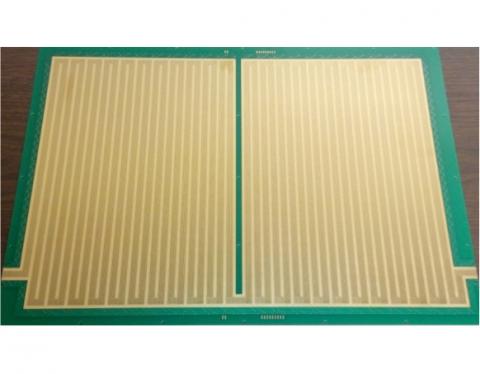 SLIM devices are made of inexpensive, compact printed circuit boards that use electric fields to trap or move ions along a long path, transporting them so they can be separated, reacted, and measured. Ions never touch the surface of the boards, thereby preventing loss before they reach a mass spectrometer. The paths can be serpentine, allowing ions to travel a long path in a compact device, allowing much greater resolution for IMS separations.
SLIM enables ultrahigh resolution IMS and mass spectrometry with increased sensitivity. The technology can identify trace amounts of very similar molecules—and distinguish very similar compounds—in complex samples.
Ultrahigh resolution Fourier-transform mass spectrometry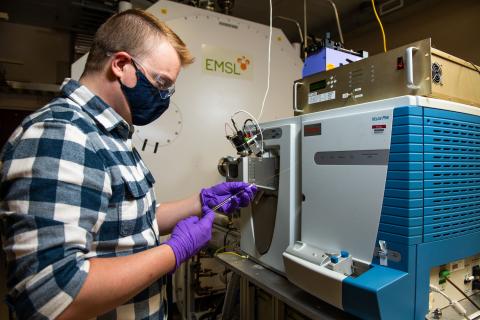 The 21 Tesla Fourier-transform ion cyclotron resonance (FTICR) mass spectrometer at the Environmental Molecular Sciences Laboratory, a U.S. Department of Energy Office of Science user facility located at PNNL, is one of two instruments in the world with this high of magnetic field strength. The increased magnetic field provides sharper resolution needed to identify thousands of individual molecules in a complex mixture and perform routine analysis of large intact proteins.
This improved resolution provides insight into how contaminants move through the subsurface and how molecular mixtures change as microbes degrade organic matter in the soil. 
Click to view our team of experts who focus on mass spectrometry-based multiomics measurement technologies in the Biology Division and the Environmental Molecular Sciences Division.
Contacts
Lab Fellow, Lead Scientist for Visual Proteomics