Cold Spray Deposition
for Material Repair
Supersonic metal
deposition to the rescue
The newest addition to Pacific Northwest National Laboratory's (PNNL's) suite of solid phase processing (SPP) capabilities is cold spray. This technology is a method of depositing powder particles onto a component—most commonly metallic—at supersonic speeds. A compressed and heated gas jet propels the particles at speeds from Mach 1 to Mach 3. The resulting high-speed impact causes the powder particles to adhere to and buildup on the component, forming strong metallurgical bonds. The cold spray coating process can result in high density deposits with superior material properties compared to other metal deposition technologies.
PNNL is using its cold spray machine to research alternative approaches for repairing hydropower turbines and nuclear waste tanks. With cold spray, melting and material degradation does not occur and in the case of hydroelectric turbines, the blades remain in their original shape.

Cold spray can deposit materials that have hardness, corrosion resistance, and/or wear resistance properties that can exceed those of the base metal to provide superior equipment performance while reducing costs of repair.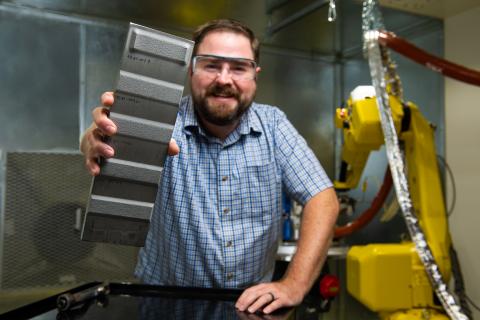 Recently, the project team demonstrated a cold spray process that delivered a material with three times improved cavitation erosion resistance compared to stainless steel plate or filler metal, and about an eight times improvement compared to the heat-affected zone carbon steels commonly used to repair hydropower turbines.
Beyond repair
Because cold spray deposits do not undergo melting during processing, the technique holds promise for additive manufacturing. Research shows the potential to create entirely new alloy systems that are otherwise incompatible in melt-based processes. In addition, cold spray allows coatings to be deposited and bonded to materials for added functions. Coatings can protect the environment or, in the case of ceramic coatings, create materials that can be used at higher temperatures than originally intended. 
Research advancements
PNNL has recently obtained a next-generation cold spray system and researchers believe that cold spray has potential to reduce cost and improve performance of new and existing components throughout the energy sector. This new, high-pressure cold spray capability will support development of cold spray processes ranging from high-volume automated factory production to manual field repair.
Contacts
Commercialization Manager