Threat-Agnostic
Biodefense
The world is full of unpredictable biological threats that pose extraordinary biodefense challenges. Researchers at Pacific Northwest National Laboratory (PNNL) are exploring how to better leverage our advanced capabilities in measurement science to address these evolving biodefense challenges.
Biodefense that goes beyond lists
Today's national and international biodefense communities rely on several lists made up of previously known pathogens and biotoxins that have been prioritized as threats to biosafety or public health. These lists include anthrax, smallpox, Ebola, SARS-COV-1, and other agents.
This identification-based approach is valuable for organizing and prioritizing efforts; however, it has limitations when dealing with unknown organisms.
PNNL scientists are rethinking the approach to unknown biological threats. A team of researchers—including experts in epidemiology, data science, pathogen biology, and biomedical science—is proposing a vision for transforming biodefense through a more threat-agnostic approach.
Threat-agnostic biodefense:  Actions to counter biological threats, reduce risks, and prepare for, respond to, and recover from bioincidents that are applicable—whether the pathogens or toxins involved are known in advance or not.
What is threat-agnostic biodefense?
Instead of looking at an unknown biothreat from a list-based perspective and asking, "What is it?", the threat-agonistic approach more broadly asks, "Is it harmful, and how harmful is it?"—with the goal of understanding commonalities in the ways pathogens attack their hosts, and the common ways hosts respond to these attacks.
Our scientists propose using sophisticated data and graph analytics, advanced measurement technologies, and machine learning to identify common patterns of infection and disease in results from both new and existing multi-omics studies. These patterns could then be used to detect an unknown pathogen and predict the effects of infection of new biothreats, even without prior knowledge of the novel pathogen or biotoxin. In this way, we could have new ways to inform the development of broad-spectrum defenses, to include detection technologies, as well as countermeasures and therapies.
Transforming biodefense beyond the list will enable faster and more effective recognition of, response to, and recovery from biological events.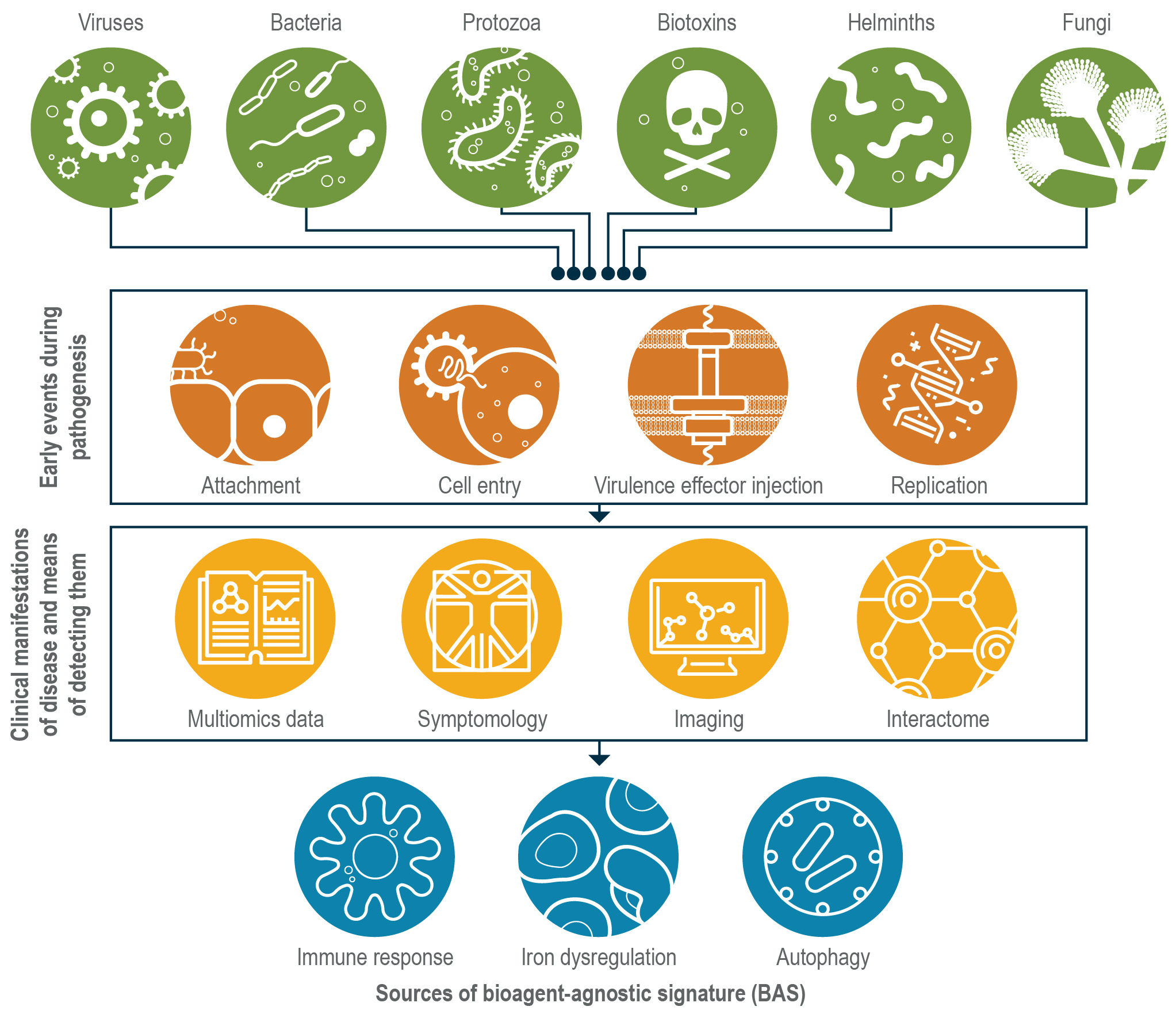 Expanding the threat-agnostic biodefense vision
This work is part of a PNNL research objective called Biorisk Beyond the List. In collaboration with National Defense University, PNNL has hosted workshops to invite feedback on the threat-agnostic approach from stakeholders from across the biodefense community and a broad national security audience.
We are currently looking for research partners to further the threat-agnostic biodefense vision. If you are interested or have questions about the research objective, email BeyondTheList@pnnl.gov.
Contacts
Group Leader, Cyber Risk Reduction
Group Leader, Chemical and Biological Signatures