STEM Workforce Development
Helping to encourage and train the
next generation of STEM professionals
U.S. Department of Energy (DOE) national laboratories have made incredible discoveries in high-energy physics, high-performance computing, nuclear energy, national security, grid modernization, biofuels, and climate science, to name a few. The innovative researchers behind these discoveries were once young students who became interested in science and engineering. National laboratories like PNNL are working to inspire, encourage, and prepare DOE's future scientific and technical workforce.
At PNNL, the Office of STEM Education (OSE) offers internship and workforce development programs for students at various points in their educational career, whether they are in high school, undergraduate, or graduate programs. Several PNNL internships are designed for students interested in learning more about science or what it takes to support the business and operation of research and development at a national laboratory. Internships are often available in the summer, but some are available throughout the school year. Additionally, PNNL hosts faculty members and their students so they can collaborate with PNNL staff on research projects through the DOE's Visiting Faculty Program.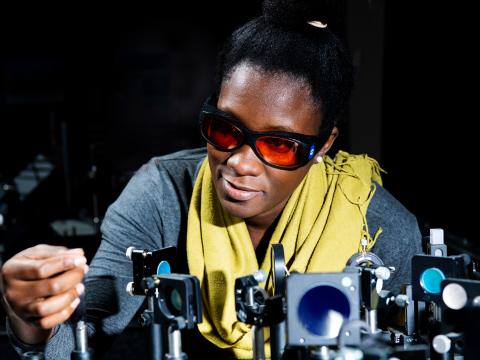 Annually, over 1,200 students and research associates are placed in internships across PNNL's scientific directorates and operational departments. The goals of PNNL's internship programs are multifaceted— we want to inspire students to continue pursuing STEM studies, expand their knowledge of STEM careers available at national laboratories, and help them build their professional skills. Each student intern is paired with a PNNL staff member or researcher who serves as their mentor. Internships at PNNL are highly sought after— the combination of real-world work students do in labs, field sites, and offices under the oversight of their mentor makes for incredibly valuable learning experiences. Check out PNNL's internship page to learn more about these opportunities and how OSE is supporting the future generation of PNNL staff, researchers, and collaborators.
Competitions
As part of our workforce development strategy, PNNL's Office of STEM Education is pleased to host several competitions throughout the year on behalf of the DOE. These competitions allow high school and college students interested in STEM to gather and compete against students from across Washington State and the Pacific Northwest. Participants also have the opportunity to learn more about PNNL, the national laboratory system, and the array of STEM careers available.
Science Bowl: Each year, PNNL hosts a Regional High School Science Bowl, which is part of DOE's nationwide academic competition, that tests students' knowledge in all areas of science and mathematics. Students are quizzed on topics ranging from chemistry and biology to physics, engineering, math, and energy, as well as Earth and space sciences. Friends, family members, and the general public are welcome to attend and watch these incredible students demonstrate their knowledge in this array of subjects. High school teams from across Washington State convene to compete against each other and earn the opportunity to compete at the National Science Bowl® (NSB). The DOE's Office of Science manages the NSB, which began in 1991, and sponsors the finals competition.
CyberForce Competition is a fun, real-world, scenario-based contest for college and university teams to test their "mad" cybersecurity skills by protecting and defending an industrial control system and its associated corporate network infrastructure. PNNL hosts this DOE competition, which encourages innovative defense strategies and techniques for safeguarding cyber assets. Teams are scored on their "out-of-the-box" ideas and defenses. These defenses must contend with real-world limitations provided in the scenario, such as having no budget.
"Access and opportunity to STEM education changes not only the lives of students and interns, but it also transforms the communities in which we work and live. PNNL is committed to delivering a wide portfolio of opportunities that engage students and teachers around the nation with the goal of supporting our future, diverse STEM workforce. They are the students of today and the experts of tomorrow." — Evangelina Galvan Shreeve, PNNL Chief Diversity Officer and Director of STEM Education