From streets to airports, mailrooms and transportation hubs, the ability to quickly detect and identify unknown—and potentially deadly—substances can be the difference between order and chaos. And with a huge volume of goods and people crossing these waystations, detection needs to be both dependable and unobtrusive. To help address this need, Pacific Northwest National Laboratory (PNNL) plays a key role in developing tools and standards that make detecting contraband faster, safer, and more reliable.  
Chemical detection for contraband at PNNL builds on decades of research dating back to our historical nuclear characterization expertise. With a proven ability to detect minute chemical differences in highly hazardous materials, researchers at PNNL support Department of Energy missions and the Department of Homeland Security (DHS) in protecting the nation from illegal movement of weapons, drugs, contraband, and people, while promoting lawful trade and travel.
Our research, development, and collaborations with partners in transportation, law enforcement, and the intelligence community have resulted in methods that are routinely customized and implemented in operational environments through close interaction with federal, state, and local stakeholders.
Trace contraband detection and characterization
PNNL develops some of the world's most sensitive chemical detection systems for contraband. The detection of trace amounts of contraband leads to the identification of signatures—unique or distinguishing measurements, patterns, or collections of data—that detect, characterize, or predict illicit material. Identifying a trace of these chemicals on a person or item could suggest potential contact with large amounts of contraband, prompting additional screening procedures or denial of entry into a facility or venue.
PNNL has extensive expertise detecting trace and ultratrace levels of chemicals and radionuclides, which provide insight into the processes used to make chemical weapons. This research is critical to national security because it informs defense strategies. We continue to advance the field by investigating ways to apply materials sciences and nanotechnologies to these detection methods.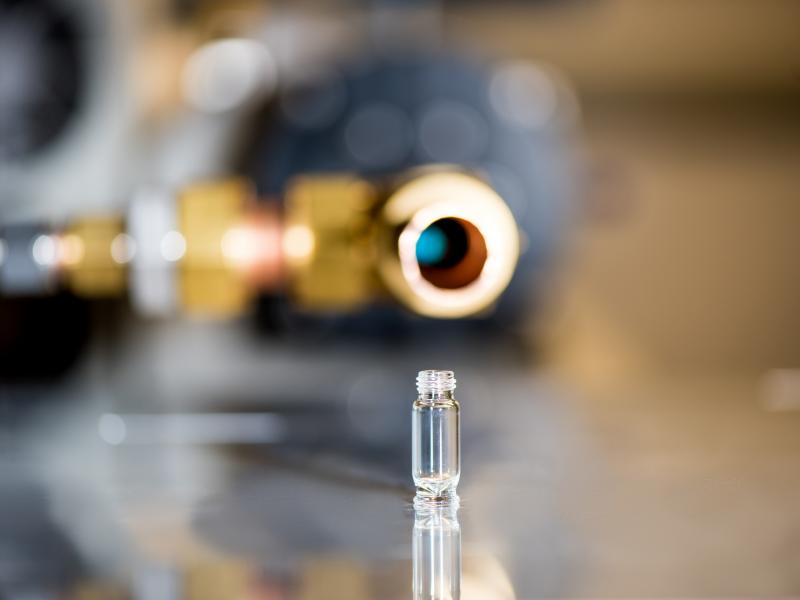 We have also developed technology sensitive enough to detect deadly chemicals and narcotics in a whiff of air, which was previously impossible in the presence of other chemical vapors. The technology could complement or replace contact and canine-assist detection methods for drug screening used in mailrooms, airports, and shipping centers.
Protecting ports from nuclear contraband
In partnership with DHS, PNNL leads the development and management of sophisticated radiation portal monitors located at thousands of ports of entry across the United States. These nonintrusive detection devices provide a passive means to screen people, vehicles, or other objects for the presence of nuclear or radiological materials. These monitors are used to eliminate the need for individual searches using handheld monitors and are making a significant impact on the security of the country. Ongoing work at PNNL regularly improves these monitors to better detect radiological threats, while alarming much less frequently on non-threatening materials, resulting in big savings.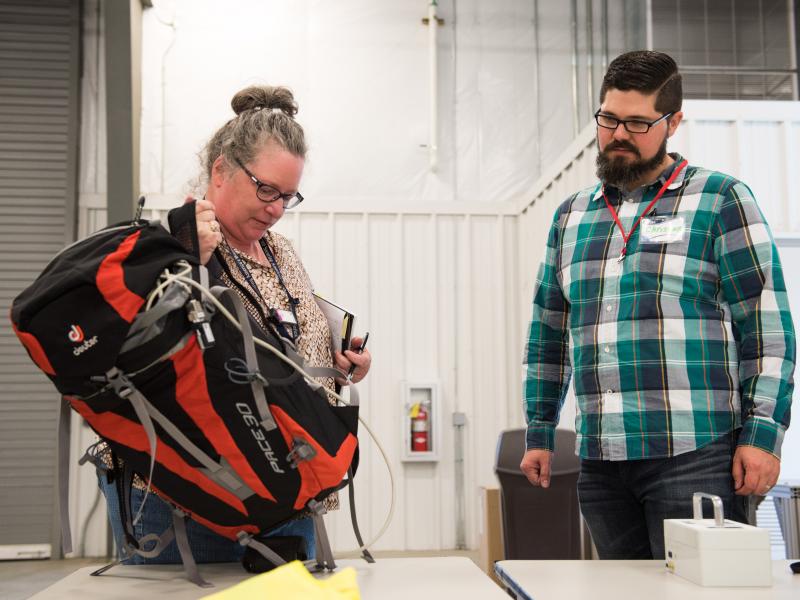 Contraband detection without a standard reference
Our research and development is saving lives by driving new detection capabilities, tracing procedures, and chemical standards to deliver more timely and actionable information about emerging chemical contraband.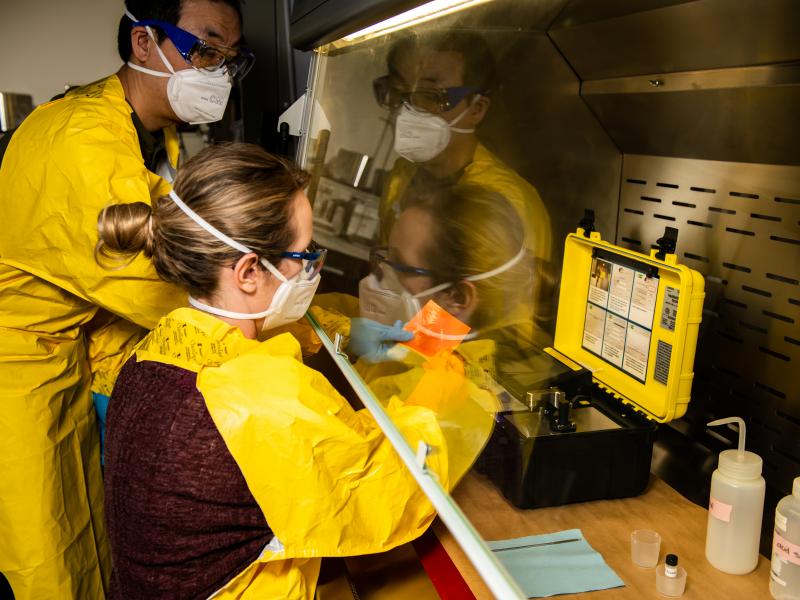 Our research also informs national opioids standards as they evolve with emerging analogs and aids equipment testing partnerships with DHS science and technology, industry, and communities to improve detection of synthetic opioids toward stronger and more resilient communities. As part of that partnership, PNNL's fentanyl handling and detection experts are helping to assess the performance of detection equipment used by emergency responders to quickly detect fentanyl and its analogs. Advances in both these areas aim to reduce emergency responder exposure to dangerous chemicals even when the type of contraband substance is unknown.
Contraband tracing
We leverage PNNL's rich history in chemical signatures science, using novel chemical approaches to identify the potential origins of contraband. This multidisciplinary approach supports important national security missions, including the development, integration, and evaluation of methods to detect molecular signatures of interest, such as those in illicit drugs.
By interfacing disciplines, we are solving a wide range of national security challenges; for instance, integrating trace detection methods with modeling and simulation to understand the origin of a sample or material. This information assists our strategic partners to halt contraband at its source.
Latest News
MARCH 4, 2022
Staff Accomplishment