Enabling wind as a distributed
energy resource
Wind technology as a distributed energy resource is commonly referred to as distributed wind. Distributed wind energy installations  generate electricity for remote communities with isolated grids or are connected to distribution grids to serve grid-connected customers.
PNNL's distributed wind research, funded by the Department of Energy's Wind Energy Technologies Office (WETO), supports WETO's goal of advancing wind energy technology as a distributed energy resource to contribute maximum societal, economic and power system benefits.
For examples of distributed wind energy projects, please see the distributed wind photo gallery.
PNNL distributed wind photo search
PNNL wants to be blown away by your distributed wind photos! We are launching a search for the best distributed wind energy photos across the United States and its territories for PNNL's distributed wind photo library. Contributors of selected photos will have their entries featured in PNNL's Distributed Wind Photo Gallery and will receive a cash payment of $100 per photo. One photo each year will be selected for the cover of the Distributed Wind Market Report and be paid $250. If you know of a beautiful, distributed wind installation, get out your phone or camera, capture the moment, share it with us, and get paid!
For more information, please review the instructions and submission requirements. 
Market research
PNNL has produced the Distributed Wind Market Report since 2012. This report provides a comprehensive overview of the distributed wind market and can help guide future investments and decisions by industry, utilities, federal and state agencies, and other interested parties. The report and associated products provide key information to help stakeholders understand and access market opportunities and inform distributed wind industry research and development needs.
PNNL's distributed wind project database
The PNNL research team continually collects cost, incentive, generation, and customer data from turbine manufacturers, operations and maintenance providers, state and federal agencies, and other stakeholders for distributed wind projects installed in the United States. These data are critical for identifying trends, opportunities for growth, and prioritizing investments for both WETO and industry stakeholders. Making this information available allows interested parties to better understand distributed wind market trends and characteristics.
To access the data, please visit PNNL's distributed wind project database webpage.
Reports
2022 Edition | 2021 | 2018 | 2017 | 2016 | 2015 | 2014 | 2013 | 2012
Presentations
2022 Edition | 2021 | 2019 | 2018 | 2017
Data tables
2022 Edition | 2021 | 2019 | 2018 | 2017 | 2016 | 2015 | 2014 | 2013 | 2012
Factsheets
Performance and wind resource assessment
It can be challenging to predict the annual energy production of distributed wind projects accurately, especially small wind projects, at the time of their installation. The Tools Assessing Performance (TAP) project has identified and is working to address a variety of contributing factors that lead to the mischaracterization of distributed wind energy production in energy estimation tools. These factors include the underlying wind resource models, loss assumptions, and representation of the interannual wind resource.
The multi-laboratory TAP project aims to reduce uncertainty in distributed wind production estimates through improved mesoscale wind resource datasets, bias characterization and correction, and obstacle detection and incorporation into flow models.
For more information about TAP, please visit the TAP project webpage.
To learn more about TAP research results, please see the following publications:
Wind turbines in microgrids, distribution networks, and hybrid systems
The Microgrids, Infrastructure Resilience, and Advanced Controls Launchpad (MIRACL) project research was focused on easing the integration of distributed wind into microgrids, isolated grids, distribution networks, and hybrid power plants and systems. The multi-laboratory project achieved this by improving valuation and power system modeling techniques, developing advanced turbine control capabilities, and providing tools to increase the resilience of distributed wind infrastructure.
To learn more about PNNL's valuation, power system modeling, and co-simulation research results, please see the following publications:
Valuation
Modeling
Co-Simulation
International collaboration
The International Energy Agency (IEA) Wind Technology Collaboration Programme shares information and research activities to advance wind energy research, development, and deployment in member countries. PNNL is partnering with the National Renewable Energy Laboratory to lead IEA Wind Task 41—a task dedicated to advancing wind technology as a cost-effective and reliable distributed energy resource.
As part of this effort, PNNL has worked closely with the Technical University of Denmark to develop a distributed wind data catalog for task members. PNNL also collaborated with researchers at Nergica to develop a framework for characterizing the risk of ice fall and ice throw from small wind turbines to help developers address communities' safety concerns.
To learn more about this work, please see the following publications:
Distributed wind outreach and technical assistance
PNNL is involved in a variety of strategic and technical stakeholder engagement activities. These  include partnering with the National Rural Electric Cooperative Association (NRECA), educating federal agencies about distributed wind, and providing technical assistance.
PNNL is working with NRECA on the Rural Area Distributed Wind Integration Network Development (RADWIND) project. The goal of RADWIND is to understand, address, and reduce the technical risks and market barriers to distributed wind adoption by rural utilities. Case studies, tools, and other products are available on the RADWIND website.
Selecting, Implementing, and Funding Distributed Wind Systems In Federal Facilities is an on-demand, web-based training designed for United States federal agencies for the Federal Energy Management Program (FEMP), but most of the material is relevant to any entity interested in learning about distributed wind projects. The training is divided into modules, and only the module about procurement and financing is specific to federal agencies.
Another training available through FEMP, Distributed Wind for Federal Agencies, demonstrates how to use publicly available wind resource assessment screening tools and locate other distributed wind tools and resources. Access to both trainings requires creating a free account.
PNNL participates in the Energy Transitions Initiative Partnership Project (ETIPP). As part of the partner network, PNNL provides technical assistance to remote, island, and islanded communities that are shifting to cleaner and more resilient energy systems.
Small and medium wind turbine certification
Certifying a small or medium wind turbine model to standards demonstrates that the turbine model meets performance, durability, and quality requirements, giving customers greater confidence in the products they purchase. As part of annual Distributed Wind Market Report research, PNNL tracks the number of small and medium wind turbines certified to the AWEA Small Wind Turbine Performance and Safety Standard 9.1-2009 or the International Electrotechnical Commission (IEC) 61400-1, 61400-12, and 61400-11 standards.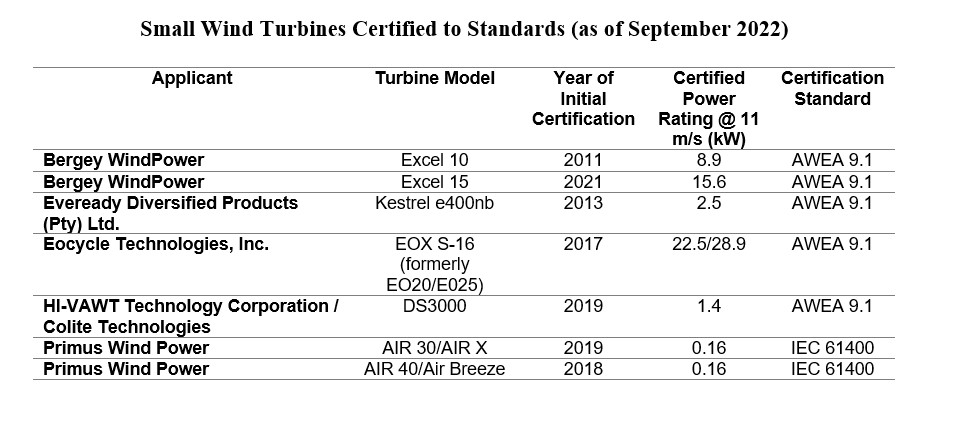 Contacts
Wind Energy Program Manager, Offshore Wind and Ocean Dynamics Team Leader
Mechanical Engineer, Distributed Wind Program Manager