ShAPE: A New Way
to Process and
Extrude Materials
Greener, energy efficient,
quicker manufacturing

ShAPETM stands for Shear Assisted Processing and Extrusion. It's a radically different method that is reshaping the way metal is extruded—uniquely mixing and deforming the solid feedstocks without melting or external heat treating. Its cost and energy savings, combined with the potential for improved material properties, can benefit a variety of industries.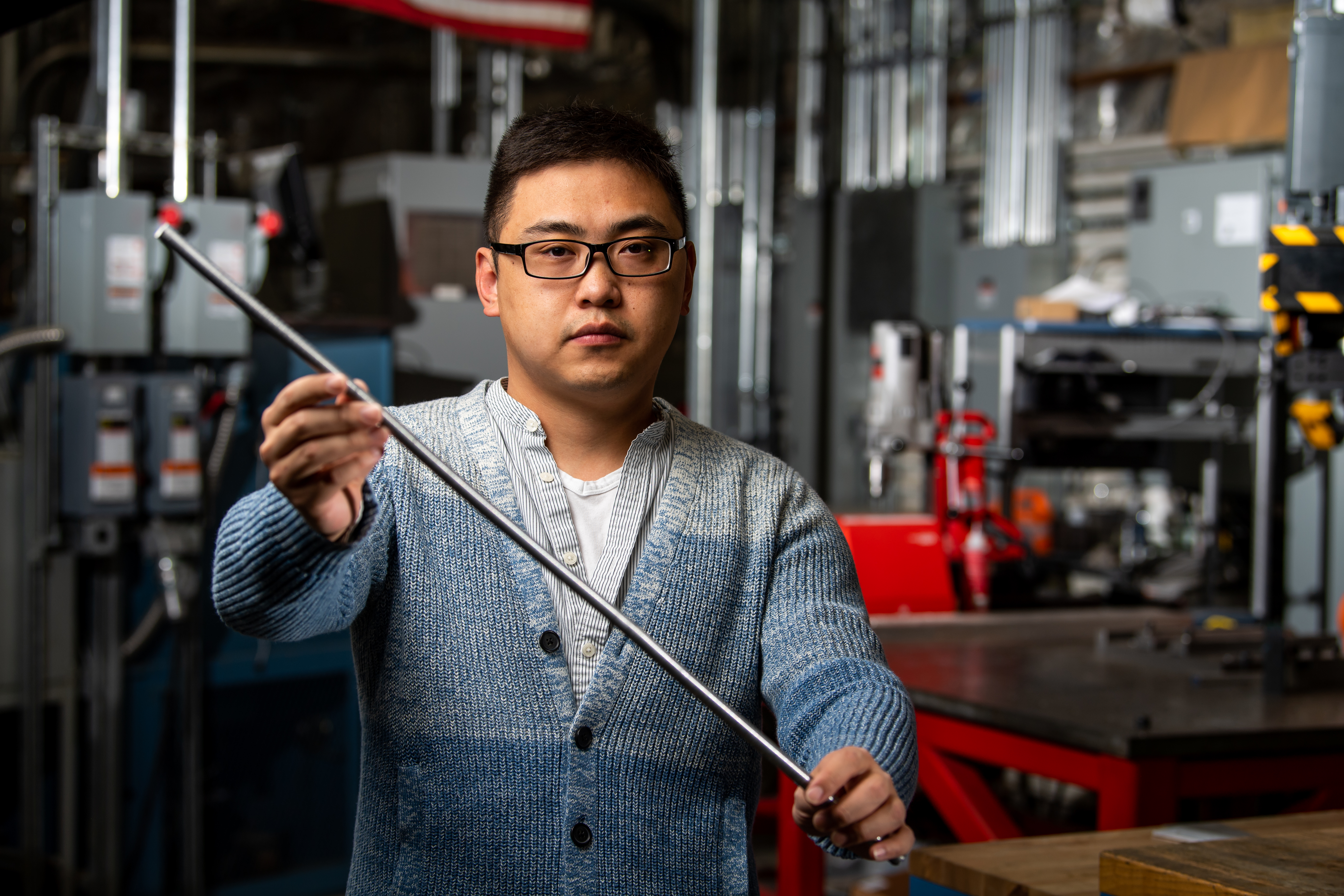 Automotive and aerospace vehicles, the energy sector, healthcare, and recycling industries can benefit in different ways.
Pacific Northwest National Laboratory's patented ShAPE process involves a novel extrusion machine, tooling, and associated processing techniques for manufacturing high performance wire, bar, and tubes. The machine has a rotating head that spins 500 times a minute with 2,200 foot-pounds of torque. The other end of the machine contains a hydraulic press capable of exerting 200,000 pounds of force against the rotating head.
How it works
Metal feedstock, in the form of powder, flake, scrap or solid billet, is pressed against an extrusion die within the rotating head. Heat is generated by friction and deformation at the die and feedstock interface, which softens the material just enough to extrude through the rotating die. The machine is highly instrumented with advanced sensors and controls to precisely monitor and regulate the extrusion process.
The unique combination of linear pressing and rotational mixing causes extreme deformation, which enables material chemistries and structures that are not possible with conventional extrusion. Novel microstructures—size, chemistry, and orientation of metallic crystals—can be tailored by the ShAPE process to deliver improved performance properties.
For example, crystal orientation in lightweight magnesium alloys can be optimized for energy absorption properties through adjustments to the die face geometry, rotational speed, press rate, and temperature—making them strong enough to be used in automotive components.
Benefits of ShAPE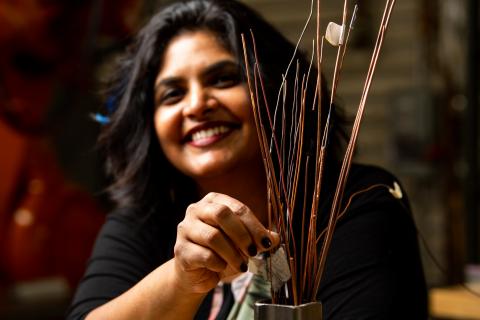 In copper composites, the extent of mixing between copper and graphene during ShAPE extrusion can be optimized for greater electrical conductivity through adjustment of the same process parameters. This has applications in reducing the size and weight of motors in electric vehicles or any industry that uses copper to move electrical energy, including power transmission, electronics, wireless chargers, generators, under-sea cables, and batteries.
Environmentally friendly, ShAPE uses 50 percent less energy to extrude the notoriously hard to extrude aluminum alloy 7075. It can extrude at a rate ten times faster than standard extrusion methods, reducing manufacturing costs that might make the stronger alloy cost effective in vehicle manufacturing. The ShAPE process can also improve the mechanical properties of the alloy with 50 percent higher elongation—how far it stretches before it breaks. This allows for more energy absorption in a vehicle crash.
New, higher-performing materials are a foundational need for almost every technology advancement—from energy and the environment, to transportation, and health and human welfare. The ShAPE technology is available for licensing and offers a manufacturing pathway to realize advanced materials at commercially-relevant scales.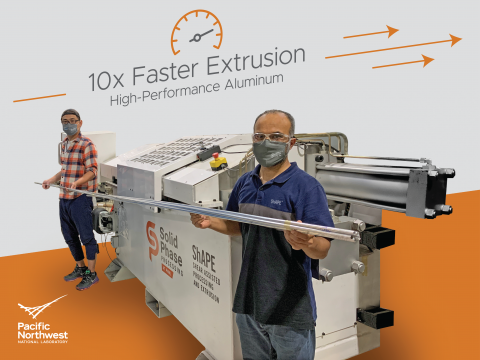 Contacts
Commercialization Manager