Striving to achieve Net-zero Emissions
and Energy Resilient Operations
Meeting the nation's ambitious climate and energy goals will require new technologies, real-world demonstrations of solutions, and partnerships with industry and communities. As one of four national laboratories participating in the U.S. Department of Energy's Net Zero Labs (NZL) Pilot Initiative, Pacific Northwest National Laboratory (PNNL) is part of a collaborative effort to apply the national labs' scientific and technological knowledge to create tangible solutions for achieving net-zero emissions.
The NZL pilot, which also includes Idaho National Laboratory, the National Renewable Energy Laboratory, and the National Energy Technology Laboratory, will bring together new technologies, innovative approaches and relevant stakeholders to lead the transition to net-zero emissions and decarbonization—and it will do so in a way that can be replicated to benefit the entire nation.
At PNNL, our role in NZL aligns with our longstanding commitment to sustainability and our initiative to achieve net zero-emissions and energy resilient operations on our campuses. Known as NZERO, this initiative will allow PNNL to leverage our facilities, capabilities and expertise to advance the transition to net-zero emissions at PNNL and to help pave the way for others across the nation who are striving to do the same.  
Our plans are focused on enabling PNNL to achieve net-zero emissions, while optimizing our resources and operations to achieve 24/7 carbon-free energy and mitigate the impacts of utility disruptions. 
Along the way, we will use our campuses as a living laboratory—testing new technologies and approaches and using the knowledge we gain to shape a model for others.
What does net-zero emissions mean?
Net-zero emissions refers to achieving a balance between the amount of greenhouse gases put into the atmosphere and those that are removed. Organizations striving for net-zero emissions aim to phase out greenhouse gas sources, such the use of gas and other fossil fuels, increase efficiency of their buildings and equipment, and optimize how and when electricity is used. Renewable energy is used to balance the remaining emissions.
Greenhouse gas emissions are described in three broad categories: 
Direct emissions from sources owned or controlled by the organization, such as combustion of gas to heat buildings (Scope 1)

Indirect emissions from generating the electricity purchased by the organization (Scope 2)

Indirect emissions produced by others up and down the organization's supply chain, such as employee commuting, business travel and landfilled waste (Scope 3)
PNNL's NZERO strategy seeks to reduce emissions in all three categories, with a focus on the greatest contributors of emissions across the PNNL campuses.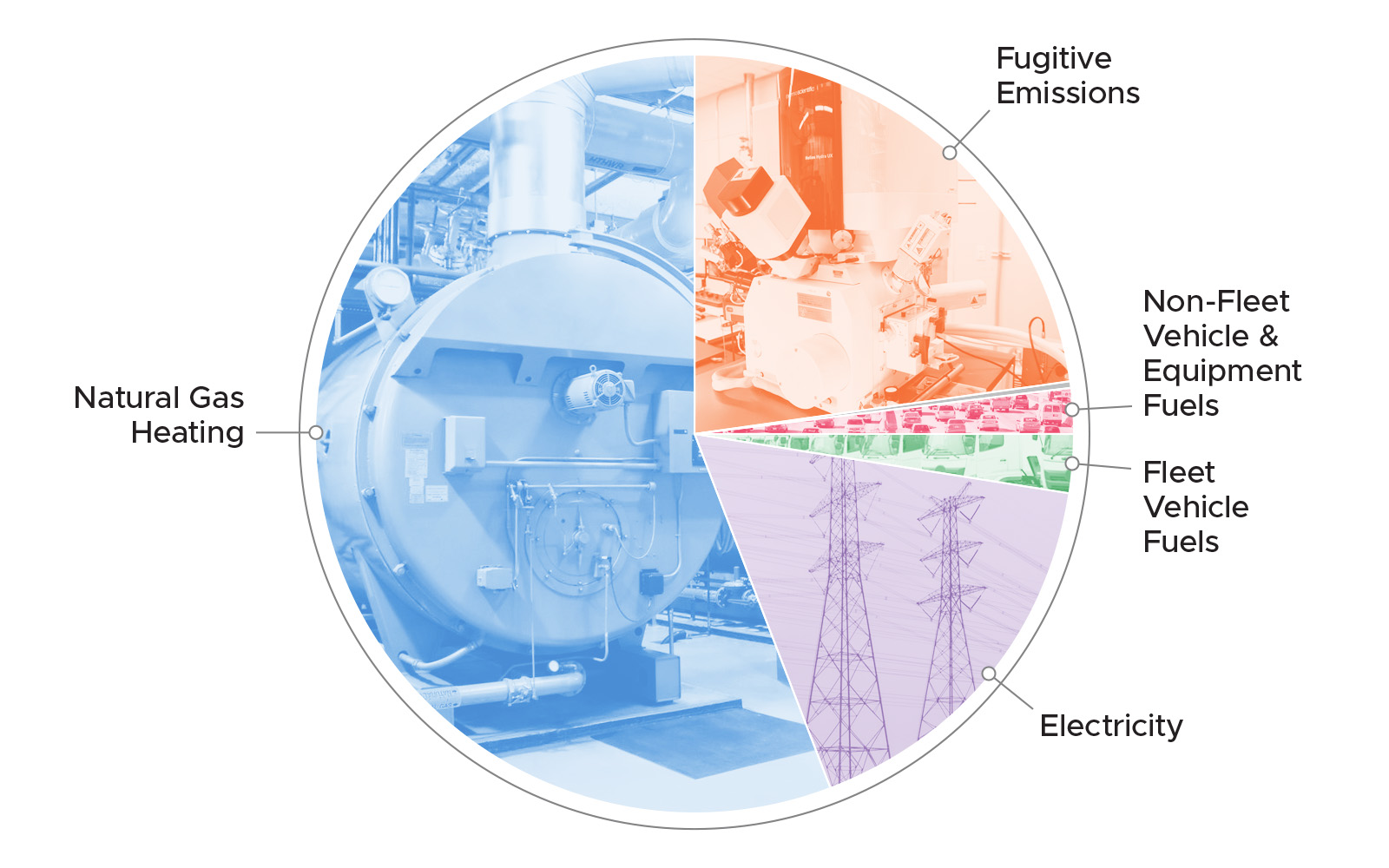 In addition, PNNL's NZERO initiative focuses on energy resilience, which means that the addition of renewable energy sources won't just reduce our emissions, but will help ensure the continuity of PNNL's critical functions when faced with utility disruptions.
The road to net-zero emissions at PNNL
PNNL's NZERO initiative seeks to achieve net-zero greenhouse gas emissions with energy resilient operations.
More specifically, we are striving to reach net-zero emissions and 24/7 carbon-free energy operations. This is a much more ambitious goal that means we will not only be net-zero on average over the course of a year, but that our energy will come from clean sources at every hour of every day.
We also intend to:
Enhance our energy resilience to utility disruptions

Grow utility capacity for responsive load control

Accelerate technology adoption and access
What is PNNL's strategy for achieving net-zero emissions?
NZERO focuses on four key elements we describe as the four Rs.

Replace fossil fuels with cleaner alternatives
Reduce energy use in facilities and vehicles
Resilient to electric utility disruptions
Research energy system design, integration, and operation
We believe we can get about 80 percent of the way to net-zero through the measures we've outlined in each of these areas. The remaining 20 percent will be achieved through involvement in community projects, where we take actions in partnerships with others, while supporting technology transfer.
Here are a few examples of our four Rs at work.
Replace gas boilers - Near-term plans to electrify our buildings and fleet vehicles and eliminate the use of carbon-based fuels for heating and transportation will get us more than halfway to net-zero.  

Reduce

energy use through district energy systems - Our heat transfer building will supply waste heat from our supercomputers to new buildings nearby. We will also upgrade other legacy building systems with higher-efficiency heat recovery and lighting technologies and optimize how we operate our buildings by leveraging our research related to a transactive campus and data-driven controls.
Resilience -

We will deploy on-site distributed energy resources, such as photovoltaics and batteries, to enable real-time load management along with emission-reduction benefits while enhancing resilience to potential electricity disruptions by providing a backup to the electrical grid.

Research – Our NZERO initiative provides exciting opportunities for PNNL to

leverage our successes and strengths in

energy efficiency

,

grid architecture

,

optimization and control

,

energy storage

, and

energy systems integration

to advance solutions for a net-zero future. As we integrate these technologies with our campus, we will partner with others and share our progress

.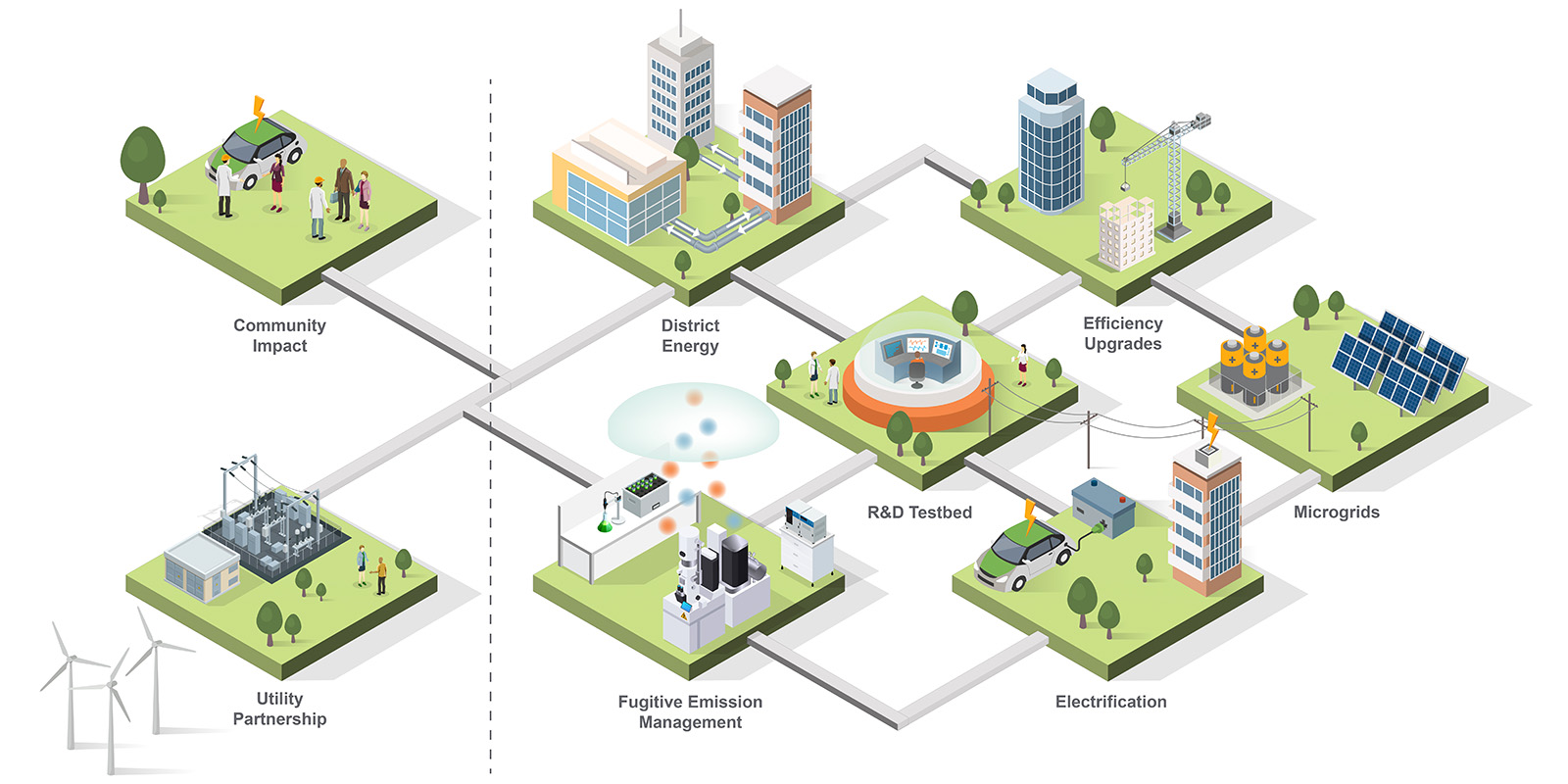 Our NZERO initiative will leverage PNNL's Richland and Sequim campuses and our deep expertise in energy systems. PNNL is ideally suited to pursue ambitious net-zero goals because we can leverage investments in energy and water efficiency, including instrumentation and controls installed across our campus. For several years, our campus has been a living laboratory for demonstrating our research related to transactive controls.
For example, our distributed sensing and control software platform, VOLTTRON™ has been installed in 16 buildings on our campus, along with a network of 10,000 sensors that record 14 million data points every day. This technology can reduce energy costs in buildings by nearly 20 percent while improving grid flexibility. In addition, our Building Operations Control Center allows real-time monitoring and management of our energy and water usage.
Our NZERO initiative and our campus infrastructure bring together our facility and operations staff with our researchers so that the right people can use the right systems to make better decisions about operations to optimize energy use while reducing emissions and maintaining the safety and comfort of those working on our campus.
As we deploy and test new technologies and innovative, interactive building controls, our campus will serve as a data-rich research testbed for demonstrating the impact of these advanced approaches and for accelerating learning by industry, government, university and community partners.
Partnerships and collaboration: Paving the path to a net-zero future
Strong regional partners will be critical to our success. We are looking for collaborators from utilities, industry, city and state governments, research institutions, and community organizations to both contribute to NZERO demonstrations, explore opportunities to work together, and share in our learning. For example, the State of Washington has invested in a renewable energy demonstration that will help begin the NZERO transition at PNNL-Sequim. Together, we can strengthen the capacity of our region to design, build, and operate resilient, affordable, low-emissions industries and communities of the future.
By partnering with others, we showcase a path toward a cleaner, more resilient built environment.
Why PNNL?
Located in the southeastern corner of Washington state, PNNL's main campus in Richland is fortunate in that the majority of its electricity supply from local utilities already comes from renewable resources. Our NZERO initiative also will include projects at our PNNL-Sequim campus. Today, about 73% of energy production in the state of Washington comes from renewable resources, more than 65% of which is from the region's hydroelectric dams. Washington's Clean Energy Transformation Act requires the state's electric utilities to fully transition to clean, renewable, non-emitting resources by 2045. 
PNNL has extensive expertise in clean energy research and technology deployment, along with a long history of working with industrial partners to bring advanced technology to bear on national challenges. We also have geographically and operationally diverse campuses that will serve as a testbed for deploying and demonstrating energy technology and operational advances in a way that affects global sustainability. Our NZERO initiative builds on a strong track record of effective collaboration using our facilities as a living research laboratory. Being located in Washington state, our NZERO initiative aligns with state requirements for 100% clean electricity by 2045.
Related Content
Related Videos
Related News & Publications