Pacific Northwest National Laboratory (PNNL) helps utilities, grid operators, building owners, and the public sector achieve their clean energy and resilience outcomes in a rapidly changing energy landscape that is increasingly affected by climate change. Leveraging R&D investments in emerging technologies by the Department of Energy (DOE) and other agencies, PNNL applies its broad portfolio of advanced modeling capabilities and deep energy domain expertise to help partners find the best path forward to achieve targeted outcomes in decarbonization, grid resilience, and energy efficiency, as well as energy equity and environmental justice.
 
Explore Tools and Capabilities
Today's building owners and utilities need tomorrow's tools—high-fidelity modeling and highly detailed simulations of the power system's increasingly complex interdependencies and behavior to make important planning, investment, and operational decisions.
 
 By Sector
Utilities and Grid

Decarbonizing the Grid
Technical and economic analysis to support investment decisions and implementation of microgrids, renewable energy resources, stationary energy storage, and transportation electrification.

Grid Resilience
Planning and operational analytics to model increasing grid complexity and achieve resilience in the face of extreme events, cyberthreats, and a rapidly changing energy resource mix.

Demand-side Solutions
Modeling capabilities, enabling technologies, and employing decades of experience to advance energy efficiency, peak load management, intelligent loads, and transactive control for both commercial and residential segments.

Electric Vehicle Adoption Modeling
Integrated analysis of a broad array of utility, socio-economic, and geospatial data to forecast EV adoption to better understand and prepare for the impacts of widespread transportation electrification on the local power grid and community.  

Buildings

Energy Efficiency
Assessment tools and emerging technologies—from advanced building control systems to next-generation lighting to heat pumps—to reduce energy usage, costs, and carbon emissions from commercial and residential buildings.

Grid Interactive Buildings
New and innovative approaches for buildings to interact with the power grid in a coordinated, intelligent manner to optimize emissions reductions, grid performance, and energy costs.

Net-zero Buildings
Modeling, analysis, and expertise to design, build, and operate buildings so that they generate more energy than they use and reduce carbon emissions. 

Building Codes and Standards
Technical analysis and modeling software to help state and municipal governments implement new building codes and standards to monitor compliance, measure effectiveness, and help the workforce adopt new technologies.

Public Sector

Policy Outcome Analysis
Independent analysis of energy-related legislation, policy initiatives, and rulemaking—both proposed and enacted—to assess efficacy and/or results relative to intended policy outcomes.

Energy Equity and Environmental Justice
Applying interdisciplinary research in grid modernization, economics, and related fields to help communities create an energy system that is clean, resilient, and accessible to all.
Working with PNNL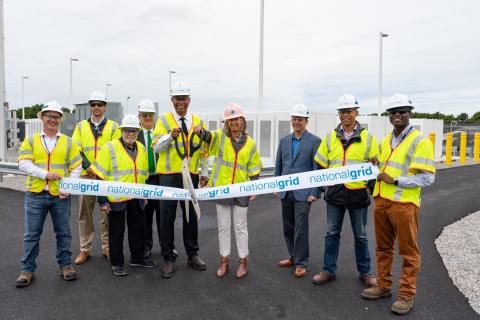 PNNL is seeking industry and public sector partnerships to advance research and development in these critical energy transition domains. These engagements provide a mutually beneficial arrangement in which partners can benefit from access to leading-edge technology, distinctive scientific and research expertise, and DOE project funding in support of their climate-resilient decarbonization initiatives and outcomes. PNNL collaborates with partners to:
Leverage current DOE and other federal project funding to advance projects that help you achieve your objectives

Collaborate to develop new project proposals that align with DOE funding priorities

Identify projects that the partner can fund directly

Partner for field trials, technology pilots, and research projects

License technology and open-source software tools to help partners
Contacts
Deputy Director for Licensing