Community-based Transition from Coal Dependency
PNNL report finds decommissioning decision-making process must be community-based to be equitable
Given the national focus on decarbonization and clean energy resources, the U.S. coal industry is experiencing a sharp increase in its numbers of retired and/or decommissioned coal-fired power plants. For the communities tied to these plants, decommissioning presents impacts to their social, environmental, and economic prospects. Fortunately, there are numerous communities already transitioning to the new energy economy that can offer best practices to assure equitable outcomes. 
One of these communities is in Becker, Minnesota, where the city's early planning and continued engagement in decisions proved key to the community understanding the facts and realities of its decommissioning process. To underscore the importance of community-based decision-making as part of decommissioning, Becker is one of four communities profiled in a new report from Pacific Northwest National Laboratory (PNNL), Coal-dependent Communities in Transition: Identifying Best Practices to Ensure Equitable Outcomes.
Communities' perspective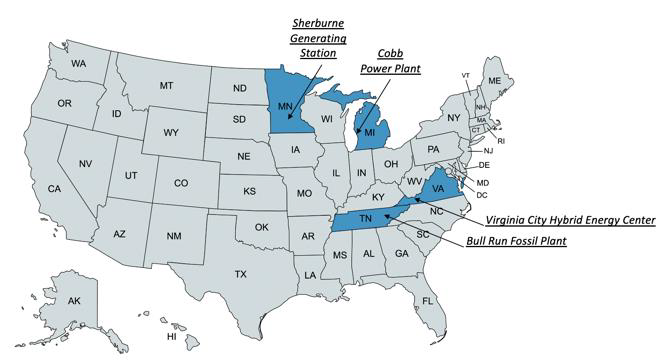 PNNL's report examines the role of communities in the coal power plant decommissioning process and provides community-identified best practices to ensure an equitable process. The experiences of four coal-dependent communities—Wise County, VA, Anderson County, TN, Muskegon, MI, and Becker, MN—are presented as case studies to understand the impacts of the decommissioning process and associated best practices from the communities' perspective.
PNNL energy equity and renewables researcher Bethel Tarekegne explained that "with a lot of these decommissioning processes, especially as we talk about [the] energy transition, it's important to be reminded there are people at the end of this transition. We need to understand who is being affected and intentionally integrate them into the planning process. They are critical stakeholders whose voices need to be recognized—the more they are heard, the more equitable and just the transition."
Community-identified best practices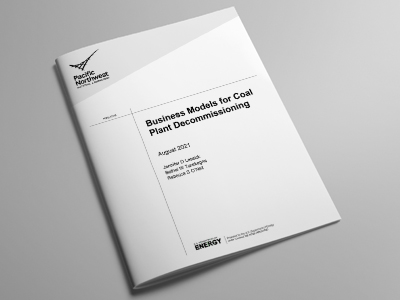 To develop the report, Tarekegne and PNNL co-authors Rebecca S. O'Neil and Kamila Kazimierczuk relied on their shared expertise in advancing equity through research and their program's work to develop an innovative energy system that benefits everyone.
In addition to early planning and continued engagement, the authors' community-based decommissioning best practices include:
Using a number of mediums for communication and feedback (e.g., in-person sessions, virtual meetings, and written comment opportunities)

Recognition (and mitigation, if possible) of social impacts on the community due to plant closure

Transparency throughout the process, with trusted information being provided about the decommissioning process and timeline; potential impacts on the workforce, economy, and environment; and the feasibility of alternative site uses

Identification of funding sources, technical experts, and/or strategic partnerships to support decommissioning and the affected communities up-front

Acknowledgment of communities as stakeholders who have a role in the conversation and a right to determine their futures.
"As more and more U.S. communities begin to transition from coal dependency, these best practices will become crucial," said Tarekegne.
Energy trends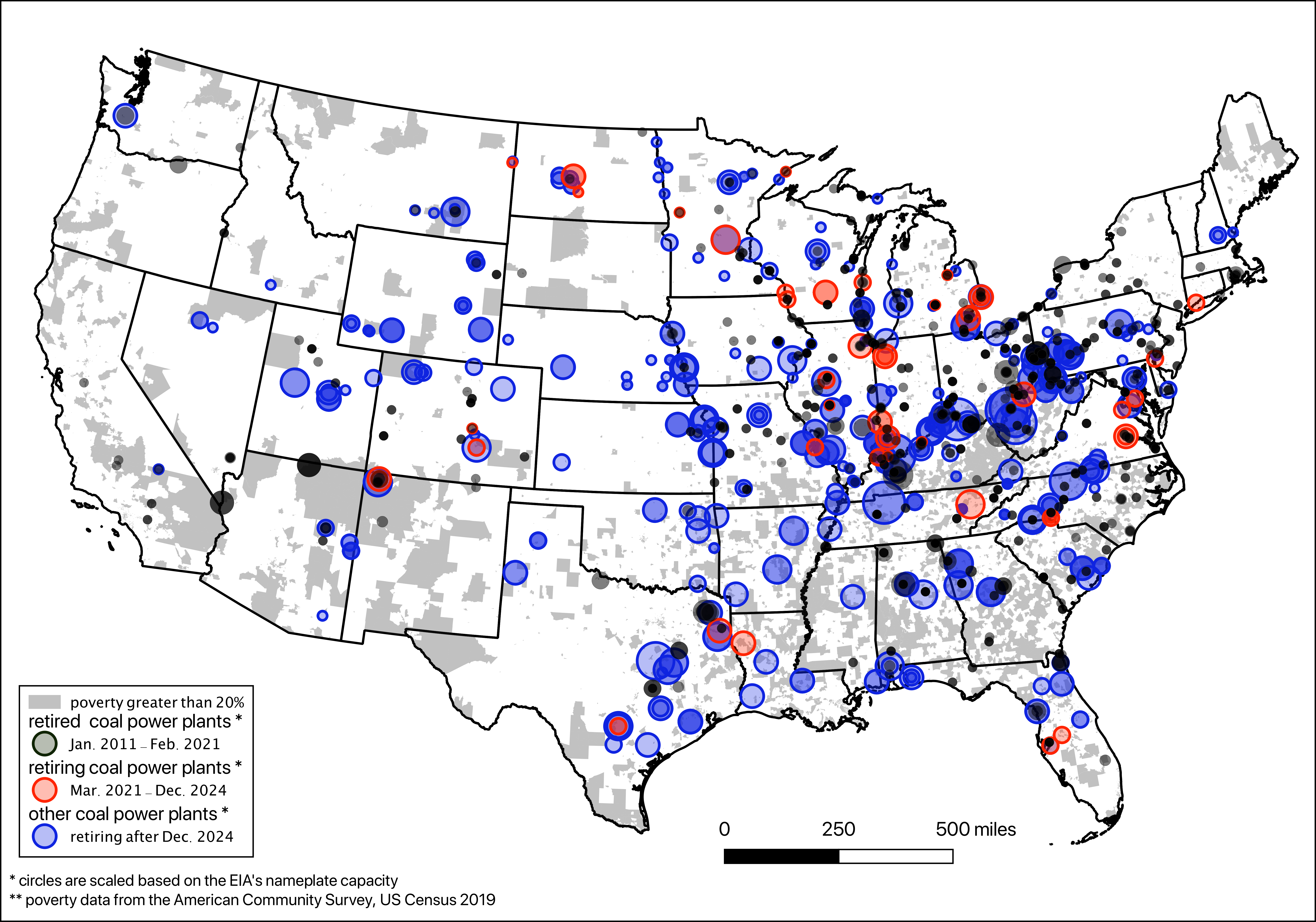 As stated in PNNL's report, in the years between 2010 and 2019, around 102 gigawatts (GW) of coal-fired generating capacity was announced to be decommissioned, representing more than 546 coal-fired power plant units. An additional 17 GW is planned to be decommissioned by 2025. 
At the federal level, the U.S. government set related decarbonization goals, including a 50 to 52 percent reduction from 2005 levels in economy-wide net greenhouse gas pollution by 2030, clean electricity generation by 2035, and a net-zero-emissions economy by no later than 2050.
Beyond environmental considerations, these policies also reflect how the changing energy production landscape could affect a community's social fabric. Federal agencies have been asked to examine and implement environmental justice initiatives and increase engagement with state, local, and tribal governments on climate change and equity. PNNL's report helps coal-dependent communities in transition to think beyond job and revenue losses and holistically address all impacts in their decommissioning plans. 
The report also stresses mobilization of technical assistance, cross-partnership engagement, and financial aid to help communities throughout various stages of the decommissioning process, including the retirement decision, the site reclamation phase, and eventual revitalization of the site and surrounding community.
Uplifted communities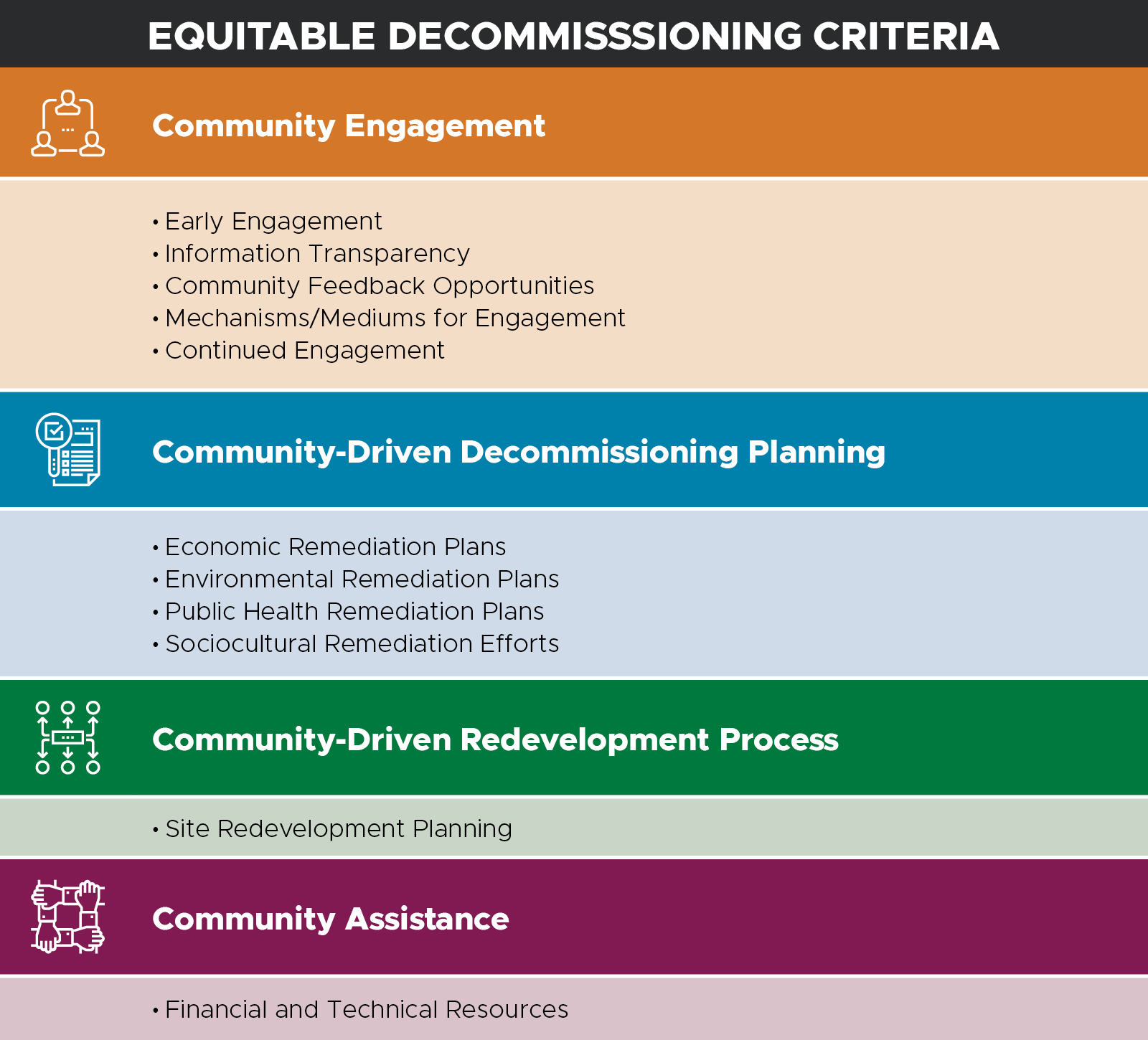 PNNL further leveraged the four case studies to formulate new criteria for equitable decommissioning. PNNL researchers are now actively working to propagate the criteria in applicable journals, including the publication of "Communities in Energy Transition: Exploring Best Practices and Decision Support Tools to Provide Equitable Outcomes," in the April 2022 issue of Discover Sustainability, as well as distributing the criteria among stakeholders. The journal article highlights PNNL's Redevelopment Decision-Making Framework, which shows the iterative process that encompasses the redevelopment stage. This process must continually integrate the desired outcomes of stakeholders into site options that mutually serve their varied visions. Researchers also created an associated Decommissioning Checklist for stakeholders involved in power plant decommissioning to assess whether the process is equitable.
Concludes Tarekegne, "decommissioning undoubtedly affects communities that have historically relied on this industry for employment and economic stability. In the Wise, Muskegon, Anderson, and Becker communities, the plant retirement process has ushered in a number of challenges. These communities, and thus this report and criteria, offer valuable insights into best practices, and in turn, an opportunity for other communities to be better supported and uplifted to ensure sustainable outcomes for everyone."
Published: April 19, 2022