Triton Field Trials
Triton Field Trials (TFiT) aims to advance knowledge of potential environmental impacts associated with marine energy devices by researching and providing recommendations for environmental monitoring procedures and technologies. TFiT 's research addresses the four main stressors of concern as identified in the  2020 OES-Environmental State of the Science Report. The project topics include:  
Environmental Monitoring Technology Development
The Environmental Monitoring Technology Development task works toward decreasing the time and money required to process large datasets associated with underwater video cameras and other sensors used to study collision risk around turbines. Collision risk is currently a challenging environmental stressor to study and quantify, but empirical data is needed to inform collision risk models of fish interactions to fulfill permitting requirements for marine energy installations. This task is focuses on automating underwater video analyses and improving algorithms to effectively capture fish/turbine interactions and advance the understanding of potential risk. Learn more. 
Completed Projects 
Igiugig Fish Video Analysis
The Igiugig Fish Video Analysis project analyzed underwater video data collected around a river turbine and developed a suite of algorithms that allows automatic detection of fish from video data. Through these efforts, collaborators used a combined approach of automatic detection software and human analysis to reduce labor time and improve reporting accuracy over sampling-based methods. The EyeSea software tool was developed as a result of this research. EyeSea uses machine learning to automatically identify the presence of fish in video data and reduce manual analysis. The fish-detection algorithms helped eliminate most video that did not contain fish, allowing subsequent human analysis to focus on segments most likely to contain fish.  Click here to read the report.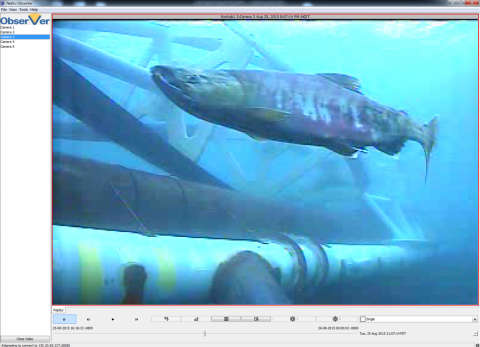 Triton Fish Mesocosm Study
The Fish Mesocosm Study was a collaboration between PNNL, the University of Washington, University of Alaska Fairbanks, and the University of Maine. The purpose of the study was to quantify fish interactions with tidal turbines and to observe their behavior around devices in a controlled, field environment. During the pilot study, researchers used a third-generation, adaptable monitoring package developed by the University of Washington to record movements of tagged fish in Sequim Bay. The package was equipped with sonar, acoustic cameras, hydrophones, and a classification system. Study results verified a low probability of fish interaction with this device.
Read more: Using acoustic telemetry for high-resolution sablefish movement informing potential interactions with a tidal turbine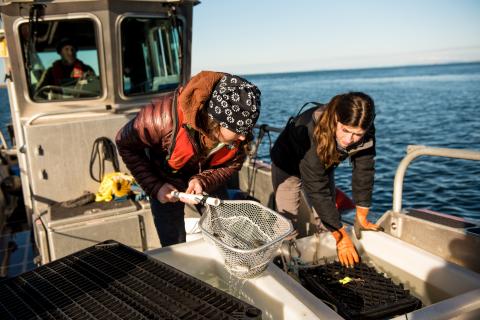 Integral Habitat Mapping
Integral Consulting, Inc. created an accessible ecosystem monitoring method that uses pre- and post-installation habitat mapping to assess the impact of marine energy systems on their surrounding benthic habitat. The method has two parts—photographic using sediment profile and plan viewing imaging and acoustic surveys using multibeam echosounder sonars and sediment analyses.  
The project team completed an acoustic survey of Sequim Bay in spring 2017, providing baseline bathymetric imagery of the ocean floor and allowed for grain-sized sediments. The sediment samples provided the laboratory with grain-sized measurements, which were compared to—and found consistent with—the data from the sediment profile and plan viewing imaging. Additional surveys of the Sequim Dungeness Spit contributed to technology improvements and upgrades. The habitat mapping project completed its final phase at the PacWave South wave energy test site. 
 
Contacts
Project Manager and Marine Biologist
Principal Investigator for the Triton Initiative and Earth Scientist