Current energy converters, such as riverine or tidal turbines, may create obstacles for fish, diving seabirds, and marine mammals because of turning blades and other device parts. Collison risk is the possibility of animals interacting with equipment components, particularly moving parts, of current energy converters. The risks include animals moving too close to a current energy converter or water currents overpowering an animal, causing them to move through the rotor-swept area. Outcomes could be a near-miss event, a collision leading to minimal or no injury, or a higher consequence interaction leading to significant injury and possible mortality. For endangered or threatened species, loss of a single or a few animals could impact a population—this is a concern for regulators permitting the deployment of these devices.  
Uncertainty around collision risk remains high due to the difficulty of effectively monitoring collision events. The Triton Field Trials (TFiT) collision risk team worked to determine the best monitoring methods to improve observation and testing of animal behavior around marine energy devices to make sure these devices are safe for marine life.  To understand the extent of this risk, scientists need to know when these interactions happen, and the outcome of collisions. 
Encounter risk estimates help inform the likelihood that an animal would approach a specific habitat where a marine energy device could be installed. To date, research has included modeling, telemetry for tracking wildlife, passive acoustic vocalization detection for presence and 3D localization of marine mammals, and flume studies with fish and small turbines. The sensors typically used include hydrophones, visual surveys, fisheries echosounders, multibeam echosounders, acoustic cameras, and video cameras.   
TFiT tackled the challenge of observing collision, near-miss events, and animal behavior around turbines. This research requires sensors that provide high-resolution imagery in close range of a turbine, which means the team largely relied on video and acoustic cameras. The TFiT collision risk stressor group conducted testing of these methods at the University of New Hampshire Living Bridge tidal deployment platform in a busy port environment and the Alaska Center for Energy and Power, Tanana River Hydrokinetic Test Site—a high-energy, low-visibility, riverine turbine testing site.  
At the Living Bridge, an acoustic camera and underwater video camera were deployed to test how well these instruments detect objects as they approach and interact with an operational turbine. In addition, tethered fishing lures were used as artificial targets and helped to assess how well these two underwater observation technologies performed at visually detecting blade interaction.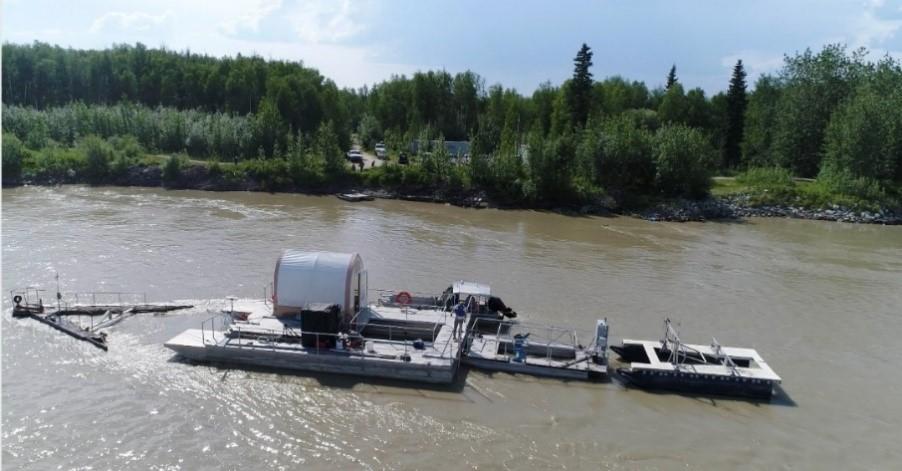 Triton also collaborated with Alaska Center for Energy and Power, the Pacific Marine Energy Center, and the University of Alaska Fairbanks College of Fisheries and Ocean Sciences to collect data around a riverine turbine in the Tanana River's highly turbid waters. At this site, the team deployed an acoustic camera. Unlike video cameras, these acoustic technologies generate a two-dimensional image of the water, animals, and detritus just upstream of the turbine, allowing observations to be made in murky and low-visibility conditions. To ground-truth fish activity observed with the acoustic camera, University of Alaska Fairbanks fish biologists captured fish with an incline plane trap behind the equipment to verify the targets the Triton team saw on the footage. This collaborative effort enabled the team to gather data on fish behavior around the turbine and helped to inform practices for monitoring collision risk. 
The data from these field trials, in addition to providing informative empirical data to regulators, could provide key inputs to models sensitive to animal detection and behavior near a turbine, such as avoidance and evasion.  
Results from the collision risk field trials are published here: Capabilities of an Acoustic Camera to Inform Fish Collision Risk with Current Energy Converter Turbines 
 
News & Publications
JULY 13, 2022
Research Highlight
DECEMBER 1, 2020
Research Highlight