Many marine animals, including mammals, fish, and invertebrates, are sensitive to acoustic conditions and use sound in the ocean for a variety of critical life functions, including communication, foraging, navigation, and reproduction. The introduction of marine energy devices into these areas has raised concerns related to uncertainties surrounding marine energy radiated underwater noise levels, the affected frequencies, and the duration or potential exposure of elevated sound levels to the animals in marine systems. Research by the Triton Field Trials (TFiT) on this topic worked to determine cost effective technologies and methods to measure and characterize marine energy related sound emissions.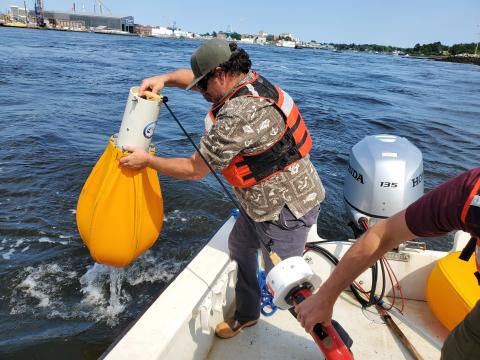 TFiT underwater noise research aimed to provide a use case for the application of the 2019 International Electrotechnical Commission 62600-40 Technical Specification (IEC 62600-40 TS) for characterizing acoustics around marine energy systems. The team performed field tests at diverse locations using commercial-off-the-shelf hydrophone technologies from Ocean Sonics and Ocean Instruments. The monitoring technologies were deployed at the University of New Hampshire Living Bridge experimental tidal energy platform in Portsmouth, New Hampshire, and at the Scripps Institution of Oceanography around the CalWave Power Technologies xWave wave energy converter in La Jolla, California. 
 
At the Living Bridge, Triton researchers deployed a drifting hydrophone system to record turbine sounds and ambient acoustic conditions following the IEC 62600-40 TS. These tests help provide an important initial use case of the technical specification for a tidal turbine to characterize potential changes in ambient sound levels in energetic tidal environments.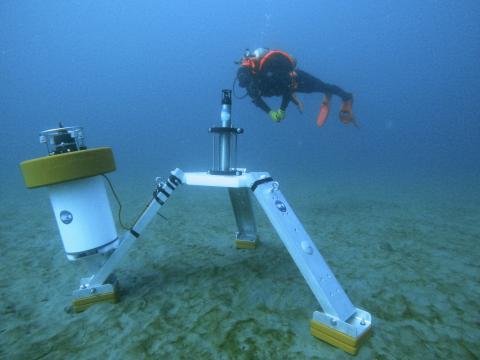 The underwater noise team then traveled to La Jolla, where they conducted a second deployment of hydrophones around the CalWave xWave wave energy converter. In collaboration with CalWave Power Technologies and Scripps Institution of Oceanography, the Triton team deployed three Ocean Instruments SoundTrap™ hydrophones on seafloor landers for over three months to characterize sound generated by the wave energy device. This longer-term deployment of underwater noise monitoring instrumentation provides valuable data about the wave energy converter's sound emissions through a range of environmental conditions and sea states.  
Contact
Principal Investigator for the Triton Initiative and Earth Scientist