Many marine animals, including mammals, fish, and invertebrates, are sensitive to acoustic conditions and use sound in the ocean for a variety of critical life functions, including communication, foraging, navigation, and reproduction. The introduction of marine energy devices into these areas has raised concerns related to uncertainties surrounding marine energy radiated noise levels, the affected frequencies, and the duration or potential exposure of elevated sound levels to the animals in marine systems. Research by the Triton Field Trials (TFiT) on this topic is working to determine the best methods to measure the frequencies and levels of marine energy-associated sound and to differentiate ambient noise levels from device-sourced noise.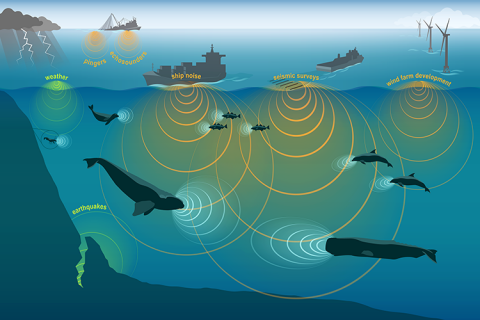 The industry has determined noise from marine energy devices meets United States regulations and guidance set to protect marine mammals and fish from harm due to underwater noise through International Electrotechnical Commission specifications. However, work still needs to be done to differentiate ambient noise levels from marine energy device-sourced noise and make underwater noise characterization more efficient.  
TFiT underwater noise research aims to provide experience with the application of the IEC standards for measuring underwater noise at operational marine energy project sites. The team plans to perform field tests at active turbine installations in diverse locations using drifting hydrophone technologies from Ocean Sonics. The monitoring technologies will be deployed at the University of New Hampshire Living Bridge experimental tidal energy platform, Alaska Hydrokinetic Energy Research Center's Tanana River Hydrokinetic Test Site, and the CalWave Energy Test Center. During each of these field trials, the team will use commercial off-the-shelf technology to characterize acoustic contributions from deployed marine energy devices. The team will provide monitoring recommendations based on the field efforts and input from developers, researchers, and regulators that merge the IEC standards with cost-efficient technology and methodology.  
 
Contacts
Project Manager and Marine Biologist
Principal Investigator for the Triton Initiative and Earth Scientist