Changes in habitat is a broad stressor that includes modifications to marine communities and the places they reside. This stressor includes changes in species composition, abundance, and distribution within those communities, as well as the alteration of physical habitats. Marine devices can be deployed where animals swim, reproduce, forage, or seek shelter. For example, the sediment animals live in can become flushed away or get crossed by cables, and the water columns that they inhabit can become occupied by marine energy devices. The Triton Field Trials worked to identify sampling methods that bring the most consistent results for monitoring changes in habitat within marine systems where marine energy devices are deployed.  
The changes in habitat researchers assessed monitoring capabilities and equipment applicable to a variety of effects on habitat for both benthic and pelagic organisms. The team reviewed technologies for monitoring at both small and large spatial scales, such as changes to the water column habitats near a device, as well as effects on sediment dynamics many meters away. Additionally, researchers reviewed how to evaluate habitat establishment over time. Devices are colonized by sessile and biofouling organisms, which may provide food and shelter to mobile animals such as fish and may possibly lead to marine energy devices acting like artificial reefs and fish aggregating locations. To understand these changes, monitoring needs to be performed at proposed marine energy installation sites before, and while, devices are deployed.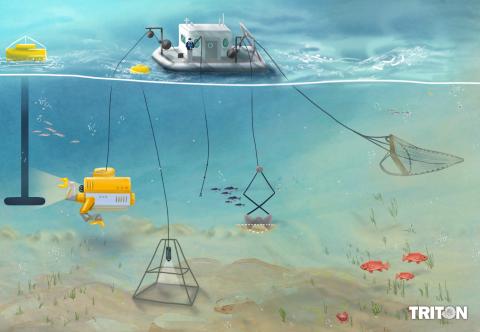 Several methods and technologies used to study this stressor have been employed for decades in other fields, such as fisheries, marine ecology, or marine conservation. Depending on the targets and objectives, these tools can include sonars, cores, trawls, video and photo imaging instruments, or scuba diver observations. This diversity of methods leads to a variety of metrics used, which creates challenges for obtaining consistency among sites and projects for meaningful comparison and data transferability. To identify sampling methods that produce the most consistent results for monitoring changes in habitat at a range of marine energy sites in riverine and marine systems, the team performed an in-depth literature review. The review, titled "What's in My Toolkit? A Review of Technologies for Assessing Changes in Habitats Caused by Marine Energy Development," explored the pros and cons of existing environmental monitoring technologies and determined methods new to the marine energy context that can be included in field testing.  
Additionally, the changes in habitat team conducted field trials of a commercial-off-the-shelf 360-degree underwater camera for monitoring fish activity around a marine energy device anchor. Six 360-degree cameras were assessed for the purpose of this study and were required to meet several criteria: depth rating compatible with marine energy deployments, runtime of several hours, the possibility for time-lapse frame capture, the ability to attach external lights, and possibility to mount on a tripod or frame for deployment as a lander on the seafloor. The 360-degree Boxfish camera was chosen because it met all criteria and included a sensor package that records environmental data such as depth and water temperature. The Boxfish was tested in tidal channels in Sequim Bay, Washington, and near Astoria, Oregon, with three configurations for deployment: hand-held, on a tripod, and mounted as a video lander. After determining the video lander was most suitable for studying habitat changes in energetic conditions, the team traveled to Scripps Institution of Oceanography in La Jolla, California, to deploy the camera around an anchor of the CalWave Power Technologies xWave wave energy converter. These field tests assessed the utility of these commercial-off-the-shelf cameras for monitoring artificial reef effects and other potential changes to habitats around marine energy devices and associated structures. 
Results from these field trials are published in the following:  
News & Publications
JULY 13, 2022
Research Highlight
OCTOBER 7, 2020
Research Highlight