One of the stressor topics the Triton Field Trials (TFiT) studies is changes in habitat.  
Changes in habitat is a broad stressor that includes modifications to marine communities. This stressor includes changes in species composition, abundance and distribution within those communities, as well as the alteration of physical habitats. For example, the sediment animals live in can become flushed away, the rocks they live on can get crossed by cables, and the water column where they swim can become occupied by marine energy devices. TFiT is working to identify sampling methods that will bring the most consistent results for monitoring changes in habitat within marine systems where marine energy devices are deployed. 
The changes in habitat team researches a variety of modifications to marine species communities, including both habitat for benthic and pelagic organisms. The team studies these organisms on both small- and large-spatial scales, including changes to the water column nearby a device, as well as effects on sediment dynamics many meters away. Additionally, the changes in habitat team is looking at creation of habitat over time. In some cases, devices will get colonized by sessile and biofouling organisms, which can provide food and shelter to mobile animals, such as fish, leading to marine energy devices acting like artificial reefs and fish aggregating locations. To understand these changes, monitoring needs to be performed at proposed marine energy installation sites before and while devices are deployed.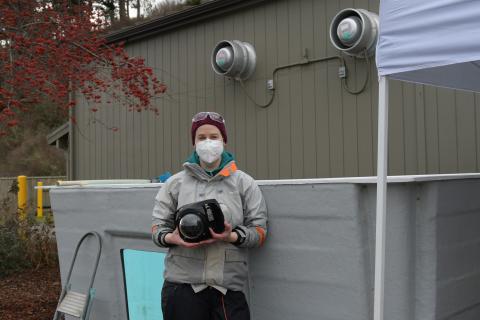 Several methods and technologies used to study this stressor have been employed for decades in other fields, such as fisheries, marine ecology, or marine conservation. Depending on the targets and objectives, these tools can include sonars, cores, trawls, video and photo imaging instruments, or diver observations. This diversity of methods leads to a variety of metrics used, which creates challenges for obtaining consistency among sites and projects for meaningful comparison and data transferability.  
The TFiT team's goal is to identify sampling methods that produce the most consistent results for monitoring changes in habitat at a range of marine energy sites in riverine and marine systems. The team is undergoing an in-depth literature review that explores the pros and cons of existing monitoring technologies, and determines methods new to the marine energy context that can be included in field testing. The team will test the various methods deemed most suitable for studying habitat changes in Sequim Bay's tidal environment, and in a higher energy wave environment at the CalWave Energy Test Center. 
News & Publications
JULY 13, 2022
Research Highlight
OCTOBER 7, 2020
Research Highlight
Contacts
Project Manager and Marine Biologist
Principal Investigator for the Triton Initiative and Earth Scientist