FOA Technical Development
Triton and the Marine and Coastal Research Laboratory at PNNL-Sequim supports technical development for three Funding Opportunity Announcement projects, including the BioSonics, Inc., Integral Consulting's benthic habitat mapping, and Woods Hole Oceanographic Institution's Electromagnetic Field Detection (WHOI EMF) projects. Each of these projects have undergone baseline field testing and are now benchmarking improvements before final testing. The Triton team helps determine projects' technical goals and discusses options for potential capabilities. The goal of these collaborations is to make the electronics systems and interfaces of their technologies effective, reliable, user-friendly, and able to withstand harsh marine conditions.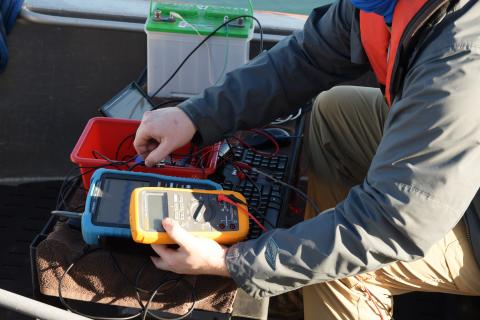 Technical development for the three projects includes:  
BioSonics, Inc.: The Triton team helped reduce audible frequencies associated with their perimeter detector technology. This work involved testing equipment in anechoic tanks at the Marine and Coastal Research Laboratory and building a test rig to deploy the system off a boat in open water. This collaboration resulted in a dramatic reduction in frequencies audible to marine mammals and increased clean data outputs from their system. 

Integral Consulting Benthic Habitat Mapping: The team helped increase the capabilities of the project's sediment profile imaging technology. The project designed a fully developed hydraulic system, which enables the sediment imaging system's prism to penetrate through harder substrates using water jets to fluidize sediments. This technical development involved developing a live video and lighting system that allowed remote viewing of the system during test deployments. This collaboration helped make Integral Consulting's habitat mapping instrument more resilient and versatile. 

WHOI EMF: During tests in Sequim Bay, the WHOI EMF system detected a local EMF source inside of the bay that was previously unknown. The technical development team was able to use sensors identify the unexpected sources of EMF in Sequim Bay, which allowed them to isolate the field emitted from the cable.