Inspiration for ICON Approaches
What does ICON science look like in reality? Below are examples of ICON approaches in action. This list is not intended to be exhaustive, and many examples do not use all four ICON principles. Consider this material a starting place to get ideas about what might fit well for your research and to get creative about ways to build off of these concepts or create your own. 
Crowdsourced Writing
In the Special Collection of Commentary Articles about ICON Science, the writing opportunity was advertised widely over social media, mailing lists, direct emails, and presentations. The result is nearly 200 people writing 22 articles in collaborative writing teams that will form a special issue to be published in Earth and Space Science.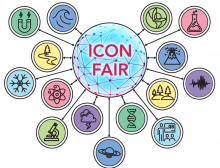 Integrated: 

Across 25 AGU disciplines

Coordinated: 

Standard structure/format; built around provided questions

Open: 

Openly advertised for global participation

Networked: 

Across institutions; Contributors get authorship and help direct the future of ICON Science
https://eos.org/editors-vox/special-collection-on-open-collaboration-across-geosciences
https://tinyurl.com/WelcomeICON 
The WHONDRS Crowdsourced River Corridor Organic Matter Chemistry Special Issue was created from the concept of a single crowdsourced manuscript, but after wide advertisement using similar methods as the ICON special collection and an open workshop to discuss ideas, there was so much interest and enthusiasm that the team decided to pursue a special issue instead of a single manuscript. This effort includes crowdsourced ideation based around data from a single WHONDRS study, crowdsourced analysis, and crowdsourced writing.
Integrated: Across hydrology, microbiology, ecology
Coordinated: Manuscripts built around single dataset from crowdsourced samples
Open: Openly advertised  for global participation
Networked: Across institutions; Contributors get authorship and guide their own science directions
https://www.aslo.org/for-and-by-the-global-science-community/
Community-Informed Study Design and Protocol Videos
[Integrated, Coordinated, Open, Networked]
WHONDRS holds multiple videoconferences for each new study it launches to get feedback on study design, build in opportunities for mutual benefit, and identify sources of integration. It creates both written and video protocols to assure consistency across global samplers. The links below are examples from its Summer 2019 Sampling Campaign.
Public Protocols
[Coordinated, Open, Networked]
Crowdsourced Sampling and Experiments
[Coordinated]
NutNet Experiments
The Nutrient Network (NutNet) has created standardized protocols to allow collaborators around the world to perform simple but identical experiments in their field systems. These coordinated experiments create comparable data in a way that would otherwise be impossible.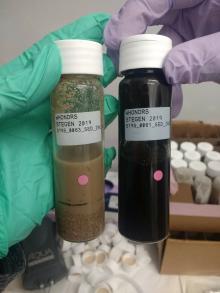 WHONDRS Sampling Kits
WHONDRS builds sampling kits that it ships for free to samplers around the world. The kits allow for consistent collection methods, control of sampling materials and potential contamination, and ease of analysis when samples are shipped back to WHONDRS for analysis. The images below demonstrate the kit building and shipping process and the variation across samples returned.
1000 Intermittent Rivers
The 1000 Intermittent Rivers project is based on crowdsourced samples from streams that go dry during some part of the year. To generate data that are comparable across streams, the project provides detailed protocols for field site selection, sample collection, and field data acquisition. The project also generates primary data products at a single institution to increase consistency. 
Open Learning Opportunities
[Open, Networked]
Cross-Laboratory Comparisons
[

Coordinated, Open, Networked

]
Instrument comparisons: Evaluating the reproducibility of specific analyses across different laboratories is a powerful approach to add value to data generated by multiple research groups and institutions. For example, this study examined the reproducibility of ultra high resolution mass spectrometry applied to natural organic matter evaluated across globally distributed institutions. Each laboratory received a standardized set of samples and all used the same analytical methods. The outcome was a set of community benchmarks to enhance interoperability and comparability across studies.
Model comparisons: In addition to measurements, modeling efforts can also increase value through application of ICON principles. For example, the World Climate Research Programme's Coupled Model Intercomparison Project (CMIP). CMIP runs standardized model experiments to enable comparisons between models and makes the outputs across models openly available using a standardized format to enable access, reusability, and interoperability. 
 
Provide feedback
We value your feedback on how we further enable the community to use ICON principles. Please email ICONS@pnnl.gov with your thoughts on what is working, what needs to be improved, and what opportunities we could pursue.