Partners interact with the Cooperative in a mutually beneficial way that aligns with ICON's philosophy to be for and by a broad range of stakeholders. There are no inherent limits on who or what can be a Partner. For example, Partners can be a small or large project, a research group, a department, a business, a university, or any other collection of people. Instead of being defined by size, scope, or affiliation, Partners embody two key attributes: they currently use or aim to use ICON principles in their scientific efforts and they have a sincere interest in helping the Cooperative enable broad and effective use of ICON principles through a variety of mechanisms such as studying/improving the principles and guiding the development of enabling resources. Partners may embody ICON principles from creation or they may be existing entities that integrate ICON principles after engaging with the Cooperative. The Board of Directors works with each prospective Partner to discuss their goals, interests, and motivations to assess their potential role as a Cooperative Partner. 
Partners have the option of adding a representative to the Cooperative's Advisory Board. Having a member on the Advisory Board can help the Cooperative grow in ways that are mutually beneficial with the Partner's needs. Each Partner commits to holding at least one globally open meeting (e.g., videoconference) per year to communicate their efforts to interested parties and receive (and act on) community guidance on how to improve their use of ICON principles for mutually beneficial outcomes. Partners can choose to engage other organizations, researchers, and other stakeholders to help them learn about ICON principles in an inclusive manner. For example, this may include giving short presentations on ICON principles and/or the ICON Cooperative. Partners also identify potential new Partners or groups interested in ICON principles and connect them to the ICON Cooperative. 
Does your project, group, institution, or other entity use ICON principles or want to use ICON principles? Do you also want to help the Cooperative enable broad use of ICON principles? Does becoming a Partner sound interesting? If so, please reach out to ICONS@pnnl.gov to learn more.
Below is a summary of current partners and how they embody ICON principles.
WHONDRS
The Worldwide Hydrobiogeochemistry Observation Network for Dynamic River Systems (WHONDRS) is a research consortium that aims to understand coupled hydrologic, biogeochemical, and microbial function within river corridors, with an emphasis on increasing accessibility of resources and knowledge throughout the research life cycle.
Learn more at https://whondrs.pnnl.gov or by contacting whondrs@pnnl.gov
Integrated: WHONDRS integrates processes across physical (e.g., hydrology), chemical (e.g., organic matter chemistry), and biological (e.g., microbial metabolic potential) properties as well as across scales (e.g., local dynamics to global patterns). They are currently pursuing integration of multi-omics data into 1-dimensional reactive transport models for application across global river corridors.
Coordinated: WHONDRS coordinates the use of consistent protocols to generate data that is interoperable across systems and researchers, often with a focus on data types needed to inform, develop, and improve models. They currently obtain community input on protocols and then formalize them in written and video formats published on the website and youtube channel. In turn, protocols are used to build standardized sampling kits distributed to collaborators.
Open: WHONDRS openly exchanges FAIR data (e.g., via ESS-DIVE), software (e.g., via GitHub), and models (e.g., via KBase) throughout the research lifecycle such that all researchers are enabled to contribute and leverage resources. They publish open data prior to generating manuscripts and are currently pursuing a crowdsourced manuscript that is globally open, with community input and action from development of science questions to the written paper.
Networked: WHONDRS networks efforts across globally distributed researchers that guide and carry out sample collection to implement research that is mutually beneficial while providing resources (e.g., ultrahigh resolution mass spectrometry data) that are difficult or impossible for many researchers to access. They currently use open, interactive videoconferencing to gather input on ways to enhance the value of sampling efforts to the science community and, in turn, build kits for community-based sampling, followed by data generation and publishing.
EXCHANGE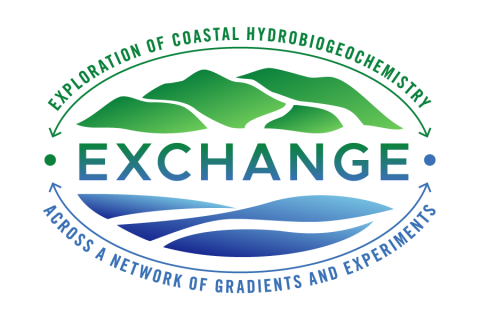 The Exploration of Coastal Hydrobiogeochemistry Across a Network of Gradients and Experiments (EXCHANGE) program is a consortium that aims to improve understanding of how the two-way exchange of water between estuaries or large lake lacustuaries and the terrestrial landscape influence the state and function of ecosystems across the coastal interface, with an emphasis on community-driven open science.
EXCHANGE is part of the DOE-Funded Coastal Observations, Mechanisms, and Predictions Across Systems and Scales (COMPASS) project. Learn more by contacting coastal.exchange@pnnl.gov or visiting https://compass.pnnl.gov/FME/EXCHANGE.
Integrated: EXCHANGE integrates measurements made across the coastal terrestrial-aquatic interface to understand how the depth and duration of soil saturation, abundance of redox sensitive elements, and their interactions with plant traits drive site to regional scale spatial variability in ecosystem structure and function. Results from EXCHANGE campaigns feed directly into efforts to improve predictive modeling of coastal ecosystem dynamics. 
Coordinated: Standardized sampling kits and protocols are used by participants. Samples are all subjected to a common lab analysis workflow using consistent instrument settings and QA/QC procedures. EXCHANGE provides venues for community feedback on the experimental design of field sampling campaigns, sampling protocols, the suite of analytical parameters to be evaluated, and data analysis methods prior to each campaign. While analytical methods are consistently interoperable, the experimental design of future campaigns is flexible to address new needs revealed by data analysis and model integration.
Open: Participation in the consortium is open to any researcher interested in pursuing the identified research challenges. EXCHANGE generates and shares data following FAIR principles on repositories such as ESS-DIVE after QA/QC evaluation and vetting among consortium members. EXCHANGE intends to publish open data prior to generating manuscripts and participation in manuscript preparation is intended to be open to all members of the consortium and broader community. 
Networked: EXCHANGE forms connections between a wide array of interdisciplinary coastal scientists to achieve transformative science outcomes both related to the goals of the consortium and individual researchers. Participants are recruited through a variety of outreach efforts such as open workshops, town hall sessions, and advertisement aimed at relevant professional societies. Participants gain access to data generated with cutting edge analytical capabilities that are not widely accessible and the standardized datasets enable putting their individual research sites into a larger Earth system perspective. EXCHANGE also synergizes with other coastal research networks to amplify their collective impact.
GROW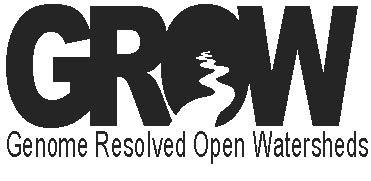 Genome Resolved Open Watersheds (GROW) is a community effort to increase genomic representation of the world river microbiome with an emphasis on creating an ecosystem-specific publicly available genome database (GROWdb) that will be a resource for microbiologists, geochemists, hydrologists, and modelers and enable new fundamental understandings of watershed microbiology. 
Learn more by contacting Kelly.Wrighton@colostate.edu (Lead PI) or Mikayla.Borton@pnnl.gov
Integrated: To execute the breadth of sample collection required to support a global census of river microbiomes, GROW is supported by several different project teams with expertise spanning hydrology, geochemistry, ecology, and microbiology disciplines. Generation of GROWdb will advance knowledge of the multiple interacting geochemical, ecological, and hydrological constraints on river microbial processes, with current efforts aimed at integration of multi-omic results into global biogeochemical reaction transport models.
Coordinated: All samples for the GROWdb are sequenced by the Joint Genome Institute under a community sequencing project using consistent protocols and QA/QC procedures. For downstream computational analyses, GROW coordinates the use of consistent protocols to generate data that is interoperable across researchers and disciplines, often with a focus on maximizing genome recovery. 
Open: GROW applies distributed science approaches to watershed science, resulting in transparent data, methods, and research results for the full scientific lifecycle. The GROW consortium adheres to open data sharing policies that includes that all data (metabolite, metaG, and metaT) will be made open access once they are quality checked. GROWdb will be consistently formatted and fully open according to FAIR data principles, with current efforts actively publishing sequencing data on JGI-IMG as it is generated. 
Networked: GROW networks efforts across independent researchers to move beyond a small collection of well-studied river systems, towards a spatially distributed, global network of systematic observations that are of appropriate scale and continuity to inform continental scale predictive models. Synergizing with NMDC, KBase, ESS-dive, and JGI, GROW aims to build the infrastructure for integration and storing multi-omics data streams that amplifies the usability of this resource by researchers working in river systems.