Building the Triton Initiative with Meg Pinza
The Triton Initiative is in its sixth field season with the largest and most scientifically diverse team yet. Triton is a U.S. Department of Energy Water Power Technologies Office project working to reduce barriers to testing and deploying marine energy systems by better understanding potential environmental impacts of marine energy devices. Through field research, supporting technology development, and stakeholder engagement, the Triton Initiative has become a thought leader in the field of environmental monitoring for the marine energy industry. Much of Triton's growth and success is thanks to the leaders who helped transform the idea of Triton into a reality.  
Meg Pinza is the group leader for the Coastal Sciences Division at Pacific Northwest National Laboratory (PNNL), and one of the women who helped build Triton into the program it is today.  
Pinza has nearly 30 years of experience managing multi-disciplinary programs focused on examining environmental effects of offshore development and coastal ecosystems. Her expertise involves working within the energy sector to collect data related to environmental monitoring of oil exploration and marine energy devices, conducting studies assessing the potential anthropogenic effects to marine organisms, and analyzing data to inform the permitting and regulation of energy activities. Her career in coastal sciences began in graduate school, where she received her master of science in aquatic toxicology at Western Washington University. She then started her career at PNNL's Marine and Coastal Research Laboratory (MCRL) in 1990, where she spent 16 years working on oil spill research, both as a scientist and a manager for PNNL's Ecotoxicology group. In 2006, Pinza took time to travel the world with her family and work in consulting. She returned to MCRL in 2018 to take on project management for the Triton Initiative. In 2019, she transitioned to her current role as group leader.  
Building Triton
Pinza provided key leadership for Triton's support in the U.S. Department of Energy funding awardee technology development period, helping partners advance their technologies and coordinate testing of instruments designed to detect and monitor environmental effects of marine energy devices. During this period, Triton supported important technology development for monitoring equipment that is now moving toward commercialization. Pinza was also an essential part of implementing the Triton Fish Mesocosm Study, a cutting-edge pilot study in a controlled, field environment that demonstrated the ability to quantify fish movement near an environmental monitoring package, which served as a proxy for a tidal energy device. These efforts put Triton on the map and made important contributions to the marine energy industry.  
One of Pinza's important contributions to Triton was working with the team to develop the framework to research various stressors and environmental technology that would become the primary focus of the Triton Field Trials (TFiT) task. A critical need of the marine energy industry is reliable, cost-effective methods and instrumentation for monitoring specific stressors associated with deployed devices. TFiT started as a concept focused on the need for standardized environmental monitoring methods to support regulators responsible for permitting marine energy devices. Pinza and the Triton team took this concept and turned it into a tangible project, which has become a multidimensional effort providing recommendations for environmental monitoring practices to study the main stressors associated with marine energy applications, including collision risk, underwater noise, electromagnetic fields, and changes in habitat. Before TFiT became what it is today, Pinza played an integral role in choosing sites to research, connecting with stakeholders, and collaborating with OES-Environmental to determine which of the six  stressors identified in the OES-Environmental State of the Science Report, found to be of highest concern to regulators that permit marine energy systems. She also connected with parallel industries, in particular oil and gas, to learn from how they address environmental monitoring.   
During Pinza's time managing Triton, the Water Power Technologies Office funded a creative outreach effort for projects to communicate their research. Pinza led the effort to the develop a 360-degree MCRL tour, a series of videos that virtually invite audiences into the laboratory and field. Viewers get to see what PNNL research looks like behind the scenes. These videos introduced Triton to the world in a new way and set the stage for Triton's large communications effort.   
With these many efforts, Pinza's leadership set the groundwork for the initiative's future growth. Since her time leading Triton, the tasks have grown bigger, the team has doubled in size, and the scope and areas of research have expanded. This growth has broadened Triton's horizons and allowed the team's technical capabilities to develop and opened possibilities for the type of research questions Triton answers. Pinza describes Triton as a true example of a multidisciplinary research team—one that brings together diverse expertise to collaboratively solve meaningful problems. From Pinza's perspective, success for Triton means the United States will see more marine energy devices in the water, and she is confident Triton is playing an important role in making that a reality. 
Supporting MCRL's Vision 
In Pinza's current role, she helps drive the Coastal Sciences Division's research strategy and makes sure MCRL has the expertise and capabilities to bring that vision to life. What Pinza loves most about being a group leader is enabling scientists and engineers to pursue the research and technology they are passionate about. This support can mean offering advice, connecting researchers to proposals and research opportunities, or building relationships with MCRL's team of researchers. Her role also gives her a snapshot of PNNL's strategy and research directions, which allows her to help people network and connect to collaborative, meaningful research throughout the organization.  
From the group leader perspective, Pinza appreciates that the Triton team offers PNNL's researchers a chance to be leaders. Many projects and tasks make up the Triton Initiative, which allows the researchers to take on leadership roles, expand their experience, and learn from those with different backgrounds. Environmental monitoring for marine energy systems is a multidisciplinary problem, requiring collaboration and diverse perspectives to tackle the questions associated with marine energy. One of the challenges for Triton is finding new researchers to join the team. "Marine energy is such a new field," says Pinza, "it is not yet a common part of academic curricula, so finding the talent isn't easy. One of my most important jobs is to find the best of the best to support MCRL's research." 
Pinza views Triton as MCRL's flagship program—it's a project that capitalizes on the best MCRL has to offer, including the site, the people, and the shared motivation to protect marine and coastal environments. MCRL is an ideal location for Triton's research because it offers multidisciplinary staff expertise with a breadth of experience, as well as an easy-access permitted test site to conduct bench scale testing, technology development, and in-water deployments in a controlled environment. "Triton is something the leadership at MCRL is proud of," says Pinza.  
Are you interested in working with us? MCRL and the Triton team hope to continue to build an inclusive, team field with diverse people and perspectives. Find out how to get involved here.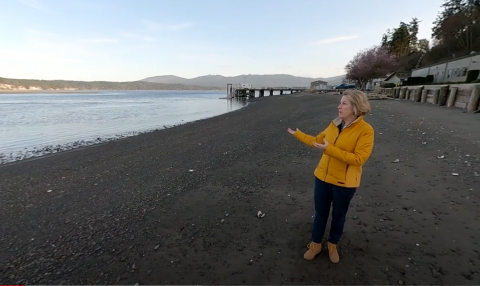 Written by Cailene Gunn.