Florida Atlantic University Unobtrusive Multi-Static LiDAR Imager (UMSLI)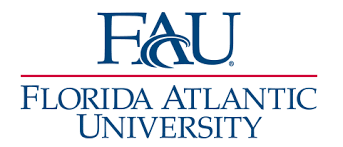 Light Detection and Ranging, or LiDAR, is an advanced remote sensing method that uses light in the form of laser pulses. These data are often used to generate precise, 3-D topographic and bathymetric images to characterize the Earth's surface or specific features. The Unobtrusive Multi-Static Serial LiDAR Imager (UMSLI) project, led by Florida Atlantic University, is bringing this technology into the water column to improve the detection and classification of marine life. In 2014, the first-generation UMSLI technology was funded by a U.S Department of Energy Funding Opportunity Announcement (FOA). The technology developed and tested the optical monitoring system prototype with automated real-time classification of marine animals. The project was awarded a second FOA for further technological development. 
The UMSLI system has transmitters that artificially illuminate the water surrounding a marine renewable energy device with a series of short laser pulses of light that allow receivers to collect time-resolved returns. Just one year after development, the system covers 360 degrees and classifies targets to 10 meters using red lasers. In year two, the project will incorporate green light, which will increase the system's detection range under water. 
The goal of the UMSLI is to monitor and identify marine life surrounding energy devices. In July 2017, a benchmark performance of the baseline prototype occurred in in Sequim Bay. To support baseline testing, divers from the Marine and Coastal Laboratory at PNNL-Sequim were tasked to emulate the conditions of a representative UMSLI deployment environment by swimming with artificial marine life targets to validate the system's ability to classify species presence or absence. The UMSLI system uses omnidirectional orientation architecture, which is a technology that allows observations to be made at different angles and relative positions. This information was used to improve the UMSLI's classification algorithm. The system will be validated against targets at multiple deployment sites, including Ediz Hook, the Dungeness Spit, and the Sequim Bay channel. These deployments will be used to further validate the system performance, allowing comparisons with conventional imagery against the newly developed technology.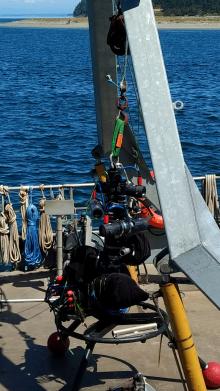 FOA project DE-EE0007828