Sea level rise induced by climate change is expected to affect many areas of the U.S. coastline. Although the exact magnitude of sea level rise is hard to predict, communities need to plan for a variety of scenarios. Numerical models can be used to simulate a range of sea level rise conditions coupled with other coastal processes such as storm surges, tides and waves, and the response of the coastal environment. Sea level rise may amplify the impact of storm surges or increase erosion along some coastlines. Model simulations generated from state-of-the-art coastal ocean models can inform developers and coastal land managers of the potential impact of sea level rise on their regions.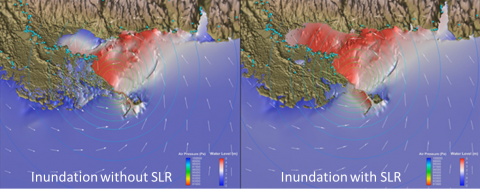 Projects
Effects of Sea Level Rise on Coastal Inundation and Salinity Intrusion in the Snohomish River Estuary, WA. 
In this project, a coupled modeling framework with a watershed hydrology model and an estuarine hydrodynamic model was used to investigate the estuarine hydrodynamic response to sea level rise and change in river flow due to the effect of future climate and LULC changes in the Snohomish River estuary, Washington, USA. A set of hydrodynamic variables, including salinity intrusion points, average water depth, and salinity of the inundated area, was used to quantify the estuarine response to river flow and sea-level rise. Results suggested that the response of salinity intrusion points to sea-level rise is strongly nonlinear.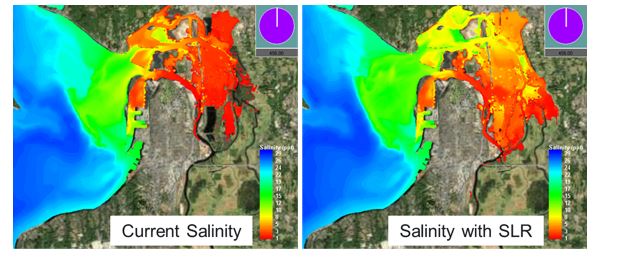 Modeling Coastal Inundation Induced by Sea Level Rise, Storm Surges, and Subsidence in the Gulf of Mexico.  An unstructured-grid finite-volume storm surge model, FVCOM, was developed to simulate tides and hurricane-induced storm surges in the Gulf of Mexico. Storm surges induced by four historical hurricanes (Rita, Katrina, Ivan, and Dolly) were simulated and validated using observed water levels at NOAA tide stations. Effects of coastal subsidence and future global sea level rise on coastal inundation along the Louisiana coast were evaluated using a ''change of inundation depth'' parameter through sensitivity simulations that were based on projected future global sea level rise by the end of the century.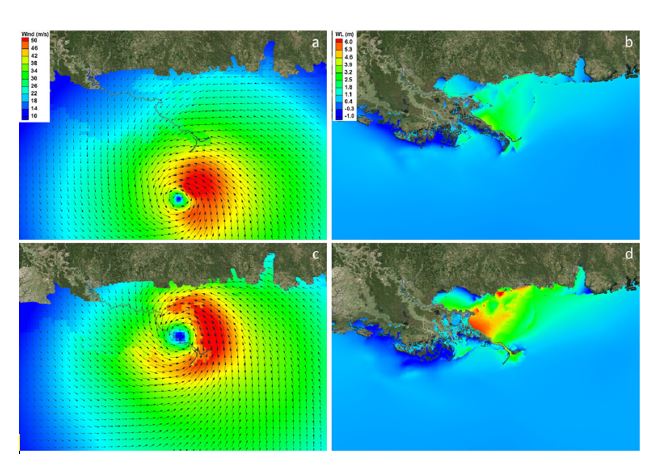 Vulnerability Assessment of the Mid-Atlantic Coast under Future Climate – A Modeling Study.  A coastal storm surge model was developed to evaluate the risk of coastal flooding and vulnerability along the U.S. mid-Atlantic coast under future climate scenarios with sea level rise. The model was validated with storm surge data for Hurricane Isabel, and sensitivity analyses were carried out to evaluate the effect of sea level rise on coastal flooding.