Deployments and Analysis
Collecting a comprehensive set of atmospheric and oceanographic measurements needed for offshore wind resource characterization.
Two AXYS Technologies WindSentinelTM buoys were procured in 2014 and  underwent acceptance and performance testing at PNNL's Marine and Coastal Research Laboratory in Sequim, Washington. The goal was to assess the performance of all sensors, power systems, and communications links with the buoys deployed in a location representative of a real operational environment.
The map below highlights the locations and dates when the buoys were deployed. Additional information on the buoy deployments can be found in the DOE Buoy Loan Program Description (below).
Upgrade and Validation
Instrumentation upgrades, including a more powerful lidar system, were completed in 2019. The upgraded lidars were validated in 2020 to ensure the quality and accuracy of their measurements. Shortly after validation, the buoys were deployed off the coast of California in partnership with the Bureau of Ocean Energy Management to support wind resource characterization and model validation off the California coast.
Operational Deployments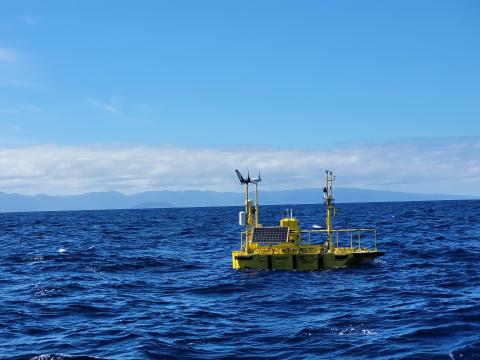 O'ahu
On December 1, 2022, a buoy was stationed approximately 15 miles east of O'ahu to collect accurate offshore meteorological and oceanographic data in Hawai'i. The buoy was deployed in 800 meters—or 2,600 feet—of water. It is measuring wind speed and direction up to 250 meters above the water's surface; ocean current down to 200 meters below the surface; wave spectrum; air temperature, relative humidity, and pressure; sea surface temperatures and conductivity; and solar radiation.
California
In September 2020, the buoys were deployed off the California coast to conduct a year-long wind resource characterization campaign in partnership with the Bureau of Ocean Energy Management. The buoys were moored in the Morro Bay Call Area in central California and the Humboldt Call Area in northern California--both areas are being considered for a commercial offshore wind development. Data collected from the buoys are made available through the Wind Data Hub.
Virginia and New Jersey
In December 2014, one buoy was deployed 42 km off the coast of Virginia. In November 2015, the second buoy was deployed 5 km off the coast of New Jersey. Each buoy collected over a year's worth of continuous meteorological and oceanographic data.
Measurements collected from the buoys were analyzed to determine wind speed, atmospheric, and oceanographic conditions. Scientists from PNNL have analyzed the data, and those analyses are summarized in the reports below.
More Information
The lidar buoy program is funded by DOE's Wind Energy Technologies Office. The buoys are owned by DOE and managed by PNNL as part of PNNL's wind energy portfolio.
Contacts
Wind Energy Program Manager, Lidar Buoy Program Manager, Offshore Wind and Ocean Dynamics Team Leader