Data Access
Collecting a comprehensive set of atmospheric and oceanographic measurements needed for offshore wind resource characterization.
The collection and dissemination of buoy data for the benefit of the public and industry is central to the lidar buoy program. Data collected from the meteorological and oceanographic sensors during past and current deployments are made available for public access within the Wind Data Hub. From that webpage, a user can browse the lidar buoy data and filter the results to download data customized for their interests. 
Averaged buoy data are made available on the Wind Data Hub at the end of every day during active collection periods. High frequency data are uploaded to the Wind Data Hub after the raw data is recovered from the buoy during scheduled maintenance visits and after buoy recovery.
Data accessed through the Wind Data Hub will soon include plots to visualize recent measurements. The measurements collected by the buoys are described in detail in the Lidar Buoy Data Dictionary available on the Wind Data Hub. The Data Dictionary includes example plots and definitions of the measurements collected from the buoys.
The plot below shows an annual wind rose using the measurements collected from the lidar buoy deployment off the coast of Virginia.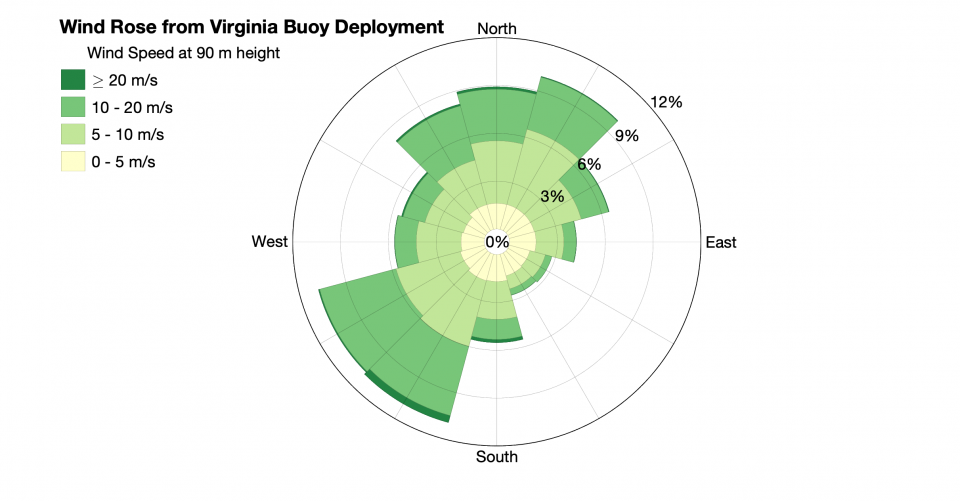 More Information
The lidar buoy program is funded by DOE's Wind Energy Technologies Office. The buoys are owned by DOE and managed by PNNL as part of PNNL's wind energy portfolio.
Contact
Wind Energy Program Manager, Lidar Buoy Program Manager, Offshore Wind and Ocean Dynamics Team Leader