Developing the Chemistry and Technology of Catalyzed Processes for a Carbon-Neutral Future
Catalysts are key to transitioning to a sustainable economy. Industrial processes and energy production must be reinvented to use renewable sources of carbon instead of fossil fuels and to limit environmental pollution. Catalysts control chemical transformations that convert carbon dioxide and biomass into renewable fuels and bio-based chemicals. They also power fuel cells that convert chemical energy into clean electricity, and they transform harmful pollutants from vehicle emissions into less toxic gases.
Currently, 80 percent of all chemical products and energy carriers are made using catalysts in at least one of the processing steps. The long-term transition to a sustainable economy requires not only reinventing the industrial processes of today, but also harvesting and using dispersed renewable carbon and energy resources.
These challenges define the mission of the Institute for Integrated Catalysis: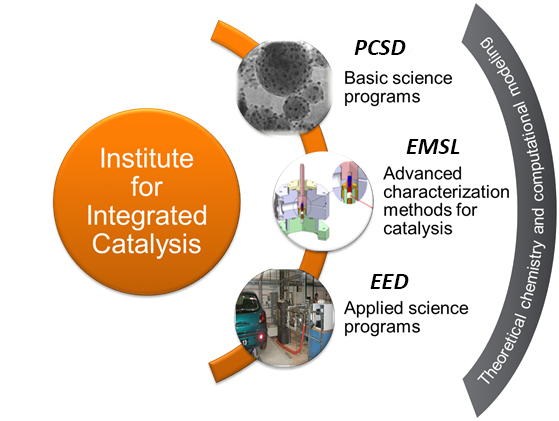 Provide the insight, synthetic tools, and engineering concepts to enable catalyzed chemical and chemical-electrical energy interconversions to minimize the carbon footprint of the global energy system.

Develop experimental and theoretical tools to better understand the structure and properties of working catalysts, informing preparation of novel catalysts with novel reaction routes.

Translate fundamental insights of catalyst function into novel and improved catalytic technology.
The IIC integrates scientists and engineers from different organizations at Pacific Northwest National Laboratory, including the Environmental Molecular Sciences Laboratory (EMSL). The cross-disciplinary collaboration and mutual influence produces a unique creative environment, which is a prerequisite for transformative research.
The key scientific challenges addressed within the IIC focus on adding hydrogen to oxo-functionalized carbon resources (such as biomass constituents or carbon dioxide), storing electric energy in hydrogen, oxygen, or nitrogen (key focuses of the Center for Molecular Electrocatalysis, an Energy Frontier Research Center), manipulating carbon-carbon and carbon-heteroatom bonds, and exhaust catalysis.