The Battery500 team includes a diverse set of scientists and engineers from several DOE national laboratories, academia, and industry. Partner include researchers from the following institutions: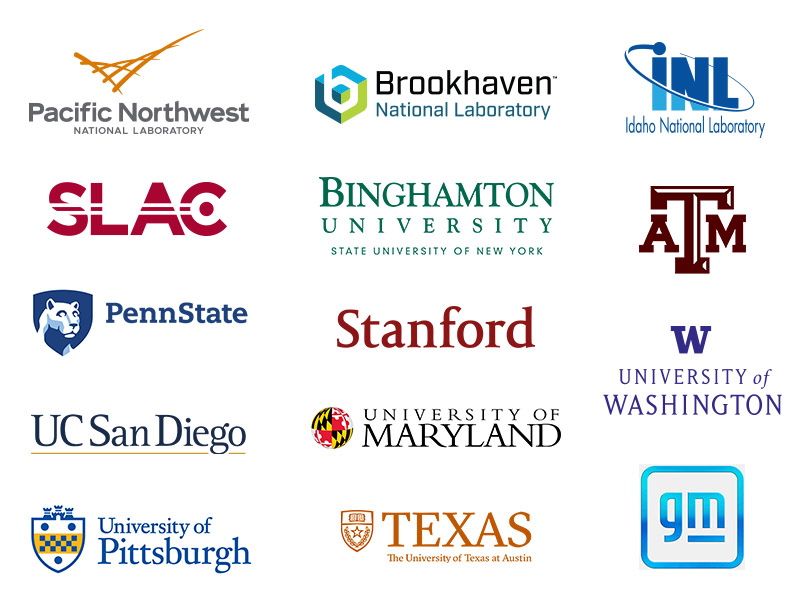 Here are many of the team members.
Director

Dr. Jun Liu is a world recognized leader in materials science and energy. He joined PNNL in 1992, became a Laboratory Fellow in 1999. Dr. Liu has served in many key leadership positions in national labs in his career, and over time initiated and led a broad range of basic and applied research programs in materials science and energy. He is currently a Battelle Fellow at PNNL and a Washington Foundation Innovation Chair and Campbell Chair Professor at the University of Washington. He has more than 450 peer reviewed publications, has received more than 60 U.S. patents. 

Learn more

.

Co-Directors

Dr. Yi Cui is a pioneer and leader in nanomaterials and clean energy. He is currently the Fortinet Founders Professor of Engineering the Director of the Precourt Institute for Energy at Stanford University and SLAC. Dr. Cui has made significantly contributions to the development of nanomaterials for energy and other applications, and has led many successful efforts in transferring scientific discoveries into potential and commercial applications. Learn more.

Dr. M. Stanley Whittingham is

presently SUNY Distinguished Professor at Binghamton University. He is

a pioneer in battery research, and one of the most recognized leaders in materials sciences and electrochemistry. Dr. Whittingham discovered the first intercalation electrode materials and demonstrated the first working device for Li-ion batteries that are widely used for laptops, tablets, cellphones, digital devices, electric cars and energy storage today. Dr. Whittingham has also made long time contributions to the elucidation of the limiting mechanisms, chemical and structural, of intercalation reactions using a variety of synthetic and characterization approaches, both in-situ and ex-situ, as well as development of new materials and new synthetic approaches. In 2019, Dr. Whittingham was awarded the Nobel Prize in Chemistry for his pioneering invention of lithium-ion batteries.

Learn more

.

Deputy Director

Dr. Jie Xiao is a Battelle Fellow and Technical Manager for Battery Research at the Pacific Northwest National Laboratory. Dr. Xiao's research interest

spans from materials synthesis, electrochemical catalysis/kinetics to advanced characterizations with the goal to understand the synthesis-structure-performance relationship in energy-related materials and their underlying reaction mechanisms. Of particular interest is the identification of new materials and novel technologies for energy storage and conversion. Dr. Xiao also leads several major effort for DOE in the areas of advanced electrode materials and applications. 

Learn more

.

Chief Scientist

Dr. Arumugam Manthiram is the

George T. and Gladys H. Abell Endowed Chair of Engineering in the Walker Department of Mechanical Engineering. He served as the Director of the

Texas Materials Institute for 11 years during 2011 - 2022. He received his Ph.D. degree in chemistry from the Indian Institute of Technology Madras in 1981. After working as a postdoctoral researcher at the University of Oxford and at UT-Austin, he became a faculty member in 1991. His research is focused on batteries and fuel cells. He has authored 900 journal articles and 20 issued patents with 94,000 citations and an h-index of 151. He has mentored ~ 300 students and postdocs, including the graduation of 69 Ph.D. students and 27 M.S. students. Learn more.

Project Coordinator

Dr. Xiao-Qing Yang is a senior scientist at Brookhaven National Laboratory. He is an expert in the development and characterization of advanced electrode materials. He has made long time contribution to solve both fundamental and applied problems relating to electrochemical energy storage systems and materials. These include: (a) lithium-ion, lithium-air, lithium-sulfur, and sodium-ion rechargeable batteries; (b) electrochemical super-capacitors; and (c) cathode, anode, and electrolyte materials for these systems. Learn more.

Co-Principal Investigators

Dr. Zhenan Bao is K.K. Lee Professor of Chemical Engineering, and by courtesy, a Professor of Chemistry and a Professor of Material Science and Engineering at Stanford University. Bao founded the Stanford Wearable Electronics Initiate (eWEAR) in 2016 and serves as the faculty director. Prior to joining Stanford in 2004, she was a Distinguished Member of Technical Staff in Bell Labs, Lucent Technologies from 1995-2004. She received her Ph.D in Chemistry from the University of Chicago in 1995.  She has over 700 refereed publications and over 100 US patents with a Google Scholar H-Index >190. She is one of the Clarivate Citation Laureates. Learn more.

Dr. Perla Balbuena is a Professor in the Department of Chemical Engineering and holds the Mike O'Connor Chair I at Texas A&M University, where she also has joint appointments in the Chemistry Department and in the Department of Materials Science and Engineering. Dr. Balbuena has done pioneering work in first-principles computational analysis of interfacial phenomena in lithium-ion batteries and advanced battery technologies. Her research focuses on computational materials design for battery and electrocatalysis materials and processes. 

Learn more

.

Dr. Mei Cai is the Director of Battery Cell Systems Research at General Motors Global Research and Development Center. She is responsible for innovations in advanced battery technologies for future electric vehicles. She has more than 25 years of industrial R&D experience including extensive experience in novel materials processing for automotive applications. She has managed multi-million-dollar R&D projects in the development of low-cost and durable vehicular energy storage materials and systems. She was recognized as the 2022 Business Insider EV Power Player, 2021 Women of Color Technologist of the Year, and 2018 Asian American Engineer of the Year for her contributions in fundamental research and technology development. She is the author or co-author of more than 100 scientific publications and holds 125 issued US patents. Her research has received more than 12,000 citations and has an h-index of 58 (Google Scholar). Some of her patents have been licensed and commercialized by industry.

Dr. John Goodenough is a Professor in the Department of Electrical & Computer Engineering at the University of Texas at Austin and holds the Virginia H. Cockrell Centennial Chair in Engineering. He joined the University of Texas at Austin in 1986. He is known around the world for his pioneering work that led to the invention of the rechargeable lithium-ion battery and was awarded the Nobel Prize in Chemistry in 2019.

Learn more

.

Dr. Enyuan Hu is an associate chemist at the Chemistry Division of Brookhaven National Laboratory. His research emphasizes beyond lithium-ion batteries including lithium metal batteries, solid state batteries, lithium sulfur batteries and sodium-ion batteries. He developed using high energy synchrotron x-ray for the characterization of lithium metal anode interphase and revealed the formation and consumption mechanism of various interphase components. He also co-developed the neutron pair distribution function analysis technique with his colleagues for characterizing the oxygen redox reaction in battery materials. Recently, his works involved developing advanced electrolytes for low temperature and high voltage applications. Dr. Hu obtained his PhD from the Mechanical Engineering of Stony Brook University, and he currently serves on the National Synchrotron Light Source II Users' Executive Committee. Learn more.

At the University of Pittsburgh, Dr. Prashant Kumta is the Edward R. Weidlein Endowed Chair Professor in the Swanson School of Engineering and the School of Dental Medicine in the departments of bioengineering, chemical and petroleum engineering, mechanical engineering and materials science, and oral biology. His primary area of interest in the energy storage arena is in synthesis, characterization, and structure-property correlation of electrochemically active materials. He is known for ex-situ generation of electrochemically active-inactive nanocomposite alternative anode structures for lithium-ion batteries, understanding interface instabilities in electrodes, and development of framework structures for lithium sulfur batteries. Learn more.

D

r. Ping Liu is Professor of Nanoengineering and Director of the Sustainable Power and Energy Center (SPEC) at University of California, San Diego. His research interests include lithium metal batteries, solid state batteries, and battery safety. Previously, Dr. Liu has led research programs in electrochemical conversion and storage as a staff member at the National Renewable Energy Laboratory and as a manager at HRL Laboratories.  Dr. Liu also served as a Program Director at Advanced Research Projects Agency – Energy (ARPA-E)  where he drove the development of robust energy storage and thermal management technologies. Learn more.

Prof. Y. Shirley Meng's work pioneers in discovering and designing better materials for energy storage by a unique combination of advanced characterization and diagnosis with electron/neutron/photon sources together with the first-principles computation guided materials discovery and design. She is a professor at the Pritzker School of Molecular Engineering of the University of Chicago. She also serves as the chief scientist of the Argonne Collaborative Center for Energy Storage Science (ACCESS) Argonne National Laboratory.  She is an adjunct professor at University of California, San Diego where she started her ground breaking work about novel Co-free cathode materials, cryogenic microscopy and solid state batteries. Learn more.

Dr. Donghai Wang is a Professor in Department of Mechanical Engineering at the Pennsylvania State University with affiliate positions at the Department of Chemical Engineering and Intercollege Materials Science and Engineering Program. He has been an ardent researcher responsible for leading multiple-organization interdisciplinary teams, executing over $21M grants as principal investigators and co-investigators, and overseeing 50 doctoral students and postdoctoral fellows. He has co-authored around 120 peer-reviewed journal articles, contributed to several book chapters on nanotechnology, and given over 100 talks at professional conferences and universities. He had been identified as a Highly Cited Researcher in 2018-2021, according to Web of Science. Before joining Penn State University in 2009, he served as a scientist and researcher at Pacific Northwest National Laboratory. Dr. Wang is a prolific inventor with over 20 applications filed in the fields of nanomaterials and related applications to energy storage techniques. Learn more.

Dr. Johanna Nelson Weker is a lead scientist at SLAC National Accelerator Laboratory. Her research focuses on synchrotron-based X-ray characterization of materials and systems far from equilibrium. Her work spans a range of topics including electrochemical energy storage, catalysis, and additive manufacturing. In addition to a leading a vibrant research group, she helps run the transmission X-ray microscopy on beamline 6-2 at Stanford Synchrotron Radiation Lightsource (SSRL). Dr. Nelson Weker graduated in 2005 with a B.S. in mathematics and physics from Muhlenberg College in Allentown, PA. In 2010, she received a Ph.D. in physics from Stony Brook University on Long Island, NY, where she studied X-ray based coherent diffractive imaging. Learn more.

Dr. Wu Xu is currently a Chief Scientist at Pacific Northwest National Laboratory. He received his Ph.D. degree in chemistry from National University of Singapore in February 2000.

He joined PNNL in April 2008 after serving as a

Senior Scientist

for four years

in the electrolyte business of Ferro Corporation.

He has expertise and extensive experience for

more than 30 years in the development of novel electrolytes and electrode materials and the investigation of electrode/electrolyte interfaces/interphases for various energy-storage devices such as lithium-based batteries, supercapacitors, and organic redox flow batteries. He has published more than 200 papers in peer-reviewed professional journals, 1 book and 8 book chapters, and holds 35 U.S. patents.

He has won several awards, including R&D 100 Award in 2012, PNNL Inventor-of-the-Year in 2013, Battelle Distinguished Inventor in 2020, and

Highly Cited Researcher by Clarivate Analytics in 2018, 2020 and 2021

. Learn more.

Dr. Ji-Guang (Jason) Zhang is a Laboratory Fellow of the Pacific Northwest National Laboratory. 

He

is a project leader on PNNL's mobile energy storage efforts and

has 30 years of experience in the development of energy storage devices. He is the corecipient of two R&D 100 awards, holds 33 patents (with another 32 patents pending), and publishes more than 360 papers in refereed journals.  He was named Highly Cited Researcher in Materials Science by Clarivate Analytics in 2015 and 2017

−

2021 and received Distinguished Achievement Award by Department of Energy's

Vehicle Technologies Office

in 2022  for his outstanding technical contributions to VTO's battery research and development activities. Learn more.