Events and Proposal
Upcoming Events:
The kWh Battery Challenge for Electric Vehicles and Energy Storage: A Perspective from Battery500 Consortium
Presented by Dr. Jun Liu
Monday, February 27, 2023 | 12:00 - 1:00 p.m. (PT)
Register for Zoom Webinar
Join us for this seminar where Dr. Jun Liu will discuss the research needs for electric vehicles and energy storage. He will provide an overview of the Battery500 Consortium, including its history, current work, and future efforts. Lastly, he will address the scientific challenges to increase today's battery technology capacity to up to 500 Wh kg-1 to achieve 1,000 charge/discharge cycles, and reduce the cost of cells significantly to less than $100 kWh-1.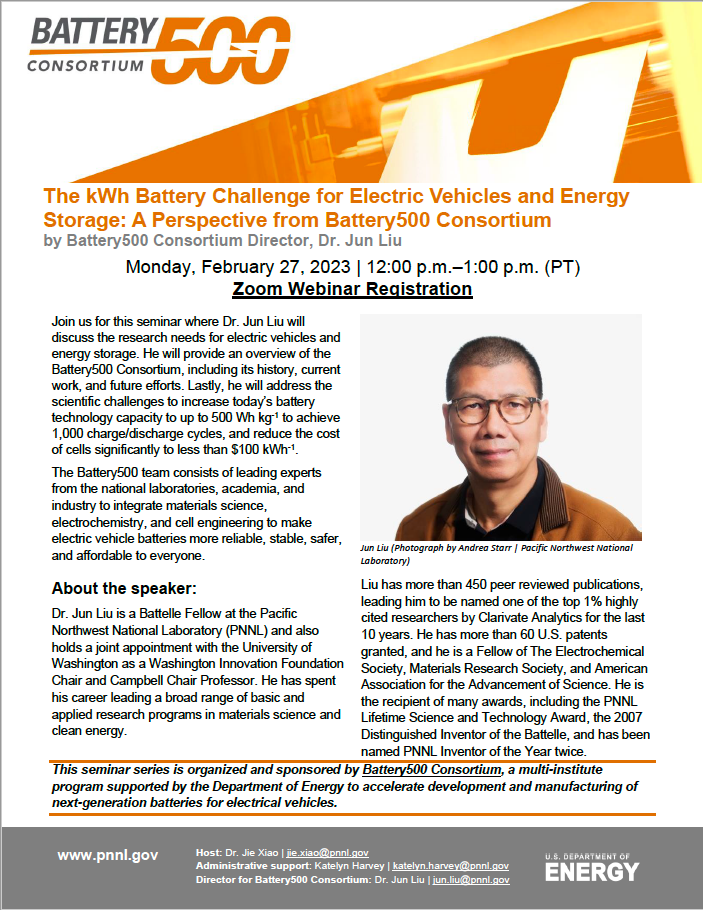 Past Seminars:
 
Frontiers in Battery research and Development: From Materials to Manufacturing
Presented by Professor M. Stanley Whittingham 
December 13, 2022 
Long-Lived Li-ion Cells
Presented by Professor Jeff Dahn
Thursday, November 10, 2022 

 
Past Proposals:
REQUEST FOR TECHNICAL PROPOSAL: BATTERY500 SOLID-STATE BATTERY SEEDLING PROJECTS
In support of U.S. Department of Energy (DOE)'s efforts in pushing the frontiers of science and engineering to accelerate decarbonization process through research, development and demonstration, and deployment and re-establishing battery materials and supply chain in U.S, proposals are sought for supporting Battery500 Consortium sponsored by DOE's  Vehicle Technology Office.
Proposals must be submitted by 5 p.m. ET, October 28, 2022 to email: battery500.rfp@pnnl.gov. You may also send any queries to this email.
News