Monitoring Our Changing Atmosphere for Three Decades
PNNL contributes to 30 years of data on clouds, radiation, and other climate-making factors
On May 16, 1992, in an Oklahoma farm field, two Pacific Northwest National Laboratory (PNNL) engineers set up a borrowed weather instrument. Its first output, just after noon that day, was a 9-byte pulse of atmospheric data.
That first pulse of information started what is now a vast archive of climate-relevant data maintained by Atmospheric Radiation Measurement (ARM), a Department of Energy (DOE) Office of Science user facility. In May 2022, ARM marks 30 years of collecting continuous, comprehensive atmospheric data.
ARM was conceived in the late 1980s to address growing concerns over levels of carbon dioxide, impending climate change, and a lack of observations to inform predictive Earth system models. Of particular concern to DOE was how little quantitative information there was about solar radiation and the influence of clouds on climate.
Since 1992, beginning in that farm field, ARM has grown to three fixed and three mobile atmospheric observatories deployed in the world's climate-critical regions. To date, ARM instruments have collected data from every continent and every ocean.
Today, ARM has carefully archived 3.3 petabytes of data on temperature, humidity, wind speed, solar radiation, and other atmospheric factors that drive weather and climate. That's enough data to fill 50,000 smartphones at 64 gigabytes apiece. And it's all freely available to researchers worldwide.
Three decades of partnership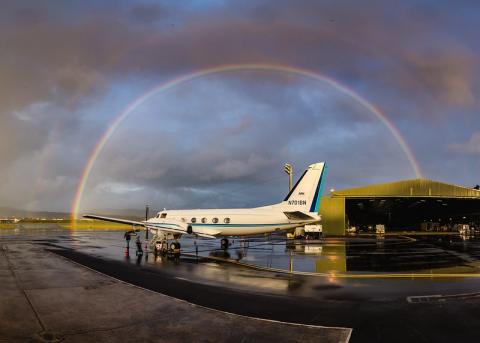 The ARM user facility owes much of its strong beginning to PNNL, one of nine national labs in the ARM family.
From its earliest days onward, ARM has depended heavily on PNNL people, projects, and data expertise.
PNNL astrophysicist Gerry Stokes led ARM science planning and later became the user facility's first chief scientist. PNNL meteorologist Ted Cress was ARM's first technical director. The lab's Jeff Griffin started ARM's Instrument Development Program in 1992. It was a vital part of an organization tasked with hardening laboratory instruments to run autonomously in harsh environments.
For giving ARM a good start, Stokes credits PNNL's pioneering DOE work in monitoring residential energy usage, which in the 1980s involved thousands of households in the Pacific Northwest. The project ("the start of the smart grid," he says) was a trial by fire in collecting, managing, and analyzing large amounts of continuous data.
With that boost from PNNL, by 1992 "we put a structure in place at ARM that did not choke on the data," says Stokes.
From then on, ARM-PNNL ties remained strong. In 2006, when ARM combined all its aerial research at PNNL into one operation, PNNL was awarded the competitive contract.
Today, PNNL is home base to Jim Mather, ARM Technical Director, and Jennifer Comstock, ARM Engineering and Process Manager.
PNNL also hosts ARM's radar engineering group under the direction of Iosif "Andrei" Lindenmaier, the radar and instrument calibration operation, the 16-year-old Aerial Facility (AAF) managed by Beat Schmid, and the ARM communications team.
Fan Mei, AAF director of science, is at PNNL. So is Chitra Sivaraman, the lab's Data Integration team leader. Part of Sivaraman's role is to oversee development of the value-added products that enhance the utility of ARM data.
PNNL's contributions to the user facility and its projects worldwide are part of a yearlong series on ARM data turning 30.