An Energized Visit from Office of Electricity Assistant Secretary Gene Rodrigues
Assistant Secretary Gene Rodrigues' first visit to Pacific Northwest National Laboratory included tours of the Electricity Infrastructure Operations Center and the Grid Storage Launchpad
Pacific Northwest National Laboratory (PNNL) was proud to host Assistant Secretary Gene Rodrigues from the Department of Energy's Office of Electricity (DOE-OE) to showcase three decades of impact on grid reliability, resilience, and modernization. PNNL is a leading laboratory supporting DOE's grid programs. Rodrigues was accompanied by Deputy Assistant Secretary of Grid Controls and Communications Gil Bindewald.
"It was an honor to host Assistant Secretary Rodrigues for his inaugural visit to PNNL, where he could see firsthand the capabilities we proudly steward in support of the OE mission," said Laboratory Director Steven Ashby. "We appreciated his enthusiastic interest in our contributions and his active engagement with our talented staff."
PNNL plays a leading role in developing a modern and resilient power grid for the 21st century. Associate Laboratory Director for Energy and Environment Jud Virden greeted Rodrigues and provided an overview of the day's activities, highlighted PNNL's science and technology portfolio, and discussed PNNL priorities. Kicking things off, Rodrigues toured the Electricity Infrastructure Operations Center (EIOC). In the EIOC, real-time data from the grid is combined with advanced computation and analytics in realistic utility control room environments. The utility control rooms allow researchers to test and apply tools that enable infrastructure planning, improve emergency response, and deliver insights to assess and integrate renewable energy.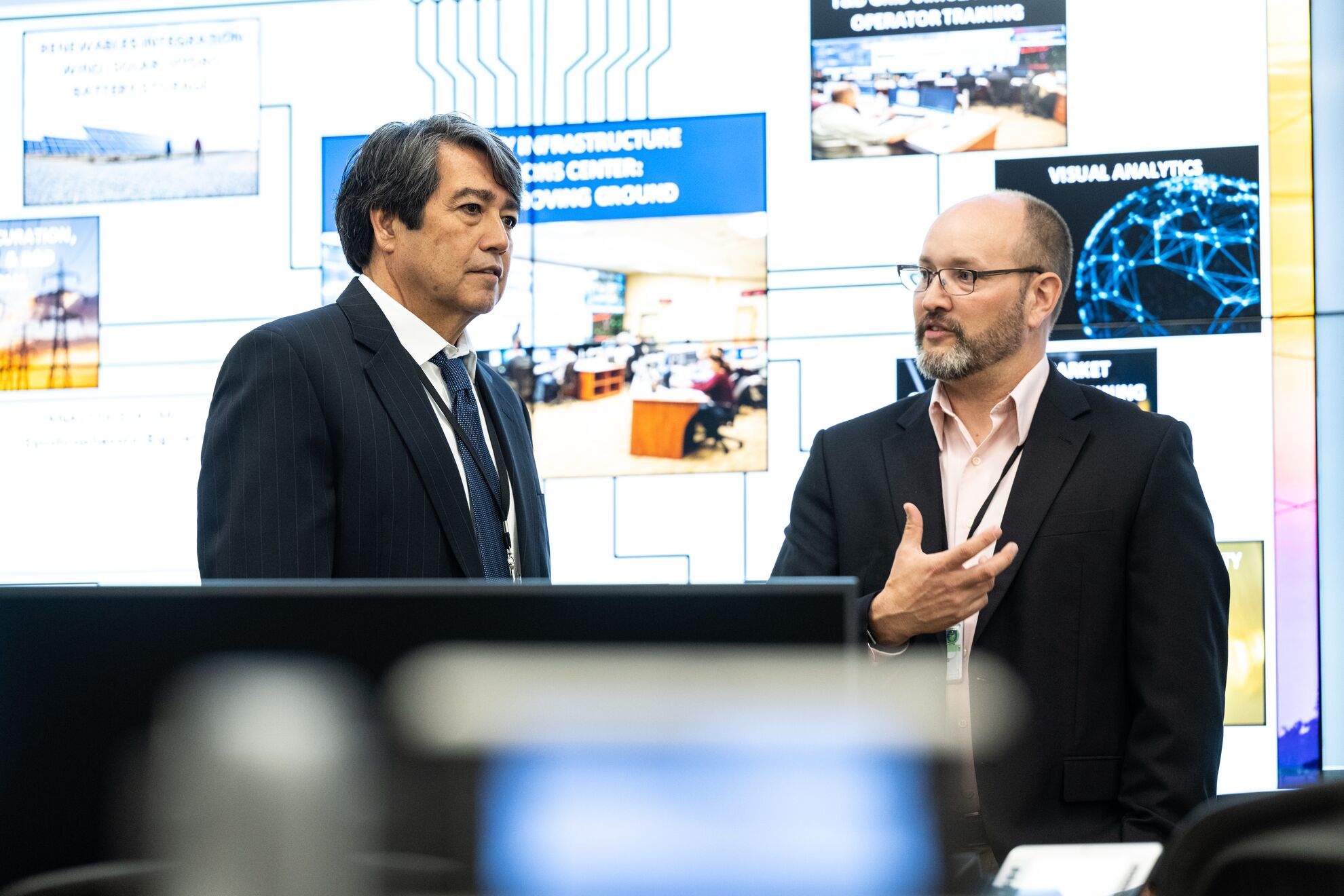 In a meeting with PNNL staff members, the assistant secretary shared his experience and vision for DOE-OE's priorities and strategy. Rodrigues is nationally recognized as an expert in clean energy policy and programs and has over 30 years of experience in the field. He was sworn into office in early January.
"I'm so pleased that I was able to come to PNNL among my very first on-site visits to our national labs," said Rodrigues. "The partnership between PNNL researchers and my team in the Office of Electricity is critical to our nation's ability to modernize the power grid and advance energy storage to make our power system more resilient, more reliable, and more secure, while also decarbonizing the economy and bringing the benefits of clean energy to every American home and business."
The afternoon focus shifted to tour stops featuring grid storage and electricity infrastructure research. Rodrigues visited the Battery Reliability Test Laboratory, where experts are developing evaluation tools, materials, and system designs to test emerging and existing high-performance battery technologies that support grid-scale storage at low cost. He then toured Energy Northwest's Applied Process Engineering Laboratory to learn about the reinvention of metals manufacturing through an approach called Solid Phase Processing, resulting in high-performance metal products that have increased conductivity to improve transmission cables, transformers, and switch gears.
Rodriguez also visited the future Grid Storage Launchpad (GSL), the first ever OE national facility investment for grid-scale energy storage. OE selected PNNL as the site for the new facility to accelerate the development and deployment of next-generation grid storage technologies through systematic and independent validation—from basic materials and components to prototypes that enable technologies that are safer, more cost effective, and more durable.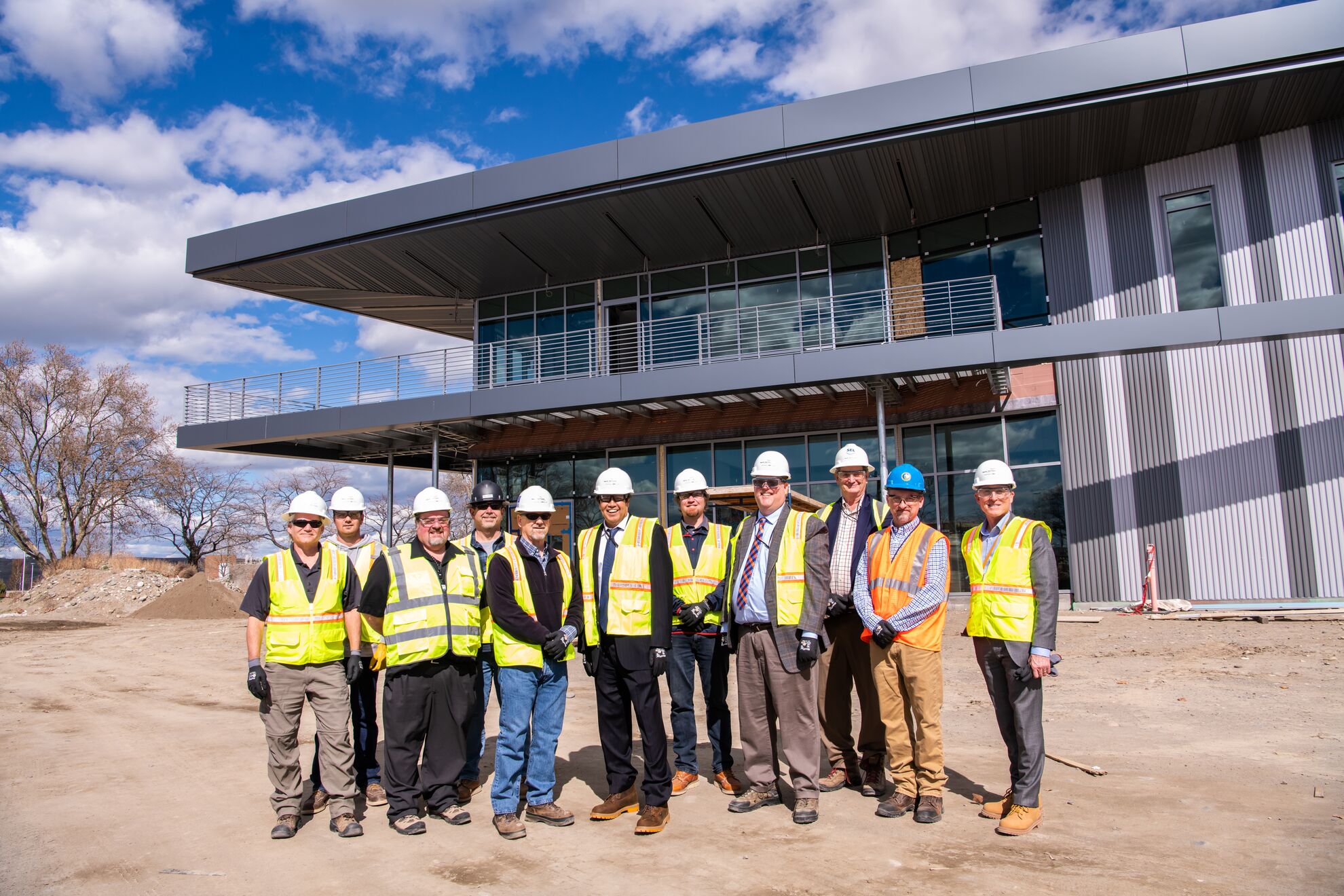 Strategic funding from the state of Washington, Battelle, and PNNL provides further support for GSL equipment and research and development activities that complement the DOE-OE investment. The facility will foster collaboration between national labs and other stakeholders to support OE's mission, the Energy Storage Grand Challenge, and the Long Duration Storage Shot. Operations at the GSL will start in spring 2024.
Rodrigues' second visit day opened with a briefing on PNNL's support of DOE's cybersecurity goal to create a more resilient and self-defending energy delivery system.
While on campus, Rodrigues also took the opportunity to engage with PNNL staff personally. He networked with the Asian Pacific Islander Resource and Outreach Connection, a PNNL employee resource group. Employee resource groups foster diversity and inclusion, offering professional, educational, and social activities that provide safe spaces and a collaborative environment for employees to create meaningful connection and successful research.
Rodrigues is passionate about addressing the opportunities and challenges of a modern energy system and understands the effort and collaboration needed to make it happen. He had productive conversations with PNNL staff about creating possible opportunities of collaboration to enhance the next decade of planning for the electric grid.
The visit ended with an impactful discussion about incorporating energy equity and environmental justice into modernization efforts to design a decarbonized power system that is accessible to everyone and from which everyone can benefit.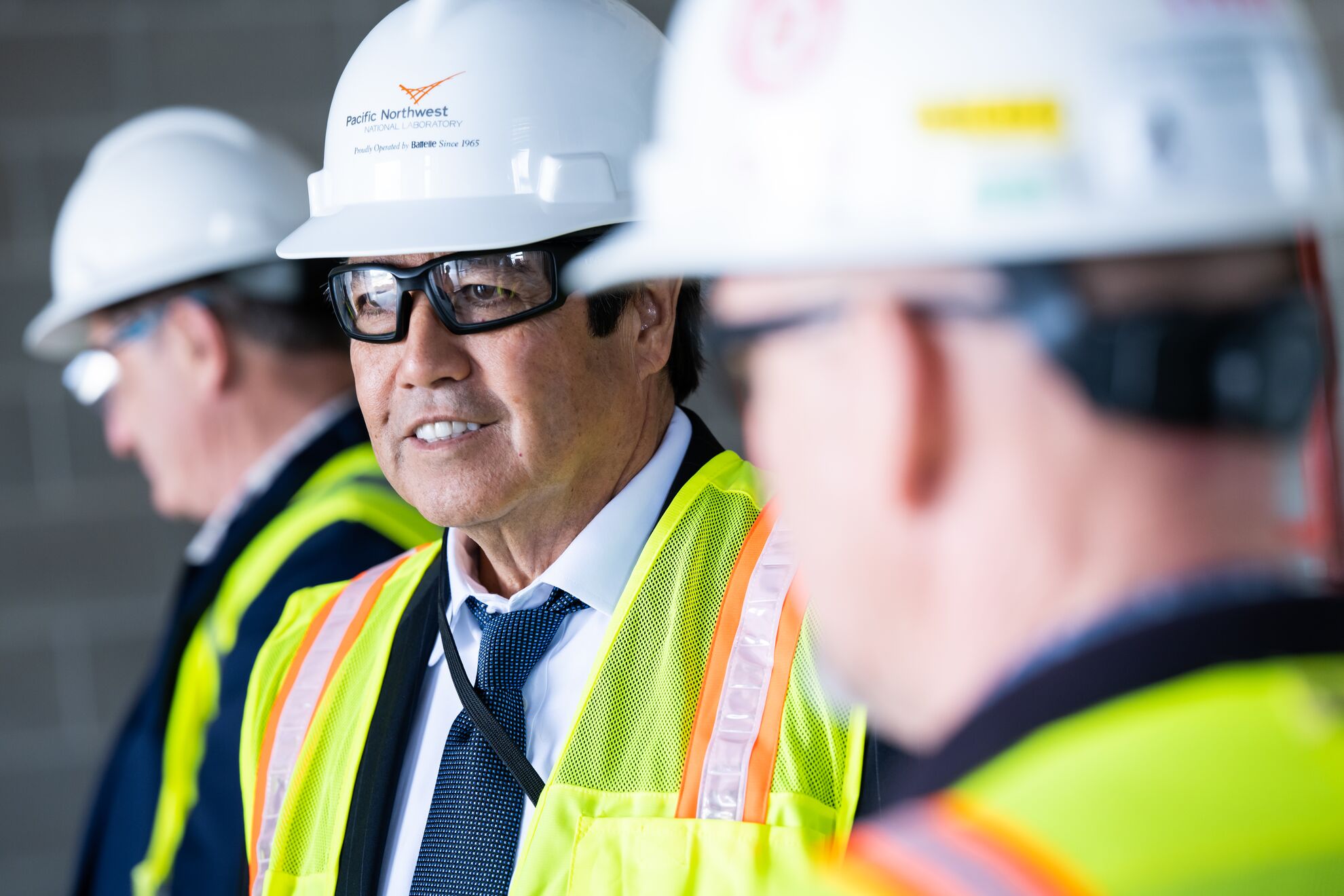 Published: April 26, 2023