Case Study of ICON in Action: WHONDRS Summer 2019 Sampling Campaign
The WHONDRS Summer 2019 Sampling Campaign used ICON principles throughout the research lifecycle to study links among organic matter chemistry, microbial metabolism, biogeochemical function, and diverse properties of watershed and river corridor systems. The study was designed to integrate across physical (e.g, hydrology), chemical (e.g., organic chemistry), and biological (e.g., microbial) aspects of the river corridor. The specific questions, data types, and methods were developed openly with the watershed science community through discussion-based videoconferences. 
Community feedback was used to modify numerous aspects of the study to ensure that the study was feasible for everyone and that outcomes would be mutually beneficial across the collaborative network. For example, sampling protocols were discussed in detail and expectations were clearly communicated to avoid challenges such as site access, availability of data from existing stream hydrology sensors, and the practicalities of obtaining enough water or sediment from each field site. In the process, additional community-valued metadata types were added such as stream geomorphology and vegetation cover. In addition, to further enhance mutual benefits, the community requested subsamples to conduct analyses beyond what WHONDRS could pursue.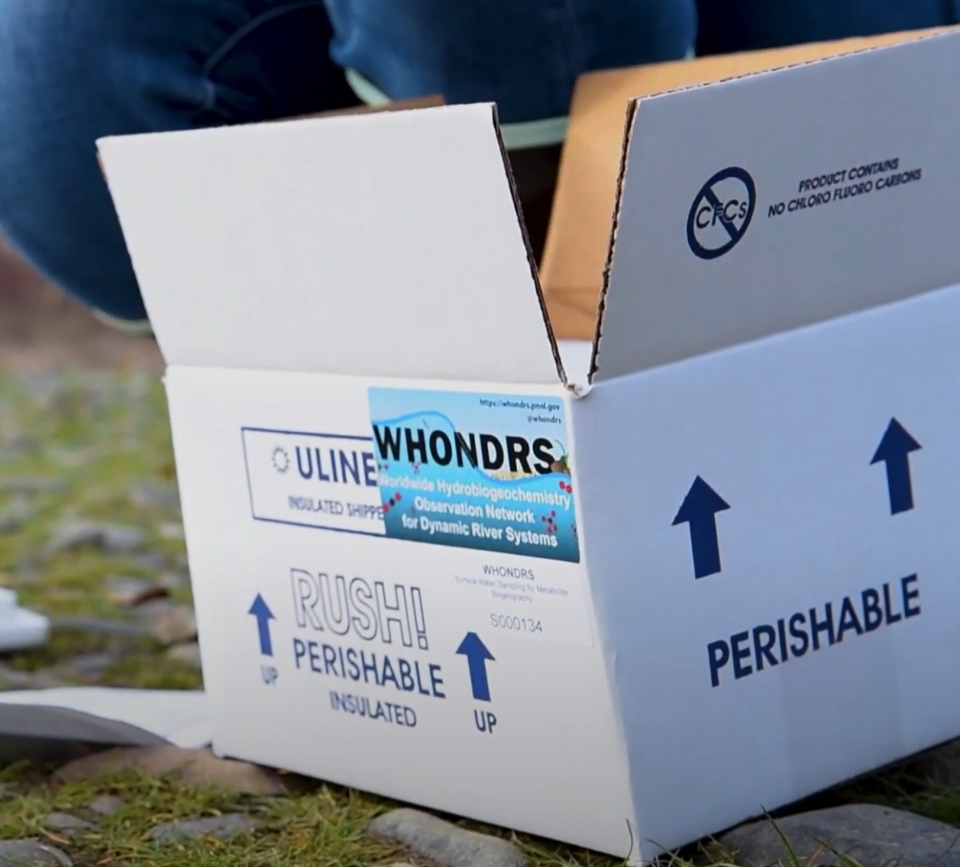 With a community-approved approach in place, WHONDRS built and distributed standardized sampling kits and protocols for coordinated sampling across globally-distributed researchers. The collaborators collected samples and standardized metadata, providing everything back to WHONDRS for analysis (following standardized protocols) and publishing. Prior to interpretation of the results, integrated (meta)datasets were published openly using community standards to maximize FAIRness and provide value to the community. 
The resulting public data packages are being used to crowdsource manuscripts in an effort that further extends use of the ICON principles. The manuscripts are open to everyone to contribute to at any level, from conceptual framing to data analytics to interpretation to writing. There are multiple complementary manuscripts in development that are Integrating ecological theory with organic chemistry, Coordinating analyses on the standardized dataset, Openly developing computer code and analysis outcomes via public GitHub repositories, and Networking with globally distributed teams to interpret outcomes and compose manuscripts. From study conception to manuscript publication ICON principles have guided every decision and action for this project.
Provide feedback
We value your feedback on how we further enable the community to use ICON principles. Please email ICONS@pnnl.gov with your thoughts on what is working, what needs to be improved, and what opportunities we could pursue.