Welcome!
Our researchers within National Security at Pacific Northwest National Laboratory (PNNL) focus on delivering high-impact, science-based, practical solutions to our clients to prevent and counter acts of terrorism and the proliferation of weapons of mass destruction. Our world-leading capabilities cross-cut market needs and one of our major strengths is our ability to integrate our research and projects across PNNL and take them to market. We are committed to providing excellent service to our clients to help make our world safe and more secure.
---
PNNL Collaboration Showcases Mass Spectrometry Research in Royal Society Journal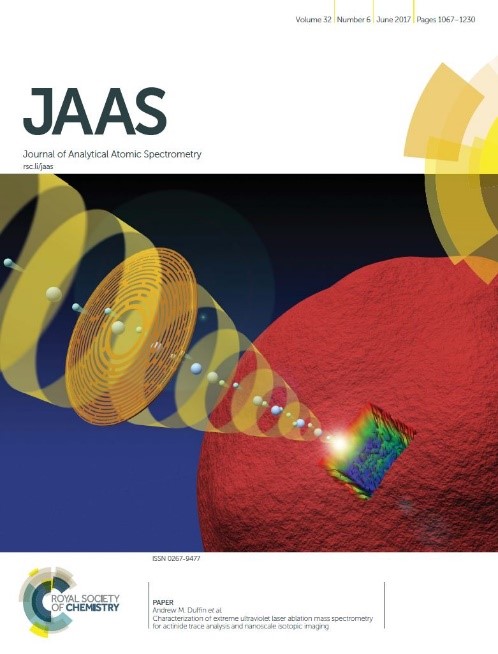 Congratulations to Andrew Duffin, David Willingham, Benjamin Naes, Greg Eiden, all National Security Directorate, and Zihua Zhu, Earth and Biological Sciences Directorate on their featured cover article in the Journal of Analytical Atomic Spectrometry (JAAS), published by the Royal Society of Chemistry. In collaboration with Colorado State University, the researchers describe a new technique for trace analysis using extreme ultraviolet laser ablation mass spectrometry for improved applications in geochemical, forensic, environmental, and other types of analysis. The paper was published in the June edition of JAAS, a peer-reviewed journal (impact factor 3.379), featuring innovative research on fundamentals, instrumentation, and methods in the determination, speciation, and isotopic analysis of elements within all fields of application.
Visit the Royal Society of Chemistry website to read the full paper or to find out more about how to publish your own papers with one of their 43 peer-reviewed journals.
---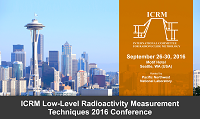 Journal published the proceedings from U.S.' first-ever international low-radioactivity measurements conference
Conference proceedings for the International Committee for Radionuclide Metrology (ICRM) 2016 Low-Level Radioactivity Measurement Techniques (LLRMT) Conference have been published in a special issue of Elsevier's Applied Radiation and Isotopes journal. The journal captured more than 120 papers resulting from the conference's U.S. debut. PNNL researcher Craig Aalseth was the lead guest editor and Allen Seifert, Jill Brandenberger, Henning Back, and Matthew Douglas were associate guest editors.
PNNL partnered with ICRM to host the LLRMT Conference in Seattle, Washington in late 2016—the first time the conference has been held in the U.S. The event welcomed more than 125 participants from over 20 countries representing metrology laboratories, national laboratories, universities, and other organizations around the globe. Participants shared presentations and hosted discussions on the techniques, applications, and data in the field of low-level radioactivity measurement. Information from the conference, including abstracts, can be found in the full conference program.
---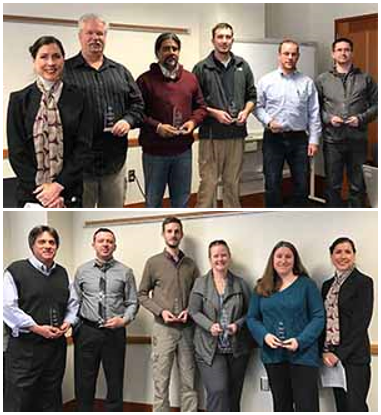 National Security Technologies Honored with FLC Awards
Two PNNL teams whose inventions were transferred to the marketplace have been named recipients of the 2017 Federal Laboratory Consortium (FLC) Awards for Excellence in Technology Transfer. The FLC annually recognizes federal laboratory teams and their industry partners for outstanding technology transfer achievements. PNNL has earned 85 FLC awards since the awards program was established in 1984.
The FLC nomination selection process is very rigorous and the award is ranked one of the most prestigious honors in the Technology Transfer field. Both the PACRAT and Smartphone Microscope teams prevailed amongst an extremely competitive field for the award, further demonstrating the value of their technology transfer stories. Members of each team will attend the annual FLC National Meeting that will be held in San Antonio, Texas on April 26, to accept their awards.
The Smartphone Microscope team includes Rebecca Erikson, Janine Hutchison, Josef Christ, all of the National Security Directorate; Ron Thomas and Gary Spanner, Technology Deployment and Outreach; Derek Maughan, Office of General Counsel; former staff member Cameron Hohimer; and Plastic Inspection Molding's Ken Williams.
---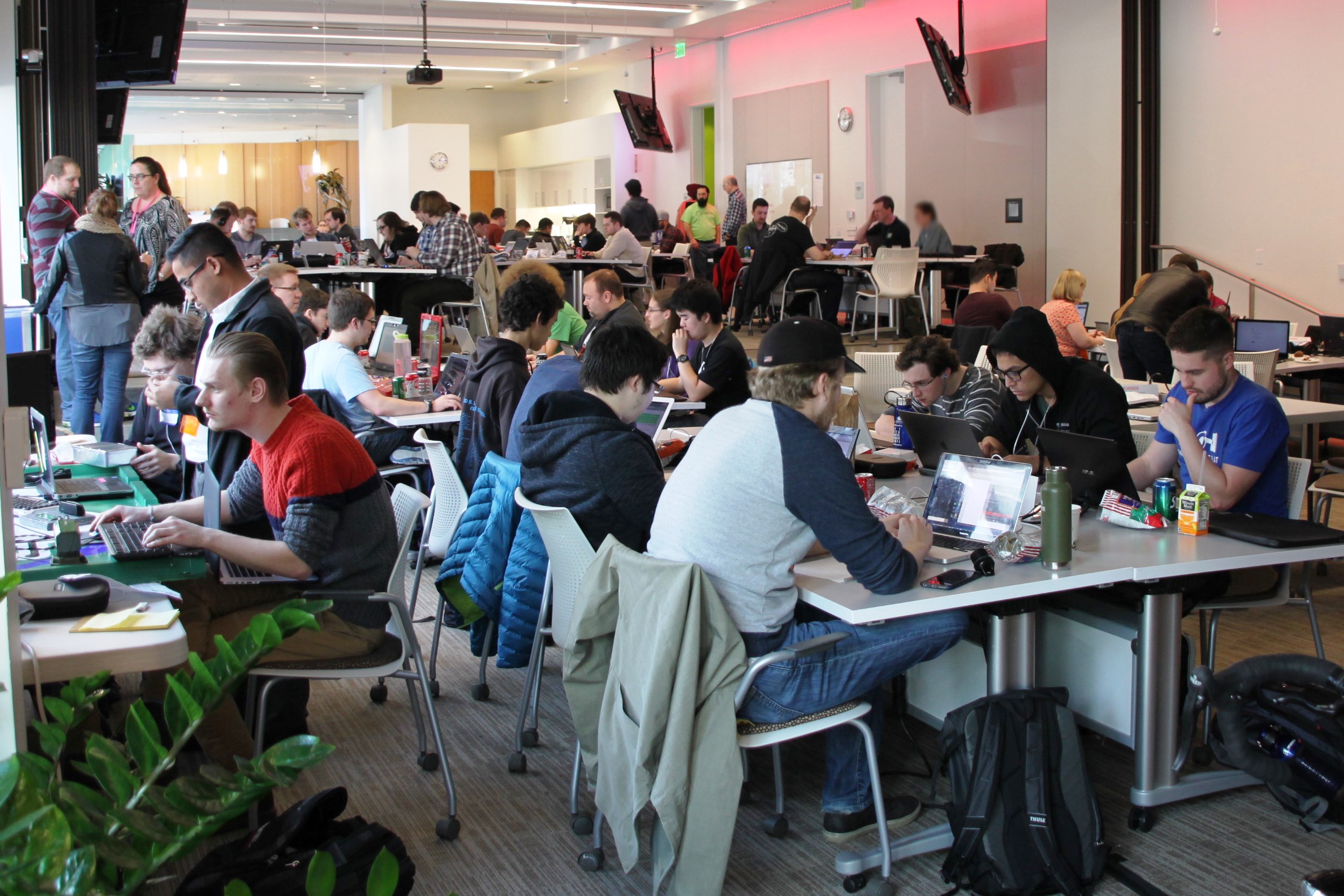 Pink Elephant Unicorn Event Supports Cybersecurity Skills
PNNL hosted its second annual Seattle-based Pink Elephant Unicorn cybersecurity capture-the-flag on Jan. 20-21 at Northeastern University Seattle. The event welcomed more than 70 participants, including students, researchers, and cybersecurity professionals, to solve cybersecurity puzzles and practice security techniques in a friendly capture-the-flag competition. Competitors arrived with all skills levels and backgrounds, including participants from local area colleges and universities, the State of Washington Office of Cyber Security, the U.S. Navy, and Amazon.
---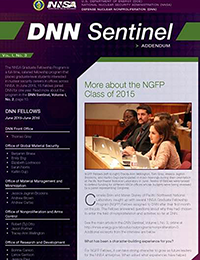 Featuring NNSA Graduate Fellowship Program
The latest issue of the DNN Sentinel newsletter contains interviews of the NNSA Graduate Fellowship Program (NGFP) Class of 2015-2016 Fellows supporting the Office of Defense Nuclear Nonproliferation. The article introduces this year's 15 DNN Fellows, including what attracted them to the fields of nonproliferation and nuclear security and what they have accomplished during the first few months of their fellowships. The Fellows' one-year assignments span the nonproliferation mission and utilize their mix of technical and policy skills and experiences.
---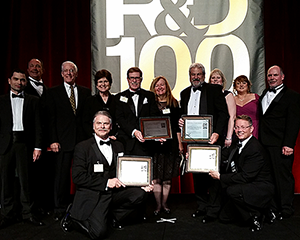 National Security Directorate Team Wins an R&D 100 Award
PNNL received five 2015 R&D 100 Awards, which were announced at the R&D 100 Awards Banquet held Nov. 13 in Las Vegas. These technologies are among the top 100 most innovative scientific and technological breakthroughs of the year spanning private, academic, and government institutions, as selected by R&D Magazine.
Columnar Hierarchical Auto-associative Memory Processing in Ontological Networks, or CHAMPION was one of the technologies awarded. Team members include NSD staff members Shawn Hampton, Rick Berg, Katya Pomiak and Patrick Paulson; Champion Technology Company's Ryan Hohimer, Alex Gibson and Peter Neorr, who licensed the technology; and former PNNL scientist Frank Greitzer. Read the PNNL press release for more information.
---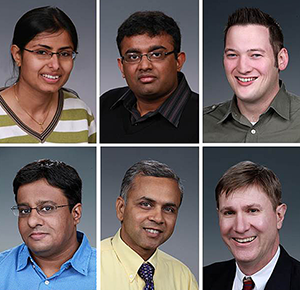 MaTEx Releases, Solving Scalability Issues
Pacific Northwest National Laboratory scientists have found a way to combat the issue of scale related to cluster computing. Supported by the Analysis in Motion Initiative, Physical & Computational Sciences Directorate's Abhinav Vishnu, Khushbu Agarwal, Jeff Daily, Vivek Datla, Nitin Gawande, and Mark Greaves (National Security Directorate) have released The Machine Learning Toolkit for Extreme Scale (MaTEx) as a free software download. Designed as a collection of high performance parallel machine learning and data mining algorithms, MaTEx provides a handful of commonly used algorithms in Clustering, Classification and Association Rule Mining that support K-means, Spectral Clustering algorithms, Support Vector Machines, KNN Algorithms for Classification, and FP-Growth for Association Rule Mining.
---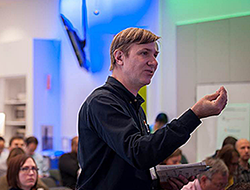 Advancing Innovation in Seattle
Recently Bill Pike, Dave Thurman, Rob Jasper, and Mark Greaves represented PNNL and the Analysis in Motion Initiative at the Xconomy conference, Seattle 2035. At the conference they hypothesized what will be the next big innovation industries that will propel Seattle into the future. PNNL's participation dovetails with NSD's Innovation District Strategy which seeks to leverage the talent pool found in the Seattle metro area to increase our rate of innovation and mission impact. Engagements and partnerships in events such as Xconomy are helping PNNL increase our reputation in the high-tech community.
---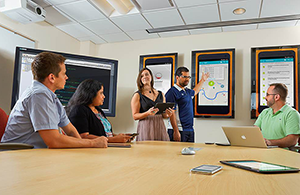 Using Social Media to Track Outbreaks
Lauren Charles-Smith and Court Corley's abstract on Using Social Media for Actionable Disease Surveillance and Outbreak Management: A Systematic Literature Review has been published by Plos One Journal. The abstract argues that social media may be valuable tools in the disease surveillance toolkit used for improving public health professionals' ability to detect disease outbreaks faster than traditional methods and to enhance outbreak response. The article was featured on October 5, 2015.
---