Welcome!
Our researchers within National Security at Pacific Northwest National Laboratory (PNNL) focus on delivering high-impact, science-based, practical solutions to our clients to prevent and counter acts of terrorism and the proliferation of weapons of mass destruction. Our world-leading capabilities cross-cut market needs and one of our major strengths is our ability to integrate our research and projects across PNNL and take them to market. We are committed to providing excellent service to our clients to help make our world safe and more secure.
---
Florida field test validates, improves radiation detection methods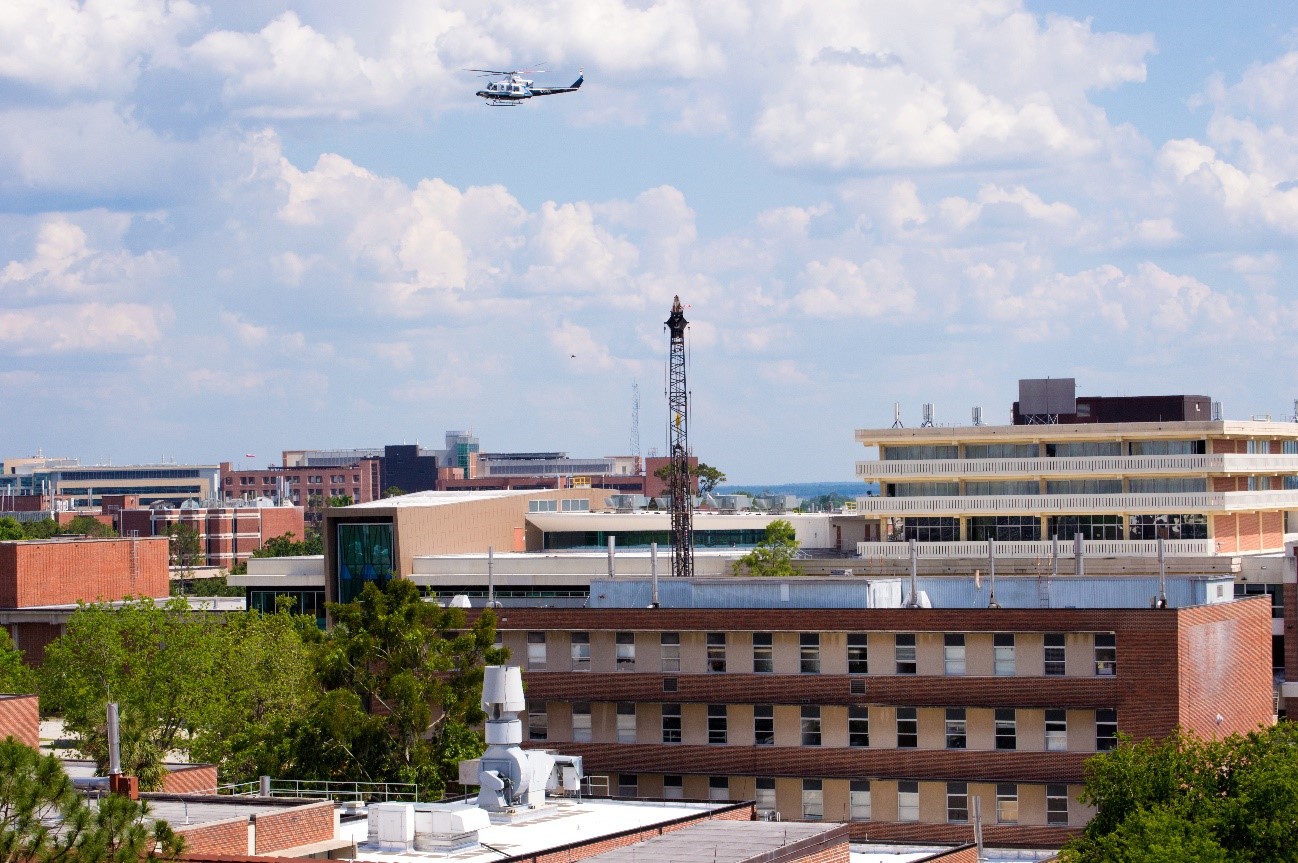 [August 2018] The ability to detect the spread of radioactive debris following a terrorist attack or nuclear accident is critical to saving lives and reducing economic damage. Aerial detection systems are an effective tool to survey contaminated areas in these situations.
While significant technical improvements have been made to aerial detection systems over the years, historically it has been difficult to differentiate between airborne and ground-based radiation. This is a critical distinction when it comes to tracking the spread of contamination and assessing potential impacts to public health.
To address this challenge, scientists at the Department of Energy's Pacific Northwest National Laboratory have made improvements to an algorithm known as N-SCRAD, for Nuisance-rejection Spectral Comparison Ratios for Anomaly Detection.
"N-SCRAD was always easy-to-use, and could detect very small levels of contamination," says Mitchell Myjak, a member of the PNNL research team. "After recent developments, N-SCRAD can now distinguish between airborne and ground-based radiation, and can map how airborne plumes spread in a variety of weather conditions."
To test the effectiveness of these methods, the PNNL team ventured to Gainesville, Fla., in early May to conduct a series of tests. The tests involved flying a Bell-412 helicopter equipped with radiation sensing technology around the University of Florida Training Reactor. The helicopter is an asset of the Aerial Measuring System, owned by the DOE National Nuclear Security Administration and operated by the Remote Sensing Laboratory.
As with many research reactors, the UFTR produces radiation during normal operations. Since the amount of radiation was far below the limits set by the Nuclear Regulatory Commission, detecting the radiation could have proved difficult. However, the advances to the N-SCRAD algorithm enabled even these trace amounts of radiation to be measured and characterized. This successful outcome indicates how the new methods can better protect the public during a real radiological emergency.
"We were very happy with the initial results from the flight test, and demonstrated the ability to map the radiation at several altitudes and wind conditions," says Rebecca Detwiler, a member of the team. "Although the radiation levels were very low, N-SCRAD could clearly distinguish the emissions from natural background radiation, as well as medical radioisotopes from the nearby hospital."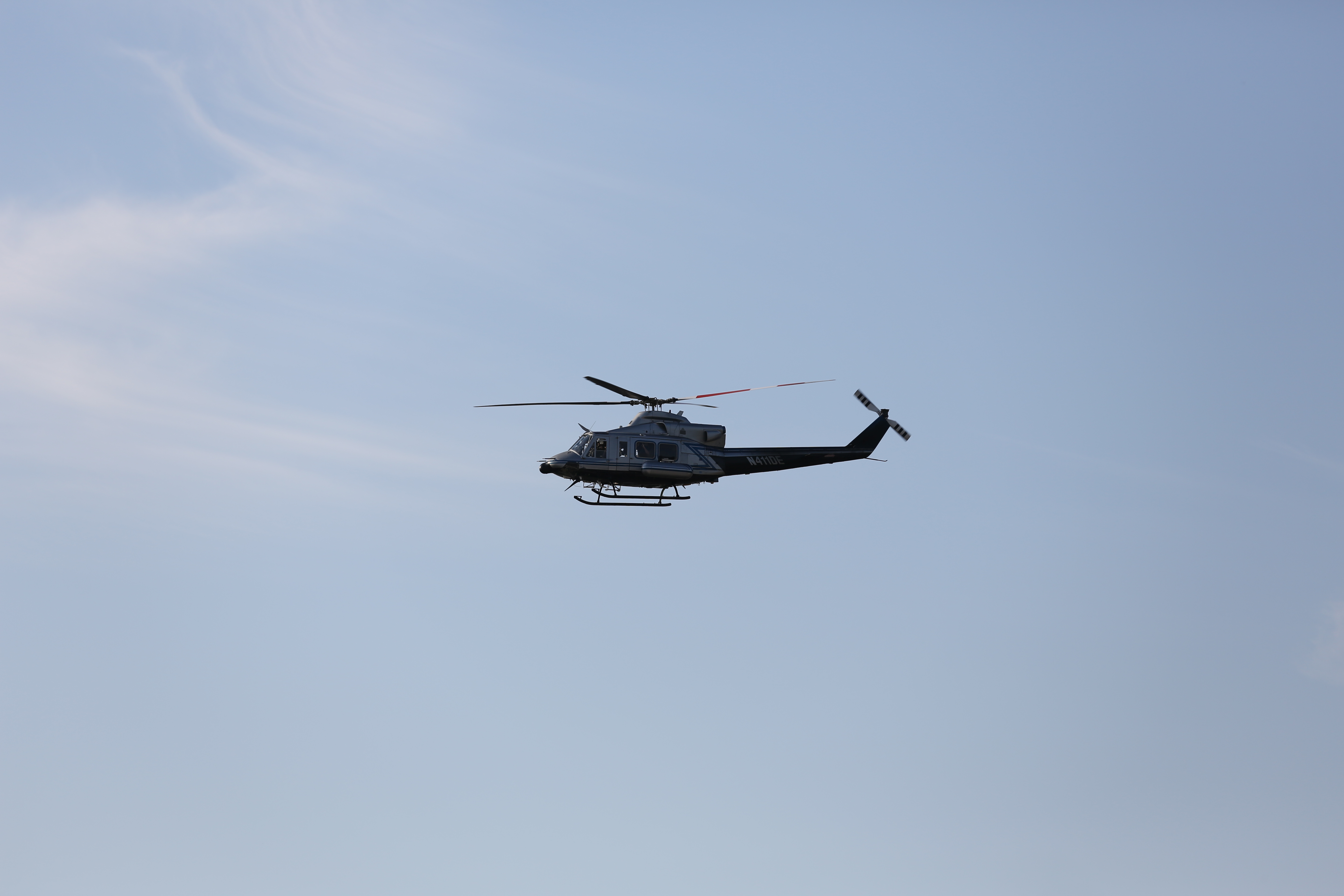 The project team also included a trio of University of Florida staff including Associate Professor James Baciak, who is the director of the university's Nuclear Engineering Program. It also included Andreas Enqvist, an assistant professor of nuclear engineering, and graduate student Gabriel Sandler.
"We are extremely proud to be part of this project, which is helping scientists and engineers test new algorithms and radiation detection equipment on very challenging measurements," said Baciak. "Including students on these types of projects is critical to ensure we develop the workforce necessary for national laboratories and federal agencies with missions responsible for national security, nuclear treaty verification, and emergency response."
Now that the field tests are complete, researchers will use the results to fine-tune N-SCRAD for the response to a nuclear power plant accident or other radiological emergency.
The research leading to the development of the algorithms and detection methodologies, as well as the field tests, was funded by DOE's National Nuclear Security Administration. The National Atmospheric Release Advisory Center, or NARAC, has provided plume models based on known area weather conditions.
Photos provided by the University of Florida
---
PNNL research featured on journal cover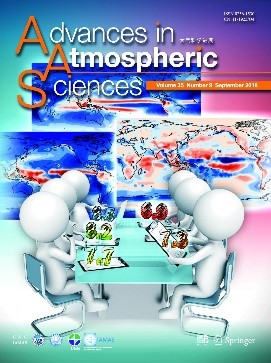 [August 2018] Susannah Burrows, Earth and Biological Sciences Directorate (EBSD), and Aritra Dasgupta, National Security Directorate (NSD), are the lead writers of "Characterizing the Relative Importance Assigned to Physical Variables by Climate Scientists when Assessing Atmospheric Climate Model Fidelity," to be the cover feature in the September issue of Advances in Atmospheric Sciences. The article was co-authored by Sarah Reehl and Lisa Bramer of NSD and Po-Lun Ma, Philip J. Rasch, and Yun Qian of EBSD, and is now available online.
The study, led by Aritra and Lisa, reports results from a survey of climate scientists on the relative importance of different physical variables for assessing climate model fidelity. This is a step towards improved understanding of how to assess these complex models, whose multiple optimization criteria may come into conflict.
Susannah was interviewed by a science reporter from the American Association for the Advancement of Science (AAAS) for an article published in EurekAlert about the cover article.
Susannah and Aritra are jazzed about the cross-disciplinary approaches they have developed, applying methods from social sciences and visual analytics to climate science. They see a great potential for these approaches to enable greater insight into how climate models respond to different inputs, as well as how scientists arrive at overall evaluations of complex models with many optimization criteria.
"I am very happy about this outcome from an LDRD project and I hope the collaborations will continue into my academic career as well," said Aritra, who will be leaving PNNL for a career in academia in August.
---
Sam Chatterjee Honored by SRA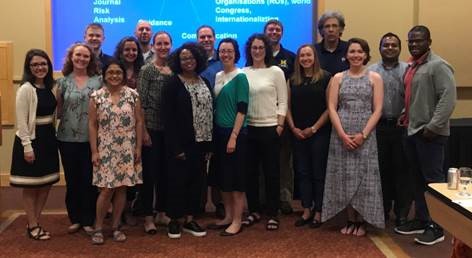 [August 2018] Sam Chatterjee, National Security Directorate, was honored by the Society for Risk Analysis (SRA) as a "future strong leader in the risk analysis field." Sam was one of fifteen SRA members conducting research in the risk analysis field who were invited to participate in a two-day SRA workshop on "Excellence in Risk Analysis." Participants hailed from the U.S. and Europe, and from academia, research laboratories, and a range of industries.
Risk analysis is a multidisciplinary science in which natural, accidental, and intentional risks are defined, modeled, communicated, and managed. The fifteen outstanding SRA members gathered to brainstorm the future of the field and the SRA's leadership role in it. A follow-up session is being planned for the SRA Annual Meeting in December to crystallize ideas for possible implementation over the coming years.
Sam reported, "This workshop had an excellent mix of researchers in the field. They're a very insightful bunch, with a lot of national and professional diversity that brings different experiences and perspectives. We all learn from each other."
The workshop was organized by current SRA president Dr. Terje Aven of the University of Stavanger-Norway and former SRA council member Dr. Seth Guikema of the University of Michigan-Ann Arbor. Both universities supported the workshop, including travel for the attendees.
Sam previously served as Chair of the Engineering & Infrastructure Specialty Group (EISG), one of the SRA's sixteen specialty groups. The EISG leads SRA efforts in a broad range of risk and engineering areas, including homeland security, energy, environment, transportation and other infrastructure. This group was a natural fit for Sam, whose particular engineering interests fall within infrastructure resilience and homeland security. The EISG also incentivizes publication by students and professionals. The SRA was founded in 1980 and has 2000 members internationally.
---
Deep Learning Could Help Detect Nuclear Events Worldwide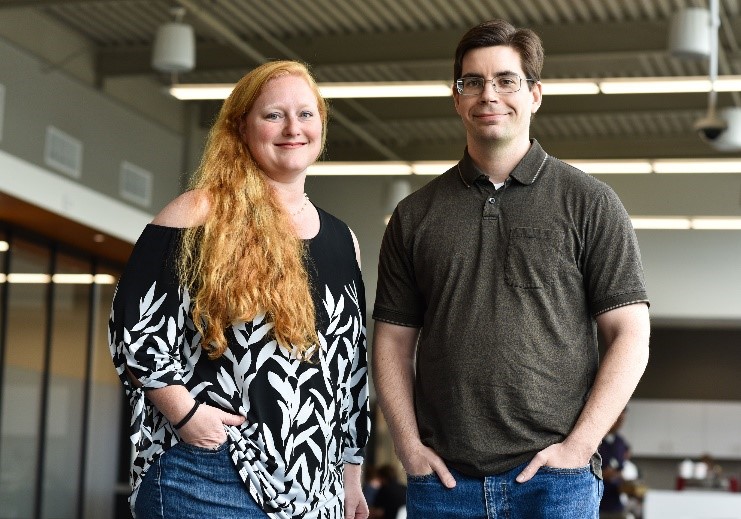 [June 2018] PNNL scientists Emily Mace and Jesse Ward teamed to explore the promise of deep learning to help interpret signals from radioactive decay events, which could indicate underground nuclear testing. Mace presented their work at the 11th MARC conference — Methods and Applications of Radioanalytical Chemistry — in April 2018 in Hawaii. Deep learning enables machines to learn and make decisions without being explicitly programmed for all conditions.
To verify nuclear treaties, scientists analyze gas samples for specific types of radioactivity. Changes in levels of argon-37, for example, could indicate prior nuclear test activity, which could represent treaty violations. Mace is an expert in interpreting the features of such radioactive decay signals — their energy, timing, peaks, slopes, duration, and other features.
The challenge is that the signal hides among the "noise" of all other signals created on the planet, natural and otherwise. Mace wondered if deep learning could help. She sent Ward information on nearly 2 million energy pulses detected in PNNL's Shallow Underground Laboratory since it opened in 2010. Ward trained the network, inputting many features of each pulse and showing the network how the data was interpreted.
The research results were impressive. Tests showed that the deep learning techniques separated signal events from instrument "noise" with nearly 100 percent accuracy, and performed 25 times better than current computational method when sorting the very toughest cases. See video, news release, and more on PNNL's deep learning research.
---
Nature and Talanta showcase NSD Chemical Forensics Work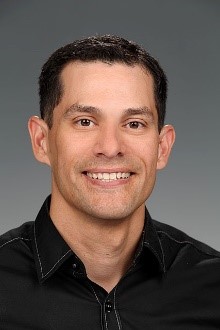 [May 2018] Nature and Talanta recently featured the work of the Chemical Forensics International Technical Working Group (CFITWG), which includes NSD researchers Carlos Fraga, James Moran, Kristin Jarman, Kabrena Rodda, John Cort; Laura Denlinger and MaryJo Boyus also helped organize the group. The CFITWG was formed in spring of 2017 by international researchers, treaty experts, law-enforcement agencies and industrialists seeking to improve the state of chemical forensics to prevent chemical weapons attacks.
The Nature article discusses the importance of chemical forensics in investigations such as that into the poisoning of a former Russian spy in England in March as well as to identify proliferators of chemical weapons.
The Talenta article Virtual Special Issue (VSI), guest-edited by Fraga, features CFITWG's first public article. Several other PNNL-authored articles are also included among the 17 accepted for this VSI.
---
Flu-prediction Work Highlighted in Scientific American Article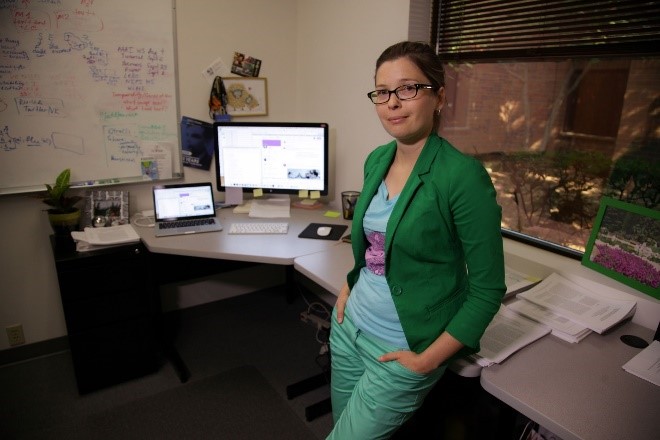 [April 2018] The April 2018 Scientific American features work by NSD's Svitlana Volkova and team on predicting influenza outbreaks using social media. In the article, #Flu: Mining Social Media to Predict Outbreaks, science writer Rachel Berkowitz compares Volkova and team's work with previous work on flu outbreak prediction, which searched social media for illness-related words. Volkova's team instead used deep learning to correlate non-illness-related words in Twitter feeds with patterns of flu outbreaks. The algorithm "learned" to predict outbreaks up to two weeks in advance accurately. Such prediction may enable officials to take proactive public health measures that could save lives.
After PLOS One published the article by Svitlana and co-authors Katie Porterfield and Ellyn Ayton last December, Rachel wrote the Public Health section article for Scientific American
---
Yemen border guards receive training from PNNL experts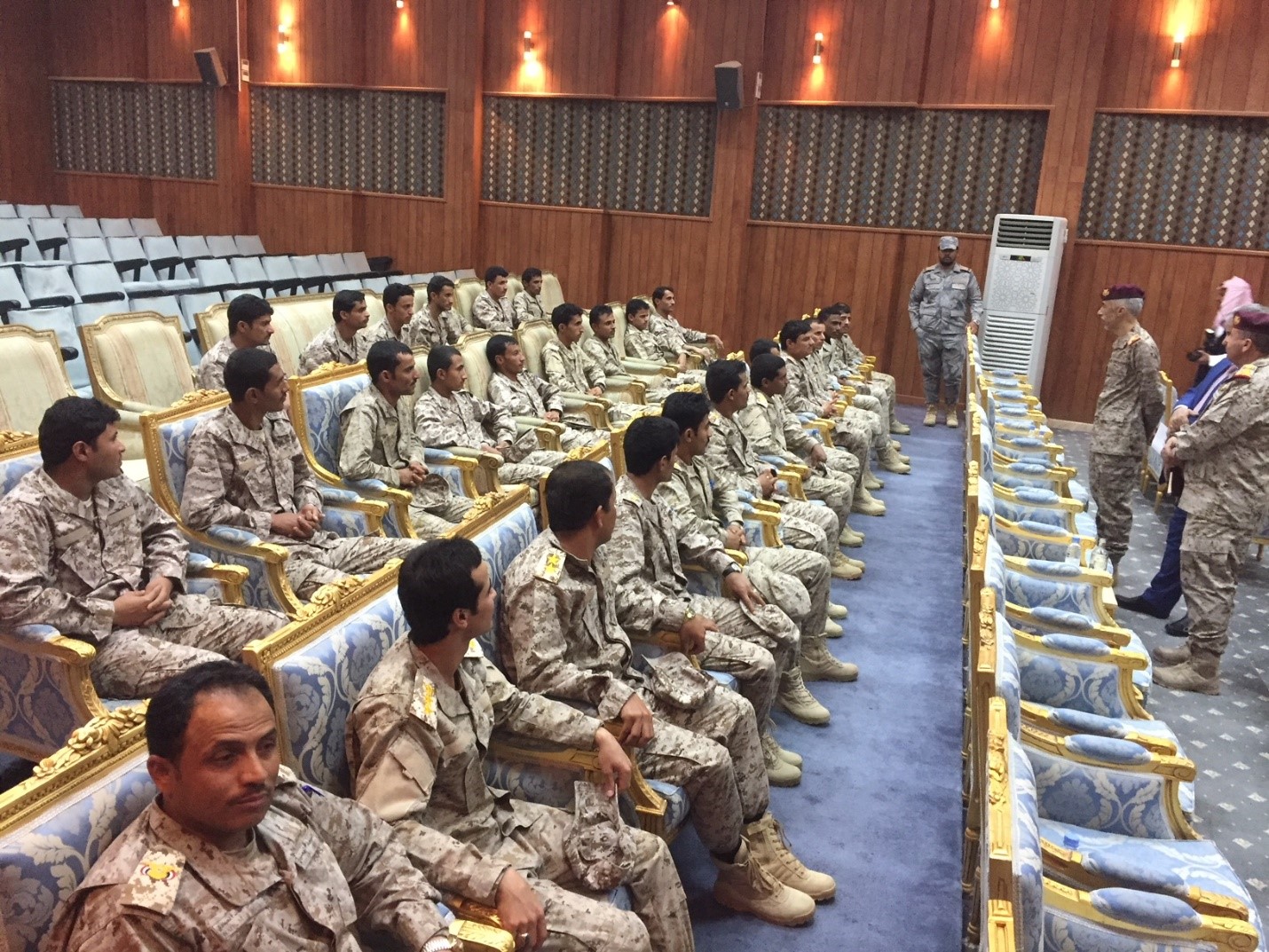 Yemeni border guards are much better positioned to conduct vehicle check point operations, mounted and dismounted patrolling, tracking, and advanced search and seizure techniques, and other methods that improve overall security on Yemen's borders, thanks to the contributions of NSD staff. A total of 29 Republic of Yemen Government Border Guards completed a two-week training course on land border interdictions of illicit materials led by Rob Siefken and Jerry Anderson in Riyadh, Saudi Arabia in March. Given the sensitivities and tensions within the region, the course held significant political and military interest and drew a large audience from Saudi Arabia, Yemen, Oman, and the U.S. and British Embassies in Riyadh. The Kingdom of Saudi Arabia, Yemen, and the U.S. Department of State have asked for another iteration of the training as soon as possible, indicating, "we will see some asymmetric payoffs for years to come..."
Read more in a news release from Arab News.
---
Medal Awarded for Work in Chemical Nonproliferation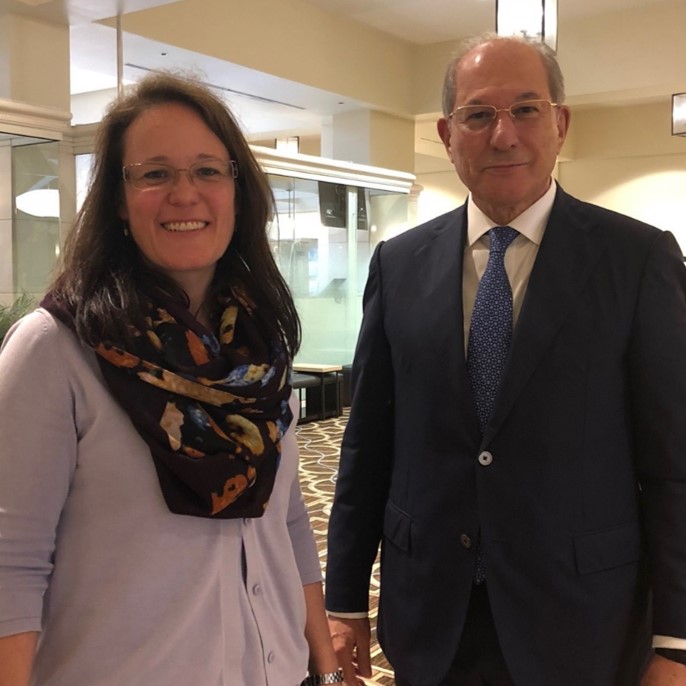 Dr. Kabrena Rodda of the National Security Directorate was presented a medal from the Organisation for the Prohibition of Chemical Weapons (OPCW) in recognition for her work on The Hague Ethical Guidelines, the Global Chemists Code of Ethics, a chlorine workshop last year, and her body of work over the last two and a half decades to support international chemical nonproliferation efforts and to prevent the reemergence of chemical weapons.
Dr. Rodda, a chemist and retired Air Force Colonel, was presented the medal by OPCW's Director-General, H.E. Mr. Ahmet Üzümcü, at the ACS meeting in New Orleans this past weekend. During his ACS address, Üzümcü specifically mentions Dr. Rodda's impact, saying "The ACS has embraced this and used The Hague Guidelines as the basis for developing the Global Chemists Code of Ethics. Your fellow esteemed ACS member, Dr. Kabrena Rodda, was a significant contributor to the Guidelines. Through this process, the ACS has put both the spirit and the purpose of the Hague Guidelines into action. Indeed, this is in line with the ACS Code which encourages the global chemistry enterprise to adopt internationally recognized practices for chemical safety and security, as well as to ensure compliance with arms control and nonproliferation commitments." Üzümcü also met with Kabrena for about 30 minutes discussing their mutual goals of responsible science and preventing use of chemicals to harm people.
Dr. Rodda and other scientists from PNNL, IUPAC, and ACS organized a symposium at the conference on science and ethics surrounding the safety and security of chemicals, food, water and energy.
The OPCW is the implementing body of the Chemical Weapons Convention (CWC), which entered into force in 1997. As of today, OPCW has 192 Member States, who are working together to achieve a world free of chemical weapons.
---