Community College
Internship 
The U.S. Department of Energy (DOE) Office of Science wants community college students to be part of the workforce of the future. The Community College Internship (CCI) is sponsored by DOE to encourage students studying at community colleges to enter careers relevant to the DOE mission. PNNL hosts many of these interns to work on technologies and instrumentation projects.
During the 10-week internships, students receive intensive technical training experiences at DOE laboratories such as PNNL. Interns will work under the guidance of staff scientists or engineers who have specialized training as mentors. CCI students benefit from a variety of professional development and networking opportunities including research seminars, workshops, tours of PNNL's state-of-the-art facilities, and interaction with PNNL leadership, scientists, and engineers. At the end of the internship, interns showcase the results of their research experience at an internal symposium. For complete information about deadlines, eligibility, and more, please see the DOE program website.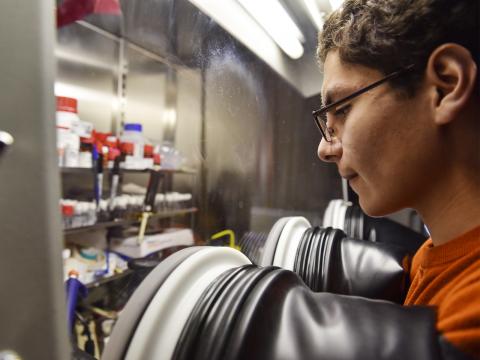 Restrictions May Apply
Due to PNNL policy, students under 18 years of age are not eligible to work in laboratory spaces and may be restricted from certain kinds of field work. Other eligibility requirements are determined by DOE.
Applying for an Internship
There are typically three separate internship terms throughout the year. Eligible students must apply through DOE's CCI application page. After applications are reviewed and approved by DOE, eligible students are referred to PNNL for interview and placement.
Compensation and Reimbursements
Salary, travel, and housing reimbursements are provided for eligible students. Additional information regarding reimbursement is available on the CCI benefits page.
"...it allowed me to experience life as a professional scientist." — Sarina Dorazio, CCI intern