National Security
Internship Program
Learning to protect our country
The National Security Internship Program prepares the national security experts of tomorrow!
NSIP identifies ambitious and high-caliber undergraduate and graduate students in STEM fields for this paid internship program. Students in NSIP engage in hands-on learning and participate in a research experience with a mentor at PNNL. NSIP students have a rare opportunity to work on cutting-edge national security research at a national laboratory and interact with other research staff who are at the top of their fields.
Interns in the national security internship program (NSIP) benefit from a variety of professional development and networking opportunities. These include research seminars, workshops, tours of PNNL's world class facilities, and interaction with PNNL leadership, scientists, and engineers. At the end of the internship, NSIP interns showcase the results of their research experience at a research symposium.
PNNL's National Security Directorate hires NSIP interns in its four divisions: Artificial Intelligence and Data Analytics; Emerging Threats and Technologies; Nuclear, Chemistry, and Biosciences; and Physical Detection Systems and Deployment.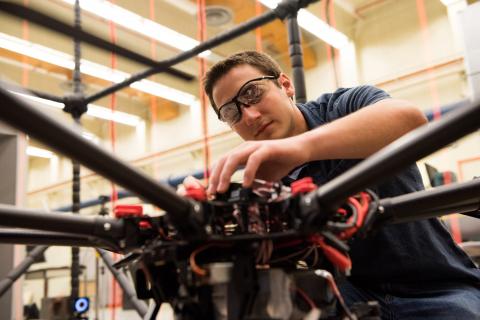 Key Program Dates & Information
PNNL hosts NSIP interns during both the summer and academic year. Visit PNNL's careers page to learn more and view the current NSIP internship postings. Be sure to check the job site often and read the individual job postings carefully for specific closing dates.
Program Eligibility
To be considered for an internship, undergraduate or graduate students must:
be enrolled in a minimum of 6 credits per term for undergraduate and/or be accepted and enrolled in a graduate program at an accredited college or university

maintain a minimum cumulative grade point average of 3.3 or better

be able to work a minimum 10-week internship. (Student may be eligible to continue working part-time during the academic year).
In addition, candidates with a bachelor's degree may be eligible to apply as a post-bachelor's research associate and must:
have received their undergraduate degree within the past 2 years at an accredited college or university in a field of study related to the specific internship posting

have a minimum cumulative grade point average of 3.3 or better

be able to work a minimum of 6 months

be able to work 40 hours per week.
Application Information
Complete all sections of the application. The application requires completion of a 300-word essay on a specific topic. Gather your resume or CV, unofficial transcript for all current and past degrees, and the essay, then bundle them into one PDF file. The system will only accept one uploaded file. If any of the required documents are missing from the PDF, your application will not be reviewed. If you make a mistake, you will need to create a new profile and start the process over.
If you apply for more than one internship, you must submit a separate application for each position. Electronic applications are accepted until 11:59:59 pm (PST) on the closing date indicated on the job posting.
"I made a valuable contribution to the research project and wrote a paper that was published in a scientific journal from the work." — NSIP Intern