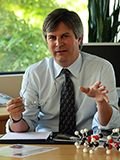 Doug Ray, Ph.D.
Welcome to the Fundamental & Computational Sciences website.
I hope you take the opportunity to explore it and learn about the outstanding people, capabilities and scientific research at the Pacific Northwest National Laboratory.
—Doug Ray, Associate Lab Director
"We strive to make progress on today's important scientific challenges."
Research Highlights
A Breath of Cold Air
Scientists discover the truth behind the role of cold air pools in climate
Warm, moist air colliding with cold dry air above it has traditionally been credited with creating massive cloud formations many miles tall. Now, research by a team of scientists from PNNL and academia challenges that long-held belief. As reported in the
Journal of Advances in Modeling Earth Systems
, the scientists discovered that cold air near the surface rather than warm air is more likely to fuel cloud growth.
Congratulations to Richard (Dick) D. Smith, Pacific Northwest National Laboratory, who was featured in the December 2014 issue of the Journal of the American Society for Mass Spectrometry. He was the focus for this issue, as well as an accompanying editorial, for his contributions to "Advancing High Performance Mass Spectrometry." The editorial celebrates Smith's accomplishments as Battelle Fellow, Chief Scientist in the Biological Sciences Division, and Director of Proteomics Research at PNNL. He received the Society's 2013 Distinguished Contribution in Mass Spectrometry Award.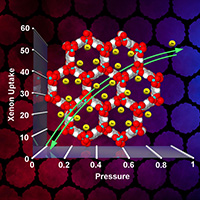 Full Story
|
March 2015
Caging Nuclear Waste
Scientists offer metal-organic frameworks to solve energy problem
Metal-organic frameworks (MOFs) of metal ions and organic molecules have the potential to grant batteries a longer life and bring sustainable energy technologies to the developing world. Now in the highly regarded journal
Accounts of Chemical Research
, an international team led by scientists at Pacific Northwest National Laboratory proposes applying these MOFs to make nuclear power more feasible. The MOFs they identified can capture dangerous radionuclides released during the reprocessing of used nuclear fuel.
Shippert Co-author of Paper Featured in Nature
Work describes first observations of surface radiative forcing by carbon dioxide using ARM data
For his contribution to research recently showcased in a paper published in
Nature
,
Tim Shippert
, a scientist with the ARM Data Integration team in PNNL's ACMD Division, ran six model years of ARM data to evaluate reviewers' questions about specific calculations. The resulting work provided evidence of the first observed influence of atmospheric carbon dioxide at the Earth's surface and helps confirm that climate models are accurately representing carbon dioxide's impacts to climate.