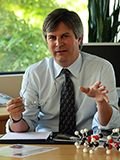 Doug Ray, Ph.D.
Welcome to the Fundamental & Computational Sciences website.
I hope you take the opportunity to explore it and learn about the outstanding people, capabilities and scientific research at the Pacific Northwest National Laboratory.
—Doug Ray, Associate Lab Director
"We strive to make progress on today's important scientific challenges."
Research Highlights
Scientists from Texas A&M and PNNL provided a first-time global perspective of the impacts of Asian pollution on the Pacific storm track and subsequent weather. They found that a unique modeling technique developed at PNNL allowed them to understand the global scale effect of tiny pollution particles to strengthen storm clouds and rain.
Several Faces of Physics Become One
New multiscale model unifies physical laws of water flow to span all scales
Water moves through multifaceted physical boundaries. This poses a significant challenge for scientists who must simulate water flow across many domains. Scientists at Pacific Northwest National Laboratory conquered this barrier by merging different physical laws. Their new approach can describe any type of water flow in soils and the terrestrial ecosystem, in soil pores, streams, lakes, rivers and oceans, and in mixed media of pores and solids for soil and aquifer. The versatile properties of the new approach allow cross-domain simulation of water flow at different scales. The research was published in the
Soil Science Society of America Journal
.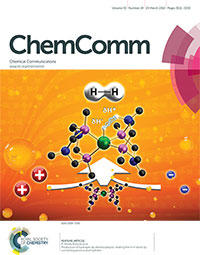 Full Story
|
March 2014
In their invited review for Chemical Communications, Dr. R. Morris Bullock, Dr. Aaron Appel, and Dr. Monte Helm at Pacific Northwest National Laboratory describe how proton relays and other factors influence catalysts that could store intermittent renewable energy in chemical bonds for later use. They were asked to write this review for a special themed collection in the journal on electrocatalytic hydrogen evolution because of their groundbreaking research in proton movements in reactions that break and form hydrogen. Dr. Jonathan Darmon and Dr. Charles Weiss at PNNL designed artwork that graces the journal's cover.
Simplifying Exascale Application Development
Scientists apply new graph programming method for evolving applications aimed at the exascale
Hiding the complexities that underpin exascale system operations from application developers is a critical challenge facing teams designing next-generation supercomputers. To tackle the problem, PNNL computer scientists are developing formal design processes based on Concurrent Collections (CnC), a programming model that combines task and data parallelism. Using graphs, they transformed LULESH proxy application code that models hydrodynamics into a complete CnC specification. These specifications capture data and control dependencies and separate computations from implementation issues, concealing the complexities of exascale systems, dramatically decreasing development cost, and increasing opportunities for automatic performance optimizations.