Safeguards Internship Program
Training the next generation of safeguards experts
The only way to assure the peaceful use of nuclear materials and prepare for the challenges of the future is by cultivating the next generation of leaders in international nuclear safeguards. PNNL's Safeguards Internship Program (SIP) identifies and develops talented individuals for future careers in nuclear nonproliferation and safeguards. SIP offers a one-of-a-kind training and development program that prepares the next generation for careers in research, national security, public administration, and beyond.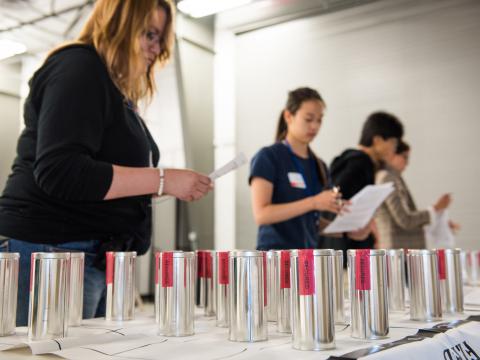 PNNL hopes to attract and develop skilled and insightful researchers who will augment the Laboratory's capabilities in key technical areas needed to prevent nuclear nonproliferation and safeguard nuclear material. Students who are selected to participate in safeguards internships are typically assigned to PNNL's National Security Directorate. PNNL is looking for students with technical skills or policy experience who have completed their undergraduate degrees or are in a graduate program and maintaining a grade point average of 3.25 or higher. Their current course of study could be focused on, but not limited to, the following disciplines:
Nuclear and engineering fields

Nuclear physics

Nuclear nonproliferation

Health physics

Applied mathematics and statistics

 

Computer science

Chemistry

Project management

Political science

Economics

Cybersecurity.
Interns will spend the majority of their time at PNNL working side-by-side with career professionals on projects that are critical to addressing the challenges of international safeguards. To make sure interns gain valuable hands-on experience, they will be paired with experienced mentors and gain key skills while working on ongoing nuclear-safeguards-related projects. This work could take place in any combination of an office, a laboratory, or a field location. Interns will take part in an intensive introduction to international safeguards; a week-long course consisting of lectures, tours, demonstrations, and in-class exercises focused on legal and policy history of safeguards; an overview of how safeguards are implemented and how they have evolved in response to technical and policy challenges; and an understanding of contemporary and prospective technical issues in safeguards.
Many interns return to school in September, while others may extend their stay at PNNL or continue to work hourly or full time during the school year, depending on project needs. Many interns use their experience and expertise to transition to full-time employees at PNNL. Others use this opportunity to launch themselves into careers within the U.S. government, such as in the National Nuclear Security Administration, or in international organizations such as the International Atomic Energy Agency.
Check out some research projects safeguards interns have worked on over the years.
Openings for internships are posted by November for a May/June start date. Here are some tips on applying to these internships.