November 9, 2022
Spotlight
DOE National Laboratories Identify Equity and Justice Opportunities
PNNL convenes summit of energy equity and environmental justice researchers
Bringing equity and justice to the nation's energy system—from access to affordable electricity to protection of vulnerable communities from environmental risks—is one of the Biden administration's top priorities. The national laboratory system is well-positioned to make a positive impact for historically underserved and overburdened communities while advancing the nation's clean energy goals.
Pacific Northwest National Laboratory (PNNL) hosted the Energy Equity and Environmental Justice (EEEJ) Summit on September 28 with the Department of Energy Office of Economic Impact and Diversity (DOE-ED) to start developing solutions to these challenges. The summit convened researchers from eight national laboratories to highlight their EEEJ capabilities and share best practices and lessons learned.
The EEEJ Summit team published a comprehensive workshop report summarizing the presentations and synthesizing main takeaways, key themes, and next steps. The report will be used to foster collaboration and coordination across national laboratories, DOE, and other agencies and organizations.
Key action items raised by the summit attendees include:
Operationalize EEEJ within national labs with more coordinated efforts between the national labs.
Strengthen EEEJ research practices and metrics for better data dissemination, including integrating climate and grid models with socioeconomic data.
Integrate community engagement at the start of projects.
Employ processes to co-develop knowledge about communities to better support equity goals.
Enhance the legacy of engagement by addressing historical issues of mistrust.
Use DOE's help to operationalize EEEJ, such as through inclusion requirements in funding calls.
Improve engagement tracking to reduce community request burdens.
Simplify and streamline EEEJ funding opportunities and help communities align resources for project deployment.
The summit's opening address by DOE-ED Director Shalanda Baker included a call to action for the national labs along with why the federal Justice40 Initiative is important to the nation's clean energy transition. Justice40 mandates that 40 percent of federal investments—including investments in clean energy, clean transit, energy-efficient housing, training and workforce development, remediating and reducing legacy pollution, and developing clean water infrastructure—should directly benefit disadvantaged communities.
Director Baker described how the current energy system is rife with inequities and that research shows the lack of equity is endemic—from Black and Latinx communities being exposed to more environmental pollution than they produce, to higher energy insecurity in low-income and Black households, to lower solar panel adoption rates among people of color.
"How can national labs advance energy equity and environmental justice?" asked Baker. "Every research question asked and answered has an equity implication."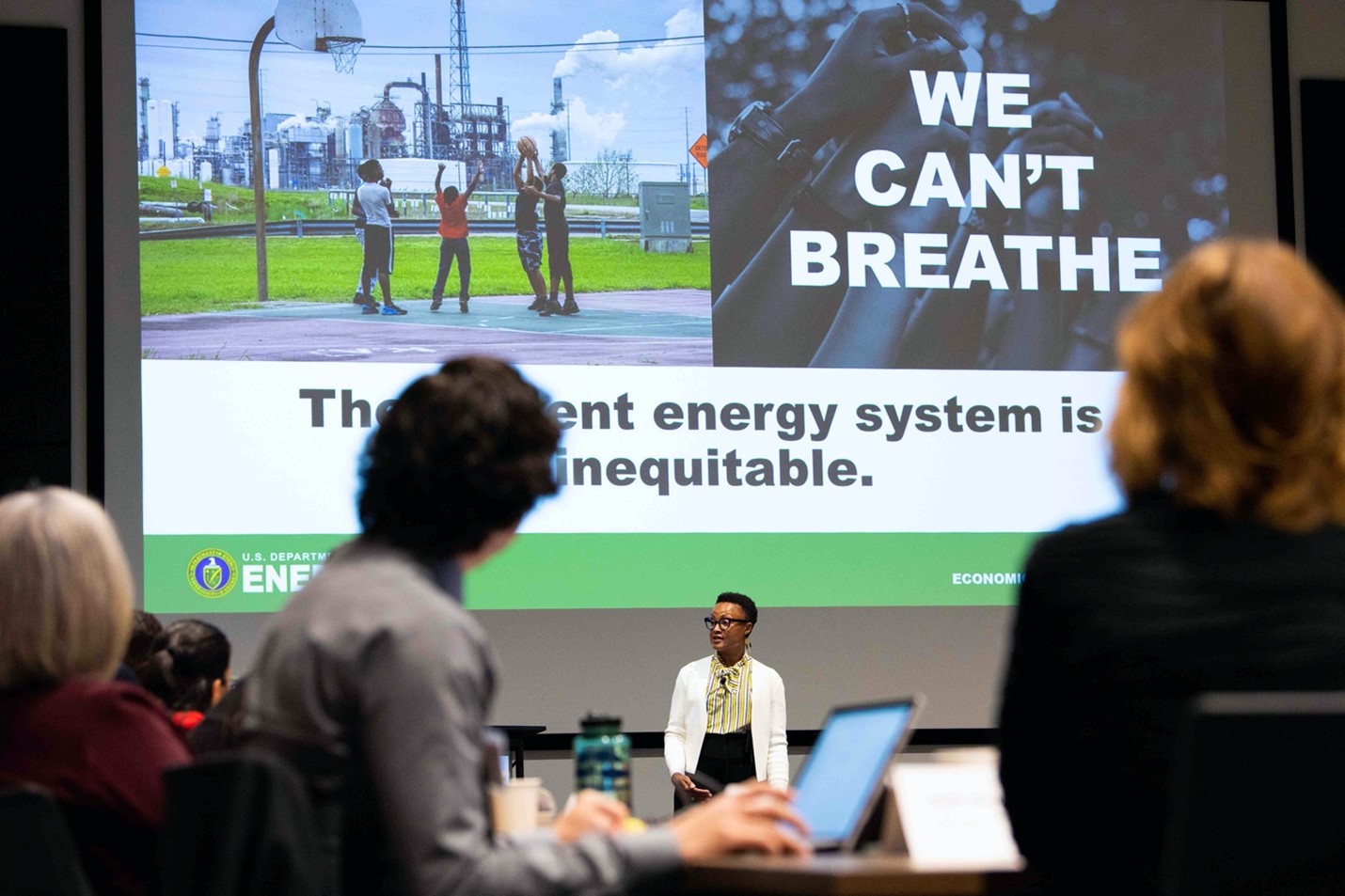 Top national laboratory focus areas for Director Baker and DOE-ED included expanding the science, technology, engineering, and math workforce pipeline, deepening connections to surrounding communities, supporting minority business enterprises in preparing for funding opportunities, and creating an ecosystem that supports minority-serving institutions in the pursuit of decarbonization strategies.
"Our workforce needs to look like the communities we serve," she added.
The address was followed by panel discussions on how each national laboratory is enhancing the way science is implemented through equity and justice lenses.
Research areas represented included electricity infrastructure, building technologies, nuclear energy, transportation, consent-based siting, carbon capture, environmental remediation, cultural resources, energy storage, and advanced manufacturing.
Presenters described how they're reimagining their respective research domains to consider the impacts and benefits to vulnerable populations and to the marginalized communities that are historically overburdened by pollution and high utility bills.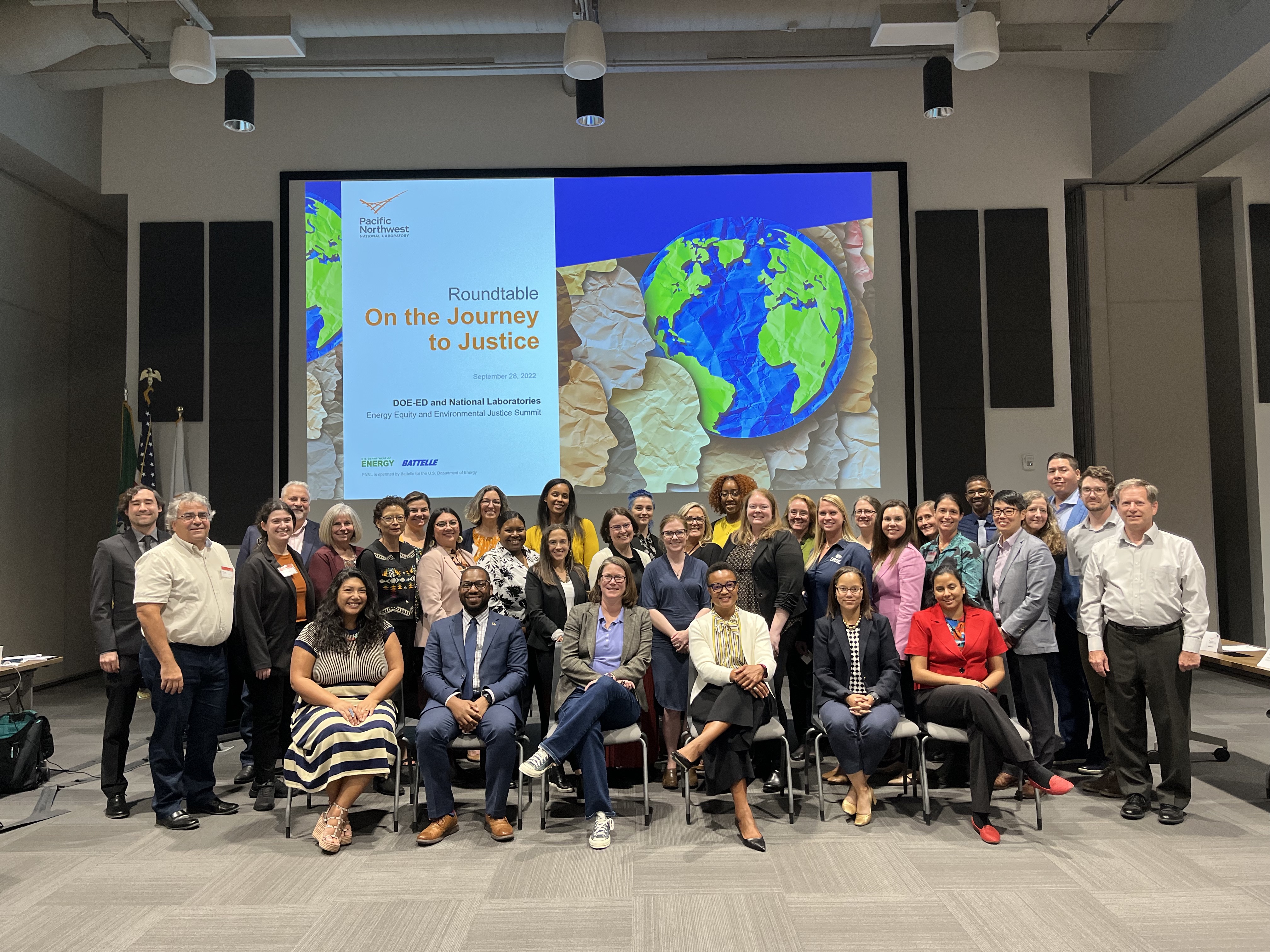 The summit concluded with a roundtable discussion led by Angela Becker-Dippmann, director of PNNL's Energy and Environment Program Development Office, along with the DOE-ED team of Baker, Deputy Director Dr. Tony Reames, Dr. Anjuli Figueroa, Bari Brooks, and Chris Gunn. The attendees reflected on opportunities to strengthen collaboration, research dissemination, community engagement, and programmatic funding partnerships to advance EEEJ.
To learn more about how PNNL's researchers are helping sponsors and partners integrate equity and justice into their research projects, visit our Energy Equity and Environmental Justice pages.
Published: November 9, 2022