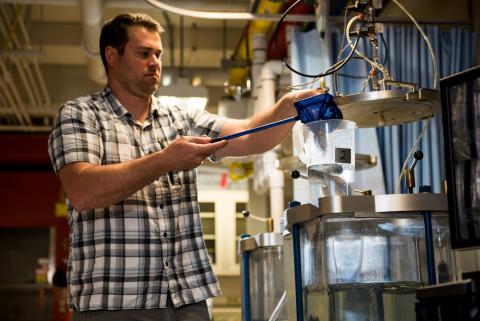 Basic data on fish resiliency to turbine passage
Biological response relationships are obtained from laboratory experiments that connect in-turbine physical stressors to impacts on fish. The HydroPASSAGE project has prioritized studies for species of conservation concern, which are known to be affected by turbine passage. Therefore, the HydroPASSAGE project has focused on investigating the biological response relationships for common stressors that fish experience in the hydropower turbine environment, including rapid decompression, rapid changes in water velocity (shear), and being struck by the turbine blades. Additionally, biological response relationships available in the peer-reviewed literature have also been cataloged. Both HBET and BioPA use biological response data to evaluate and predict the impacts of hydropower turbines on fish.
Biological Response data have been developed and integrated into BioPA and HBET for more than 20 species of fish. Robust biological response models for rapid decompression, fluid shear, and blade strike are available for the following species: American eel, American shad, Bluegill, and Rainbow Trout. For a complete list of the species-specific biological response relationships, please visit the pages below. 
Rapid Decompression
As fish travel through a hydropower turbine they can experience rapid decompression, caused by rapid changes in pressure (known as barotrauma). 
Fluid Shear
As fish travel through a hydropower turbine they can also experience fluid shear, which are forces that occur at the interface of two water masses moving at different velocities or directions. 
Blade Strike
As fish travel through a hydropower turbine they can be subject to blade strike, or collision with a turbine blade.