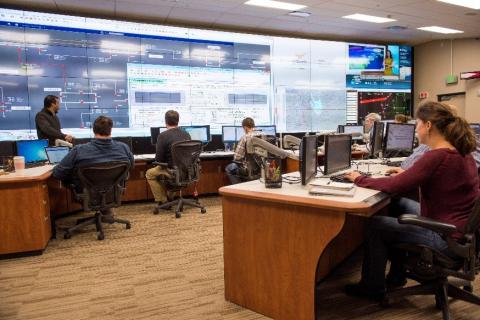 Q: Who can use the EIOC?
The EIOC is available for use by researchers, utilities, technology vendors and government agencies.
Because the EIOC enables users to see what actual operators in control rooms see — voltage and power flows, and system state at both the transmission and distribution levels —it supports the development and integration of grid operations technology in a safe yet highly realistic operating environment. Researchers, grid operators, hardware and software manufacturers can collaborate in the iterative process of developing, refining and deploying technologies more quickly. Utilities interested in solving specific operational challenges or manufacturing companies testing new technologies may also use the facility to integrate solutions using actual grid data. The U.S. Department of Energy and government agencies can use the EIOC to test solutions to better understand both the benefits and limitations of technologies, readying them for commercialization and deployment.
Additionally, the EIOC offers an ideal environment for training electric power grid operators — either on site or remotely.
Q: How is the EIOC used?
The EIOC is a grid modernization research laboratory within PNNL's Systems Engineering Building. It is managed as a configuration-controlled testbed with a dedicated network, server farm, and two interconnected control room research environments. Uses vary greatly depending on specific project requirements, and the EIOC has been designed to be flexible and easily configurable to accommodate a wide range of diverse research and development needs. There are also good options for accessing the EIOC remotely via our externally facing internet gateway, a secure VPN, and multifactor authentication.
Q: Where is the EIOC located?
The EIOC is in the 3820 Systems Engineering Building on the PNNL campus in Richland, Washington.
3820 Systems Engineering Building (SEB)
820 Horn Rapids Road
Richland, WA 99354
PNNL is a U.S. Department of Energy research and development laboratory operated by Battelle. Federal regulations require that visitors receive authorization prior to arrival at PNNL, and that they get a visitor's badge upon arrival on campus. If you are interested in visiting the EIOC please review the requirements on the PNNL visitors information page and contact the EIOC.
Q: How can I use the EIOC?
The easiest way is through partnering or collaborating with PNNL on projects where we are identified as a project team member. However the EIOC can also be accessed via contractual arrangements.
Q: What does it cost to use the EIOC?
The cost of the EIOC depends on the scope and level of effort in the project. Please contact our team to explore your needs and determine if using the EIOC is a good fit for your research and development projects.