Nuclear Security Fellowship Completes First Virtual Cohort
Fellows bring technology, policy skills to security job market
The National Nuclear Security Administration (NNSA) Graduate Fellowship Program (NGFP) is designed around a mission to build future leaders to help strengthen the nation through nuclear security. While pandemic restrictions kept this year's fellows primarily at home, it did not keep them from gaining valuable skills and experience. On May 10, the program celebrated the completion of the Class of 2020-2021—48 fellows who made up the program's first fully virtual cohort.
"This year changed our definition of 'hands-on' experience. By drawing on the program's long-standing history of dynamic leadership development, we changed the way we connect and build future leaders," said Melanie Godinez, Pacific Northwest National Laboratory (PNNL) NGFP program manager. PNNL administers NGFP on behalf of the NNSA to hire recent and current graduate-level students into year-long assignments across the nuclear security enterprise.
The virtual closing ceremony reflected on the fellows' year-long assignments with a series of speakers, including Acting Under Secretary for Nuclear Security and NNSA Administrator Charles P. Verdon and Deb Gracio, associate laboratory director for PNNL's National Security Directorate, and poster presentations by the fellows. Read more about the closing ceremony on the NNSA news site.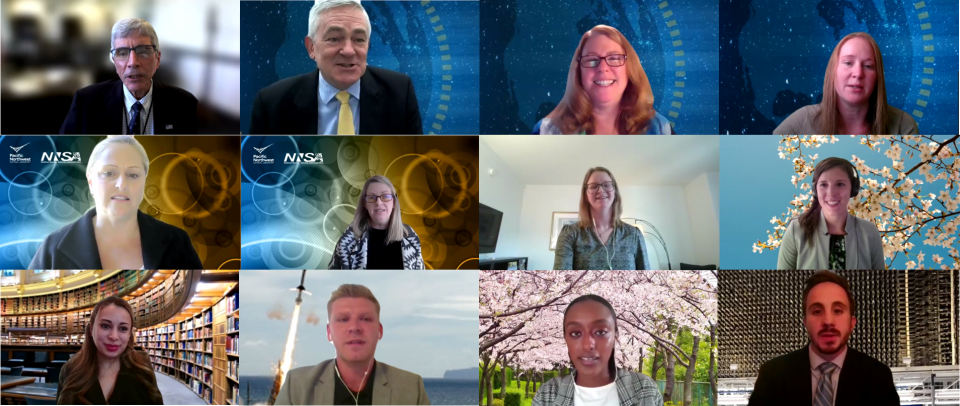 While employment is not guaranteed at the end of the fellowship, the program seeks to retain fellows' experience within the national security mission space. As of May 2021, nearly a third of the class has accepted federal offers with the NNSA. A virtual career fair also connected the cohort with 26 employers and nearly 100 representatives from across the nuclear security enterprise. Nearly 330 connections were made, including more than 170 audio/video chats. 
With the completion of the Class of 2020-2021, the next class of fellows is hot on their heels to begin their assignments in June 2021, and PNNL is accepting applications for the Class of 2022-2023. Current or recent graduate students can apply online at https://www.pnnl.gov/apply-ngfp.
Published: May 27, 2021
Research topics