Facilities and Centers
The National Security Directorate has access to a number of state-of-the-art facilities and centers at Pacific Northwest National Laboratory (PNNL) to conduct research in support of national security missions. We have major facilities and centers in Richland, Wash., as well as in Sequim, Seattle and Portland, including:
Facilities
Sequim Marine Research Operation
The Sequim Marine Research Operations (MRO) provides research and development to meet national needs. Located at the mouth of Sequim Bay in Washington State, Sequim MRO is ideally suited to conduct research on the marine environment. Approximately 85 researchers and support staff work at the Sequim MRO facility, including internationally recognized experts in analytical chemistry, wetland and coastal ecology, ecotoxicology, marine biology, modeling and remote sensing. For more information, see Sequim Marine Research Operations at a Glance.
The Coastal Security Institute (CSI), part of the MRO, specializes in providing innovative and practical solutions to the protection of coastlines and other topics of interest to national security. The United States has 95,000 miles of coastline, and the near-shore regions are home to about two-thirds of the nation's population, as well as major industries, ecologically and economically important natural resources and some of the world's busiest maritime traffic. To keep our coastlines safe, CSI research addresses critical needs in the areas of intelligence analysis, homeland security, national defense and global security. The Institute is developing methods to more accurately and rapidly detect, identify and characterize dynamic coastal environmental phenomena and events.
Environmental Molecular Science Laboratory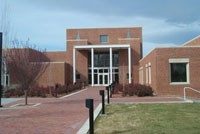 The Environmental Molecular Science Laboratory is a national user facility for the scientific community. EMSL offers—at one location—a comprehensive array of cutting-edge resources including those associated with synthesis, characterization, theory and modeling, dynamical properties and environmental testing relevant to a wide range of environmentally related issues and topics at the molecular level.
Critical Infrastructure Protection Analysis Laboratory
The Critical Infrastructure Protection Analysis Laboratory is a state-of-the art facility that helps users identify and address vulnerabilities in computer systems, embedded electronic devices and networks. Understanding the risk posed by these vulnerabilities is the driving force behind this core capability. Because it is a completely isolated network, CIPAL serves as a safe test-bed for evaluating existing technology and prototype tools, and for independent verification and validation of cyber systems.
Radiological and Nuclear Science Laboratories (300 Area)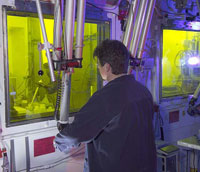 PNNL has an unprecedented collection of radiological and nuclear science technical capabilities and human expertise that are providing critical support to our clients to meet national needs. The 300 Area houses premier, state-of-the-art nuclear characterization laboratories that provide unique, world-class capabilities for performing analyses of nuclear and radiological events domestically and worldwide and for supporting nuclear incident response. PNNL's radiation detection and analysis capabilities are not replicated elsewhere. We have more than 40 years expertise in radiation sensors, radioanalytical chemistry, simulation and modeling, data analysis, materials analysis and creation and instrument development.
Standards Laboratories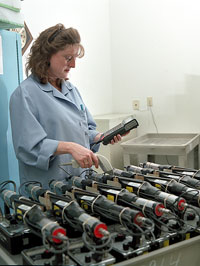 PNNL's state-of-the-art facilities and staff expertise are helping set and improve standards used to enhance the nation's security. Researchers at PNNL are involved in standards development and testing, as well as refining the science of measurement vital in the nation's effort to develop and implement technologies to prevent, respond to, and mitigate terrorist attacks. PNNL Instrumentation and Evaluation Laboratory is a complete testing facility for environmental and performance testing of portable radiation protection instruments. In addition, PNNL has the capability to test nonportable (AC-powered) radiation protection instruments and industrial hygiene instruments. PNNL staff have extensive experience from over 20 years of support to the Department of Energy and Nuclear Regulatory Commission in developing performance testing standards for portable and nonportable instrumentation.
Computational Sciences Facility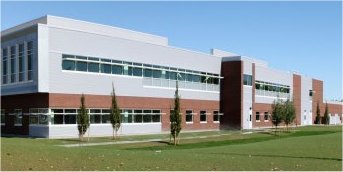 The 73,000 sf Computational Sciences Facility houses researchers involved in developing solutions for the growing challenge of data overload - common to the scientific and national security communities. For example, a single scientific experiment can produce a terabyte of data - too much for a person to interpret. Intelligence analysts face similar challenges collecting and processing real-time data streams - from video to audio to text - they must analyze to better predict and detect threats. PNNL researchers are leaders in the development of data-intensive computing solutions - a way to capture, manage, analyze and help users understand massive amounts of data using innovative computing hardware and software technologies. The CSF includes 10,000 square feet of raised floor space to accommodate data-intensive and high-performance computing hardware and data storage solutions.
Centers
Center for Global Security
Pacific Northwest National Laboratory's Center for Global Security catalyzes the development of leading-edge national solutions that integrate science and technology, policy, and implementation expertise from across the global security community. The Center was established in 1998 and operates from within the National Security Directorate. Offices for the Center are located in Seattle, Washington; Richland, Washington; and Washington, DC.
Northwest Regional Technology Center for Homeland Security
The Northwest Regional Technology Center for Homeland Security is a virtual resource center supporting regional preparedness, response and recovery by enabling homeland security solutions for emergency responder communities and federal, state and local stakeholders in the Northwest. The Northwest region includes Washington, Idaho, Oregon, Alaska, Montana and Hawaii. The center
works with regional emergency management and public safety professionals to define and prioritize technology needs
coordinates and leads regional efforts to test, demonstrate and deploy new and emerging technologies
conducts forums that focus on prevention and emergency preparedness, response and recovery
provides information and expertise on new and emerging technologies, including chemical-biological detection, analysis and forensics; radiological detection; information analytics; explosives detection; and situational awareness.
National Visualization and Analytics Center™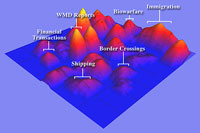 The National Visualization and Analytics Center at PNNL was established in 2004 by the U.S. Department of Homeland Security. The center provides leadership and coordination among the academic community, industry, national laboratories and government to create and deploy visual analytics technologies to help counter future terrorist attacks in the United States and around the globe. Visual analytics tools and techniques will become the 21st century's answer to information overload. In the fight against terrorism, analysts are bombarded with enormous volumes of data from a variety of sources, including documents, images, video and audio. Recognizing that humans have a keen ability to process visual information, researchers are creating visual analytics tools to analyze and interpret huge volumes of data.
Electricity Infrastructure Operations Center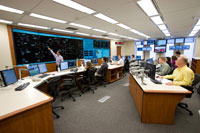 The Electricity Infrastructure Operations Center is a state-of-the-art research platform for energy operations technology development and demonstration. Equipped with operator work stations, communication links and multiple video displays, the center is a fully functional control room, complete with industry-leading energy management system software and live grid data. In addition to developing and assessing tools for operating the grid more reliably, securely and effectively, the EIOC is also used to train grid operators with realistic scenarios that enable them to recognize and respond to off-normal conditions.