Solid Phase Processing Demonstration Facility
Shaping the future of materials 
Pacific Northwest National Laboratory (PNNL) is developing disruptive technologies and processes for the scalable manufacture of metal alloys and composites that demonstrate extraordinary properties compared to materials produced by conventional manufacturing methods. They are based on techniques that introduce a high shear strain to heat, mix, form, and join metals and other materials without melting them—called Solid Phase Processing (SPP).
PNNL's SPP Demonstration Facility incorporates equipment supporting a range of SPP approaches, including Shear Assisted Processing and Extrusion (ShAPE™), friction extrusion, friction stir welding, friction stir processing, and cold spray. This specialized combination of capabilities is leveraged to develop and validate SPP manufacturing approaches for a variety of industry sectors, including energy, transportation, aerospace, metals manufacturing, recycling, and health care.
ShAPE

™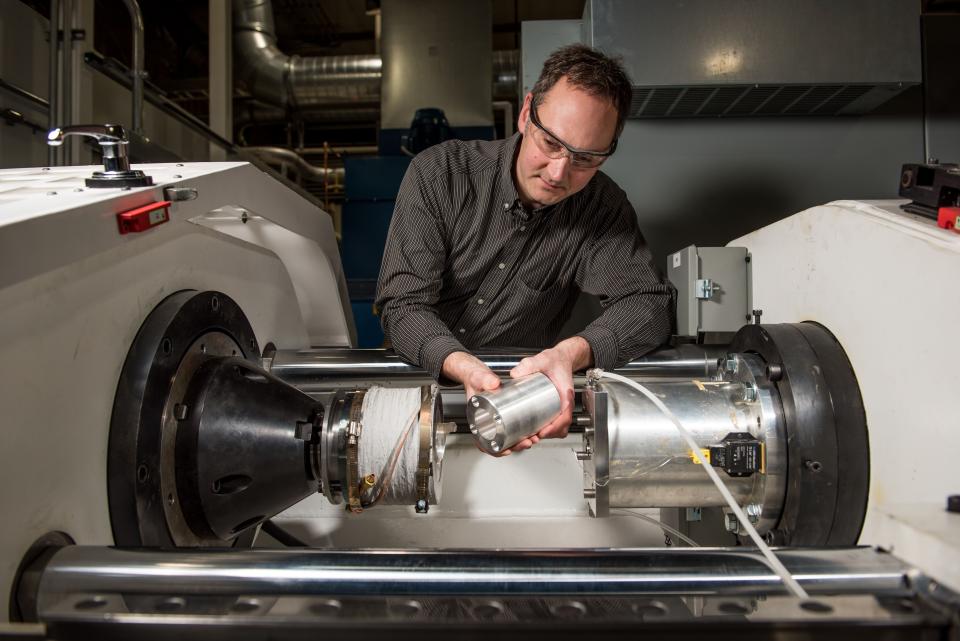 PNNL's first-of-its-kind ShAPE technology uses a combination of linear and rotational shear forces to produce extruded products like tubes, wires, and bars that have significantly improved properties.
Metal powders and flakes can be directly extruded, reducing the multiple costly and time-consuming steps required by conventional approaches. Cast ingots can also be used as feedstock materials.
The patented and patent-pending ShAPE machine creates friction that softens only the material being extruded, while spiral grooves on the die feed the material inward, greatly reducing the force required by up to 50 times.
An R&D 100 Award winner in 2020, the scalable ShAPE process has delivered products that demonstrate extraordinary performance in a broad range of metal alloy and composite systems, including aluminum, magnesium, steel, and copper.
Friction stir processing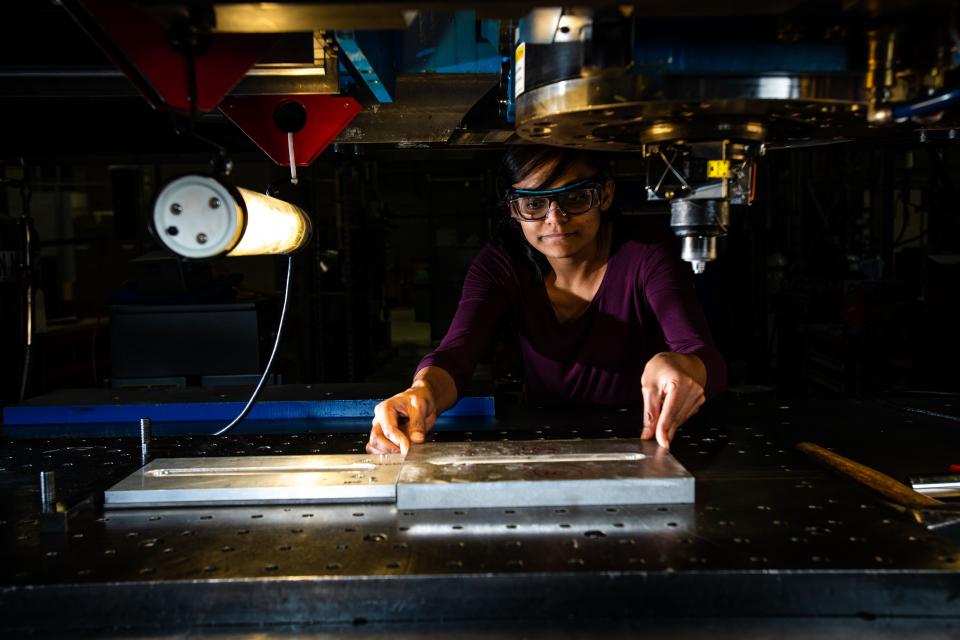 PNNL has one of the most heavily instrumented friction stir welding machines in the world. It is being used to develop and demonstrate a suite of approaches that can be used to join similar and dissimilar materials and create welds that better survive the harsh service conditions imposed by many advanced technology applications. Several of these methods are now finding use in commercial practice. For example, working with General Motors and others, PNNL developed a friction stir welding process that can produce a weld between aluminum sheets of different thicknesses to create blanks with enough strength to withstand subsequent cutting and stamping to desired shapes. TWB uses the process to produce car doors that are 62 percent lighter and 25 percent less costly than those produced using conventional manufacturing methods.
Beyond welding, PNNL is also exploring the use of friction stir technologies to locally modify the surfaces of metal components to improve their properties and to repair, or "heal," cracks and other defects.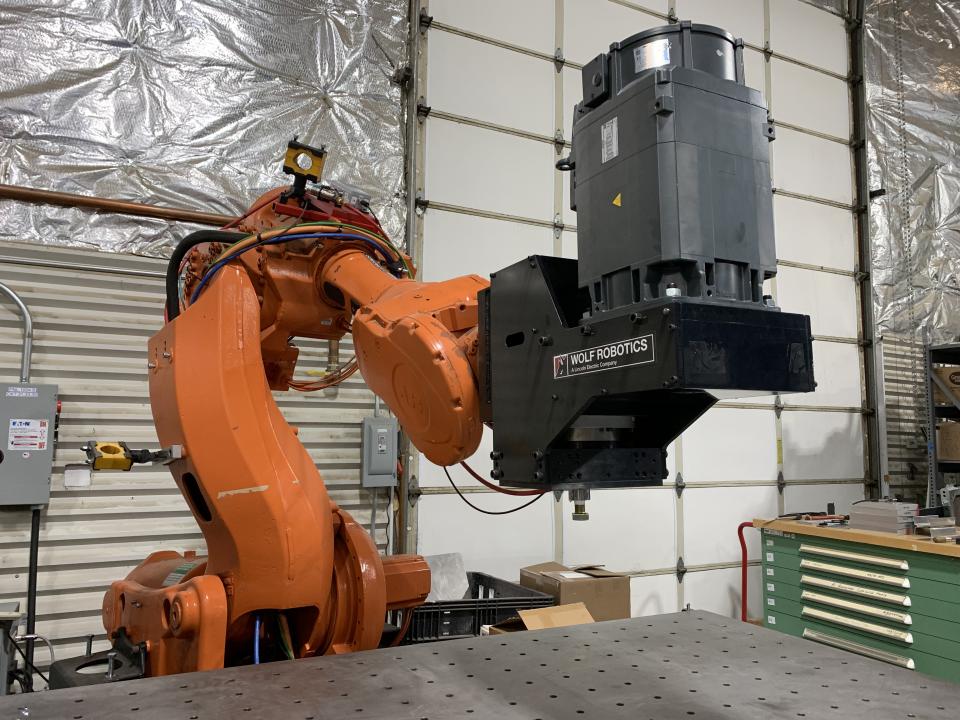 Because most large-scale implementations of friction stir technologies will be robotic, PNNL's SPP Demonstration Facility also includes a high-speed, heavy electrical payload robotic system that is capable of friction stir welding and processing along multi-dimensional paths and turning corners. This enables the creation of 3-D and structural components, like frames and engine cradles, with software and control.
In addition to traditional friction stir welding approaches, PNNL researchers have developed several friction-assisted welding techniques, such as friction stir dovetailing and friction stir scribe, to join dissimilar materials that have very different melting points.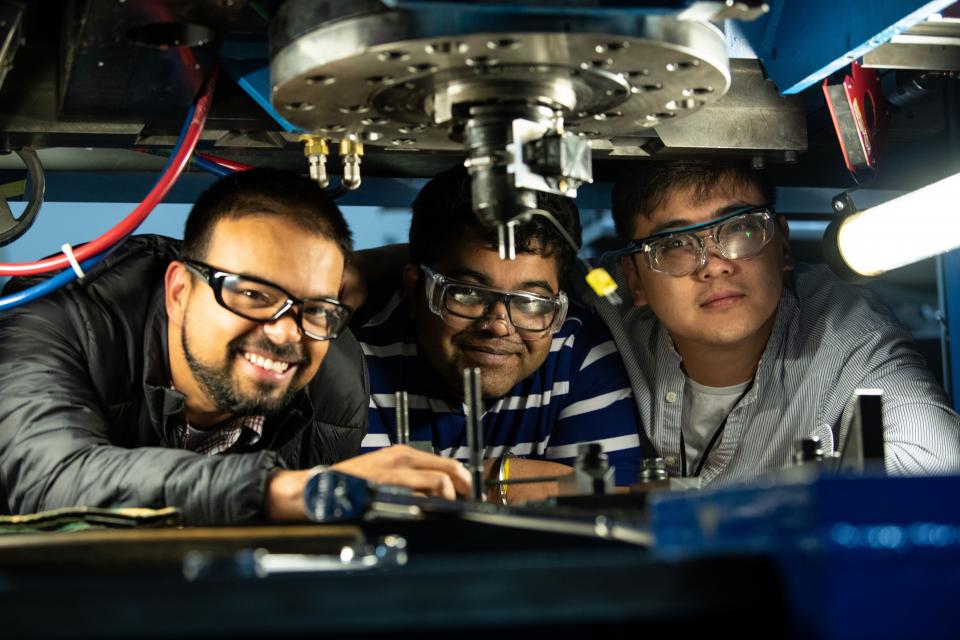 Friction stir scribe is an R&D 100 award-winning process that makes it possible to join materials with drastically different properties and melting points, eliminating the need for additional adhesives, bolts, and rivets.
Using friction stir scribe, manufacturers can incorporate new and different materials into components without sacrificing strength or durability. Viable joints between polymer composites and metals can also be made using this method.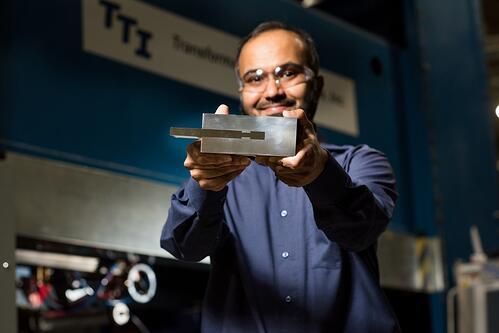 Friction stir dovetailing is a novel process that enables, for example, the joining of thick plates of aluminum to strong, but heavy, steel for structural lightweighting applications. The joint is strengthened by a mechanical interlock, similar to a dovetail joint in woodworking. In friction stir dovetailing, a specially designed tool deforms the aluminum into a dovetail groove that is cut into the steel. The tool pushes along the bottom of the dovetail to form a thin metallurgical bond that "glues" the metals together and that, in combination with the dovetails, forms a strong weld.
Cold spray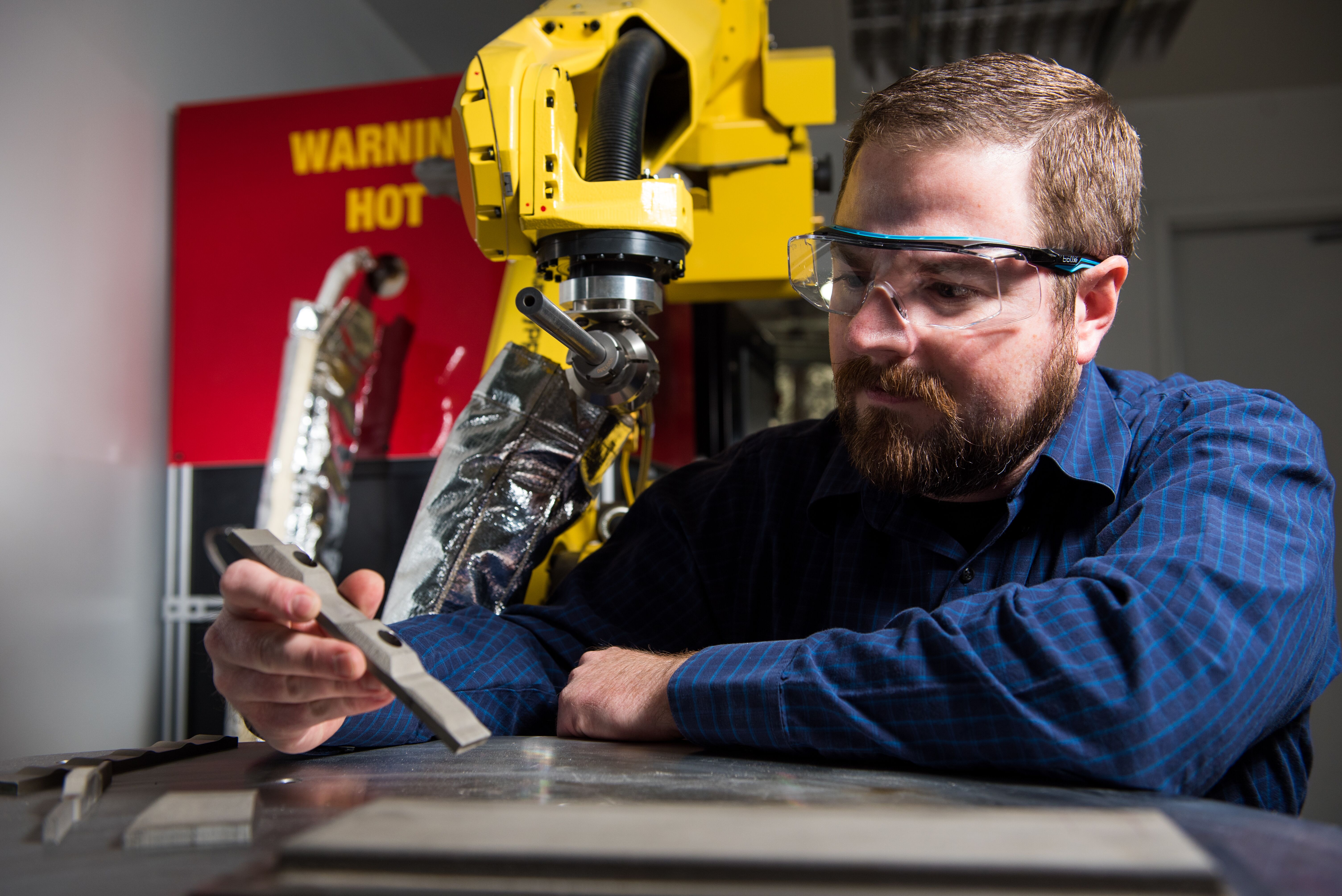 The newest addition to PNNL's suite of SPP capabilities is cold spray. In cold spray methods, feedstock particles are propelled at supersonic velocities to impact surfaces with sufficient energy to form a strong bond and create a dense deposit. Applications for cold spray include the production of coatings for environmental protection and the repair of surface defects or surface damage. Cold spray can also be used as an additive manufacturing approach. Because cold spray deposits are not melted during processing, it is possible that new alloys can be created from constituents that are otherwise incompatible in melt-based processes.