Buildings, the Grid, and an Electric Future
Three PNNL-led projects provide new insights on how buildings can enhance power grid operations
If buildings could talk, they'd no doubt express all the potential ways they can help make America's energy consumption more efficient and environmentally friendly.
But since buildings can't speak, they partly rely on researchers at Pacific Northwest National Laboratory (PNNL) to communicate and demonstrate the vast promise of homes and commercial buildings as valued partners for the electrical power grid, renewable energy, and the environment.
Over the past two years, PNNL has completed a number of projects, including three highlighted below, that answer some of the technical questions associated with leveraging the efficiency and flexibility of energy consumption in buildings to enhance power grid operations, bring more clean energy online, and reduce carbon. In addition to informing future technical solutions, PNNL's work helps create "recipes" that enable building owners and managers to more easily deploy new methods and technologies in their buildings.
First, a little background...
Today's relationship between the built environment and the power grid is pretty much about basic supply and demand—commercial buildings and homes need electricity, and the grid provides it.
Often, buildings and homes use more energy than they need. If these structures were made more efficient, they would free up electricity to meet other demands. Along the same lines, buildings that are capable of quickly and automatically deferring use of electricity to other times of the day and night—while still meeting occupant needs—provide flexibility, or "grid services (GS)," that helps take pressure off the grid.
"A large collection of more efficient and flexible structures provides a powerful tool, acting much like a shock absorber that helps the grid both endure the impacts of electricity demand spikes and more readily incorporate variable energy sources, such as wind and solar power, that are dependent on weather conditions," said PNNL's Srinivas Katipamula, a building controls expert.
A significant portion of PNNL's buildings-related research focuses on achieving energy efficiency (EE) and/or GS solutions.
Project 1: Spokane, WA, buildings offer EE insights
Researchers partnered with the Edo organization to explore efficiency technologies in two large, modern commercial buildings.
The project, initiated in 2021, employed the PNNL-developed Eclipse VOLTTRON™ distributed sensing and control software platform. Eclipse VOLTTRON™ is a versatile tool that collects data from—and interacts with—buildings and the grid to inform operational decisions. The platform launched PNNL's Automated Fault Detection and Diagnostics (AFDD) algorithms and Automated Identification of Retro-Commissioning (AIRCx) application in the two structures' automation systems, which control operation of heating and cooling systems, lighting, and more.
AFDD and AIRCx are similar in that they detect operational issues in building systems. AIRCx, derived from PNNL's landmark work in Re-tuning™, also provides continuous monitoring of building operations and, if configured to do so, corrects issues.
While both Spokane buildings are state-of-the-art and only a few years old, PNNL's applications detected several operational problems that could be easily fixed, reducing energy consumption. Researchers also identified approaches to improve future use of the AFDD and AIRCx applications.
The project was part of the PNNL-led Clean Energy and Transactive Campus project, funded by the Department of Energy (DOE) Grid Modernization Laboratory Consortium.
Project 2: Washington, D.C., buildings incorporate EE and GS technologies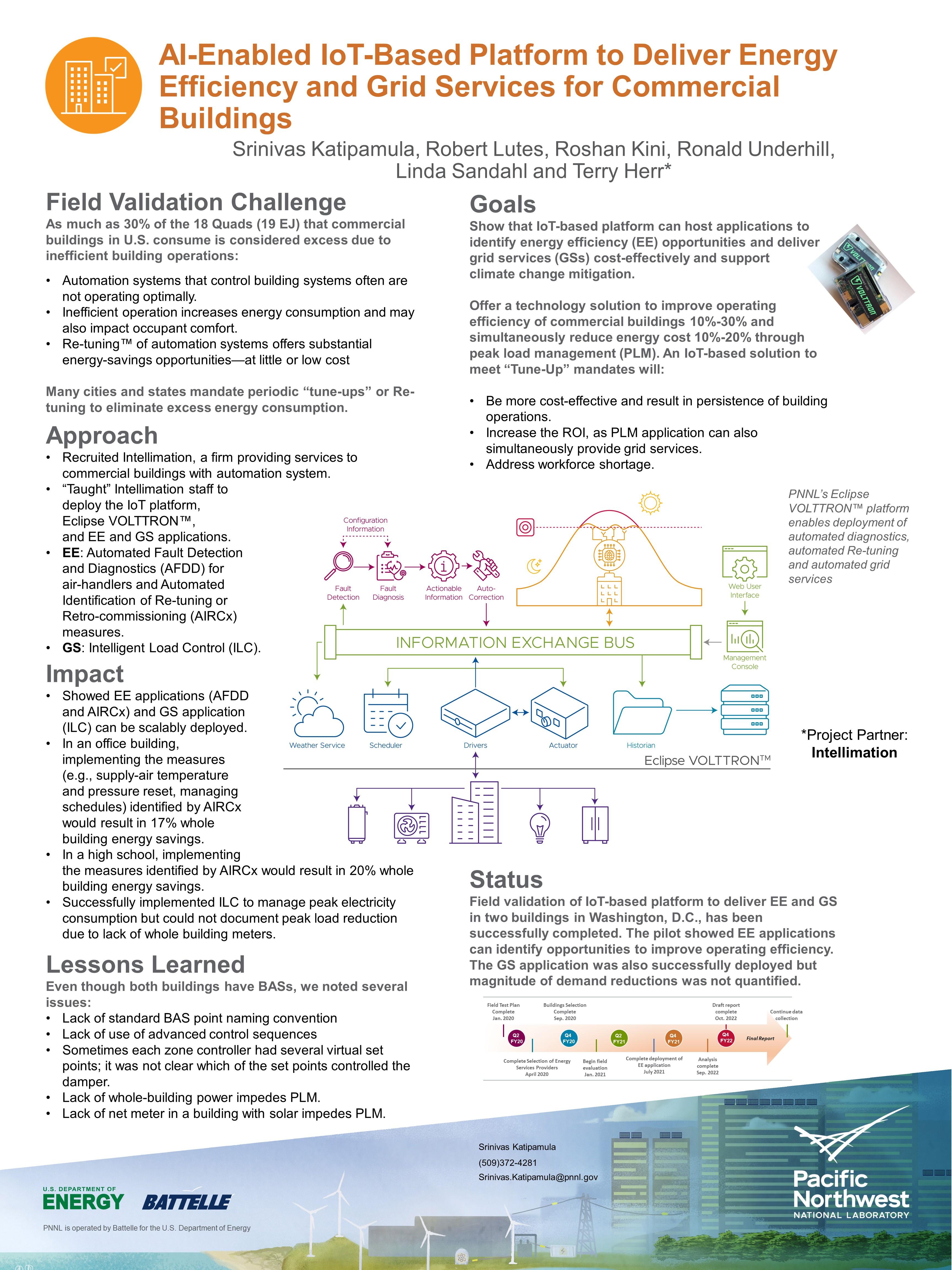 PNNL partnered with Intellimation, an energy services firm, to deploy Eclipse VOLTTRON™ and AFDD and AIRCx technologies at Anacostia High School and the One Judiciary Square office building in Washington, D.C.
PNNL also installed and tested its Intelligent Load Control (ILC) technology in both buildings. ILC provides the ability to quickly and automatically adjust building electricity needs in response to power grid supply and demand fluctuations.
The deployments identified some significant energy-saving opportunities for both buildings, as well as infrastructure issues that may hinder effective application. The lessons learned from the testing will help Intellimation—and potentially other future users of ILC and AIRCx—to reduce the effort needed to apply the technologies in buildings.
The project was funded by DOE's Building Technologies Office (BTO).
Project 3: Exploring impacts of thermal inertia
PNNL's "Buildings Living Laboratory"—a network of buildings on the PNNL campus enabled for experimentation—served as the venue for a BTO-funded 2021 field test that examined the thermal inertia of commercial buildings. Thermal inertia pertains to how well a building heats up or cools down to a certain temperature and then maintains that temperature. Understanding this phenomenon, which hasn't been comprehensively studied in the past, illuminates a building's potential for electricity demand flexibility.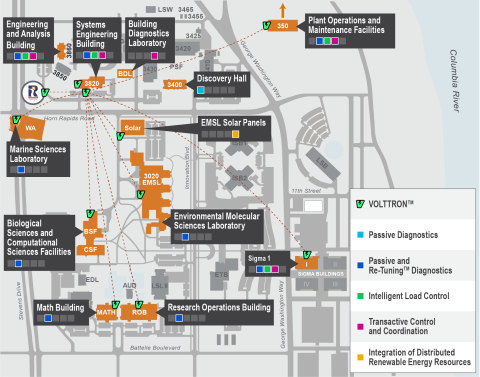 For the field study at PNNL, five buildings of various sizes, ages, and heating and cooling systems were selected to represent the majority of U.S. commercial building stock.
Researchers developed a new method—which may serve as a tool for others to use—to quantify thermal inertia using building operational data. The researchers also studied the relationship between thermal inertia and a variety of properties, such as floor area, the building's heating, ventilation, and air conditioning (HVAC) system type, and outdoor air temperature.
"We confirmed that thermal inertia is a significant factor in commercial buildings," said PNNL's Robert Lutes, an engineer who worked on the study. "One of our key findings was that thermal inertia is affected by HVAC system type but is not sensitive to the floor area or interior/exterior locations of the zones. This information will help assess demand flexibility potential."