August 25, 2023
Spotlight
Asset Score Now With Quick Building Assessment Tool
Get energy-efficiency retrofit recommendations in ten minutes or less
Need an easy way to rate the energy efficiency of your building? Building Energy Asset Score now comes with the Quick Building Assessment Tool (QBAT). Fill out a simple form and within minutes you'll receive an email with a link to your Asset Score report (download a sample report).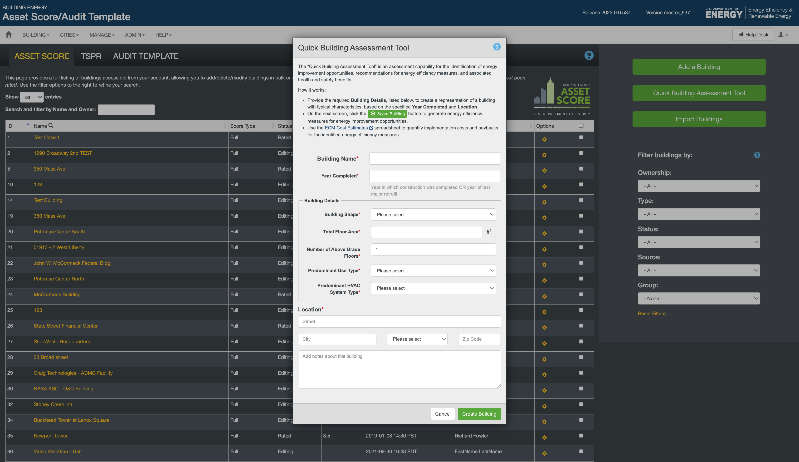 Asset Score, a widely used building performance assessment tool developed by Pacific Northwest National Laboratory (PNNL) and the Department of Energy (DOE), has been around since 2015, but the developers added QBAT just last year. It is designed specifically for users in K-12 public schools with limited resources to carry out a comprehensive energy analysis and needs assessment.
The user only needs to submit information on building vintage, total floor area, building shape, number of floors, type of HVAC system, and use type (education is the only use type at the moment). QBAT infers the rest.
"Compared to the full Asset Score tool, which requires users to enter data for dozens of inputs, the QBAT tool is very high-level and can successfully infer energy efficiency retrofit measures and simulate energy models using only a handful of details," said Mark Borkum, a computer scientist at PNNL. Borkum collaborated with Juan Gonzalez and Supriya Goel on the development of QBAT.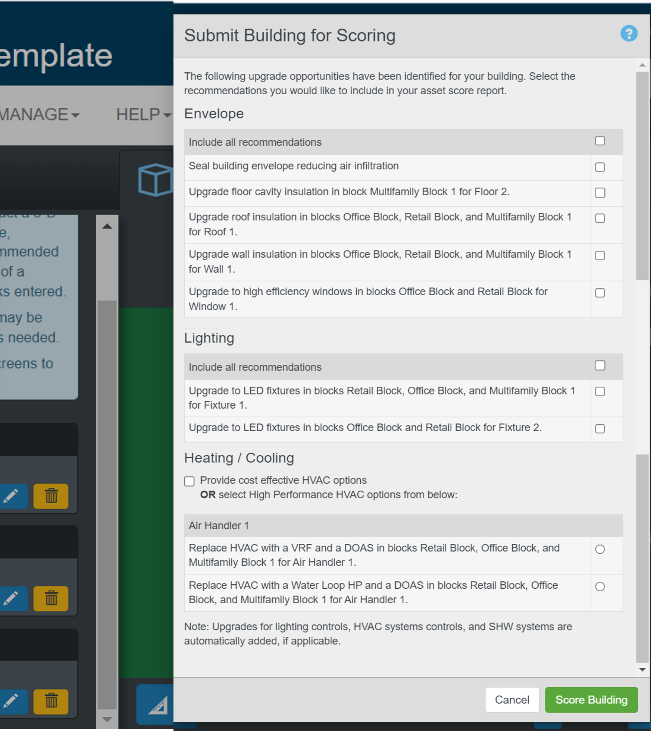 The default values are sourced from open-access datasets, including Commercial Buildings Energy Consumption Survey. The team used ASHRAE Standard 90.1 for energy efficiency requirements for commercial buildings, as well as ASHRAE's Advanced Energy Design and Retrofit Guides. Users may customize the inferred values, or they can simulate the generated energy models as-is.
Asset Score assigns the building a rating from 1 to 10, with 10 reflecting the best possible energy performance. The QBAT report includes recommendations for energy improvements in building envelope, lighting, HVAC and controls, hot water systems, as well as an estimated cost of upgrades. Measures can range from low-cost control improvements to whole system replacement with decoupled ventilation systems and cycling heat pumps. The QBAT report also describes the potential health and safety impact of the upgrades.
Supports equity in building energy efficiency 
Goel said the tool could be particularly handy for buildings with no on-site facility manager or commercial buildings tenants, particularly in disadvantaged communities where creating a detailed energy audit may not be an option.
"With QBAT we want to try to reduce the barrier for entry for those communities," said Goel.
"It's our hope that this feature helps underserved and disadvantaged school districts participate in funding opportunity announcements and learn more about their existing school portfolio," said Gonzalez.
Goel says that although QBAT is not meant to replace a detailed audit by a qualified assessor, it can empower users to think about the efficiency of their buildings and its impact on the health and safety of their occupants.
In fact, over 2,000 K-12 public schools used the QBAT to apply for the Renew America's Schools Grant, funded by the Bipartisan Infrastructure Law. At least 40 percent of the public schools which responded to the Funding Opportunity Announcement were in historically marginalized neighborhoods.
Goel and her team are currently working to expand QBAT to add support for all HVAC systems. They are working to streamline how data is entered into the tool through the creation of an application programming interface and spreadsheet data extraction in collaboration with Lawrence Berkeley National Laboratory.
Published: August 25, 2023