October 28, 2019
Staff Accomplishment
Xiao Receives Young Researcher Award
Battery association recognizes outstanding contributions to lithium batteries
Dr. Jie Xiao, chief scientist and manager of the Batteries & Materials System group at Pacific Northwest National Laboratory (PNNL), was recently honored with the International Automotive Lithium Battery Association's Young Researcher Award.
She was recognized for her outstanding contribution to basic and applied research on lithium-ion batteries and beyond. She received the award at the 12th International Conference on Advanced Lithium Batteries for Automotive Applications held October 6 through 9 in Ulm, Germany.
Xiao is a key research contributor to, and coordinator of, the PNNL-led Battery500 Consortium, a DOE-sponsored consortium challenged with doubling the cell energy—the amount of energy packed it to a battery, based on weight—of rechargeable lithium-ion batteries. Cell energy is an important parameter of the batteries that power today's electric vehicles.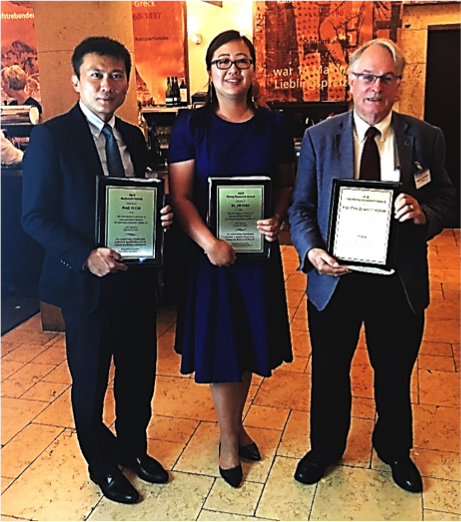 Xiao was named a Distinguished Inventor of Battelle earlier this year, and in each year since 2017 has been named by Clarivate Analytics as a top 1 percent highly cited researcher in the field of materials chemistry. Further, Xiao holds 16 U.S. patents in the battery field.
While receiving the Young Researcher Award, Xiao was in excellent company with her PhD advisor, Dr. M. Stanley Whittingham, a recent Nobel Prize recipient who received the Lifetime Achievement Award from the battery association. Whittingham also contributes to research under the Battery500 Consortium. Collaborator Yi Cui from Stanford University also was honored with an award.
"This award is well-deserved recognition for the scientific contributions that Jie is making to the field of battery research as well as her ability to work with other leaders in the battery community," said Jud Virden, Associate Laboratory Director for Energy and Environment at PNNL. "We are proud that she is recognized with this distinguished award."
Published: October 28, 2019