Modeling Nanomaterials on Modern Earth
The cycles and impacts of tiny materials, both natural and new
A recent review paper in the journal Science, in part authored by a multidisciplinary team of researchers at PNNL, investigates the way nanomaterials—both ancient and modern—impact the Earth system and its human inhabitants.
The study's authors—from eight U.S. states, as well as Japan and China—grapple with how to assess the roles and impacts of nanomaterials; how to model the way they cycle through the Earth's air, water, and land; and how to deal with both the risk potential of nanomaterials and the ethical issues emerging from that risk.
Lead author Michael F. Hochella, Jr., is a PNNL earth scientist and laboratory fellow who has a joint appointment with Virginia Tech.
To write the paper, Hochella organized a workshop on nanomaterial impacts attended by the authors. It was funded by the National Science Foundation.
Their March 29 study was so novel and rich that it also merited a research brief at sciencemag.org. The short take highlighted the study's call for understanding nanomaterials better, and for learning to mitigate the long-term impacts they could have on the environment and human health.
Nanomaterials, whether billions of years old or just months old, exist in a variety of organic, inorganic, and mixed (organometallic) forms. They are characterized by their vanishingly tiny dimensions—from one nanometer (nm) to mere tens of nanometers across—and by their complex shapes and surfaces.
The complexity of nanomaterials, in part, accounts for the flexible variations they have in chemical, physical, and electrical properties. The same variability makes them attractive for engineered applications.
Ancient and Modern
The study in Science pivots on understanding three types of nanomaterials. Each is abundant on a planetary scale, but to different degrees.
Starting more than 4.5 billion years ago, natural nanomaterials "were already a critical part of the formation of our planet," said Hochella. "From that time forward, they have evolved and are still a major and highly active component of modern Earth."
All those eons ago, when our then-barren planet seethed with chemical potential, nanomaterials played a part by promoting the formation of protocells and by contributing to the early evolution of bacterial cell walls.
Natural nanomaterials come from a variety of natural sources, including (but not limited to) erosion and other weathering processes, sea spray, undersea geothermal vents, submarine groundwater discharge, dust from wind storms, emissions from volcanoes, and precipitation in rivers, lakes, and soils.
Meanwhile, nanomaterials undergo continual alterations by the planet's microbial communities, which build soil, support plant life, and store and release carbon.
Industrial Age Contributions
Far more recently, for about the past 250 years, incidental nanomaterials have cycled through Earth systems by the hundreds of millions of tons. Although less common than natural nanomaterials, these are "unintentionally abundant," the authors write—the byproducts of human activity such as transportation, mining, farming, and manufacturing.
Compared to natural nanomaterials, incidental varieties form, evolve, and move in ways that are far less understood. But it is known that major amounts of incidental nanomaterials go into the atmosphere.
In the atmosphere, incidental nanomaterials can be single particles or form complex aggregates. They can be portions of tiny organic droplets or aerosols. In the case of gasoline and diesel emissions, incidental nanomaterials can be graphitized carbon nanomaterials small enough—at less than a few to a few 10's of nanometers—to be breathed into the lungs and enter the bloodstream.
Worldwide, about 3.3 million premature deaths a year are attributed to airborne pollutants, including anthropogenic particulate matter this small. It can penetrate the lungs' alveolar membranes, translocate to the bloodstream, concentrate in vital organs, and accumulate in amounts damaging to human health.
The authors point to the case of microplastics, which are distributed throughout the world from sources such as tire particles and synthetic fabrics. In turn, these can transmute into nanoplastics that pour by the millions of tons into the Earth's rivers, oceans, and air.
An air-transport study of microplastics appeared in the April 15 issue of the journal Nature Geoscience. It points to the timeliness of the PNNL work on nanomaterials.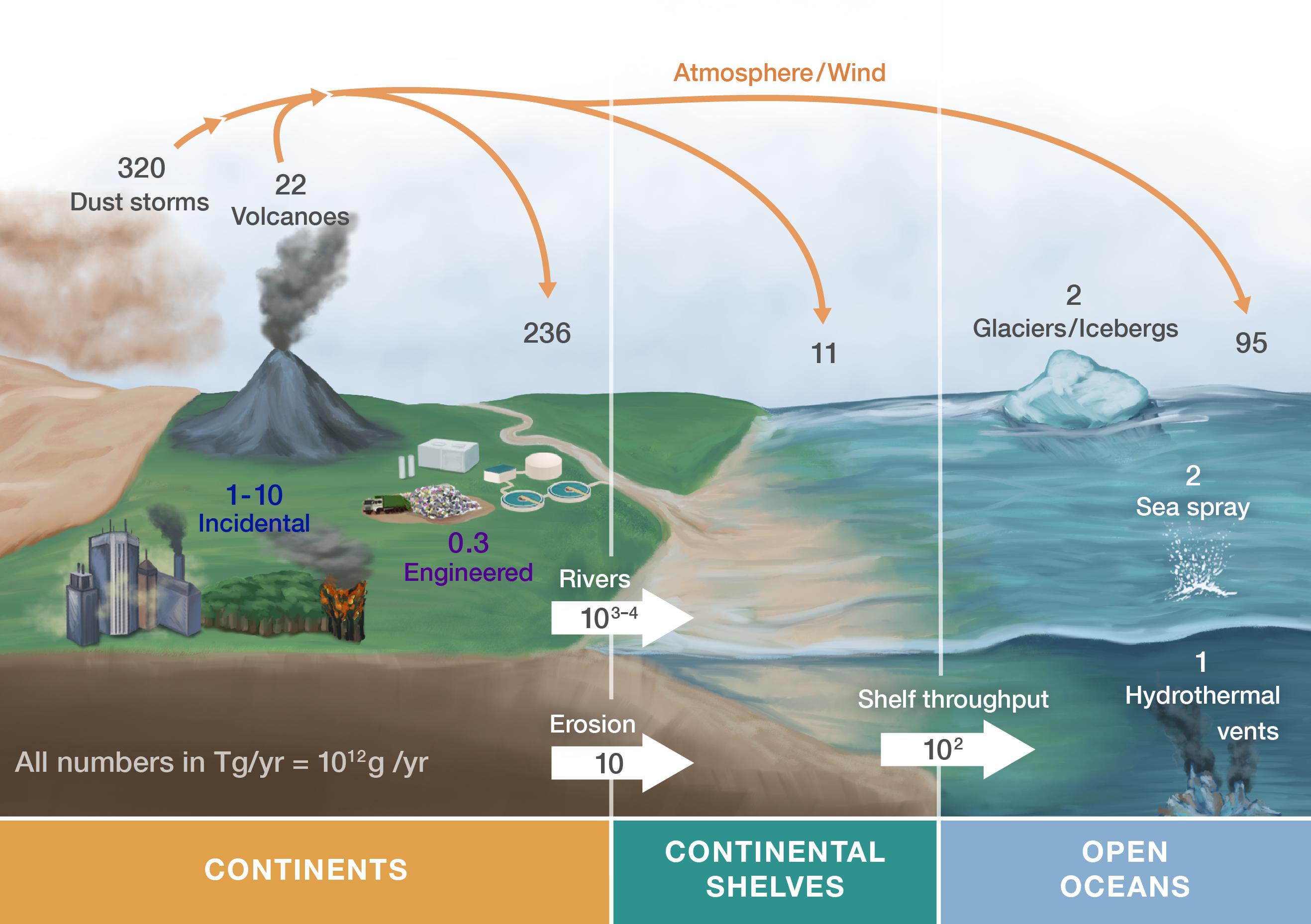 Thoroughly Modern Forms
In the last few decades, a third type, engineered nanomaterials, has been designed and manufactured intentionally to support beneficial nanoscale technologies that enable advances in medicine, industry, and agriculture.
They are made—collectively—by the few hundred thousands of tons per year as carbon nanotubes, graphenes, and other materials. Engineered nanomaterials enter the Earth system by way of landfills, soil, water, and air.
Once out in the world, nanomaterials of every kind interact with biological systems in ways not well understood. Anthropogenic nanomaterials in particular may be the most dangerous, Hochella said, "simply because we don't know yet all the kinds that exist."
Despite the abundance, ubiquity, and possible consequences of nanomaterials in the Earth environment, they have been studied intensely for only about 20 years—an investigation the authors say scientists must boost and broaden.
Millions, Billions, Trillions
All three types of nanomaterials are abundant now, although some much more so than others. Natural nanomaterials cycle around the Earth by the hundreds of teragrams. (A single teragram weighs 1 billion kilograms, which is equivalent to 1 million tons.)
Incidental nanomaterials—just what is introduced to the Earth's atmosphere—likely occur in amounts up to 10 teragrams per year. Engineered varieties are produced in the range of 0.3 teragrams per year—still plenty, compared to no engineered nanomaterials just a few lifetimes ago.
Coauthor and PNNL Laboratory Fellow B. Peter McGrail, an advanced energy systems researcher, did the calculations outlining the "splits," or comparative differences, of nanoparticle emissions.
To put the origins of those amounts in perspective, he said, "our global energy system, and in particular the use of fossil fuels for power generation and transportation, account for a large fraction of the incidental nanoparticles discharged annually into the environment."
The authors see their study as a way of accounting for both the benefits and the risks of nanomaterials, including bioaccumulation in food chains, disrupted microenvironments, and the threat of diverse and acute human diseases.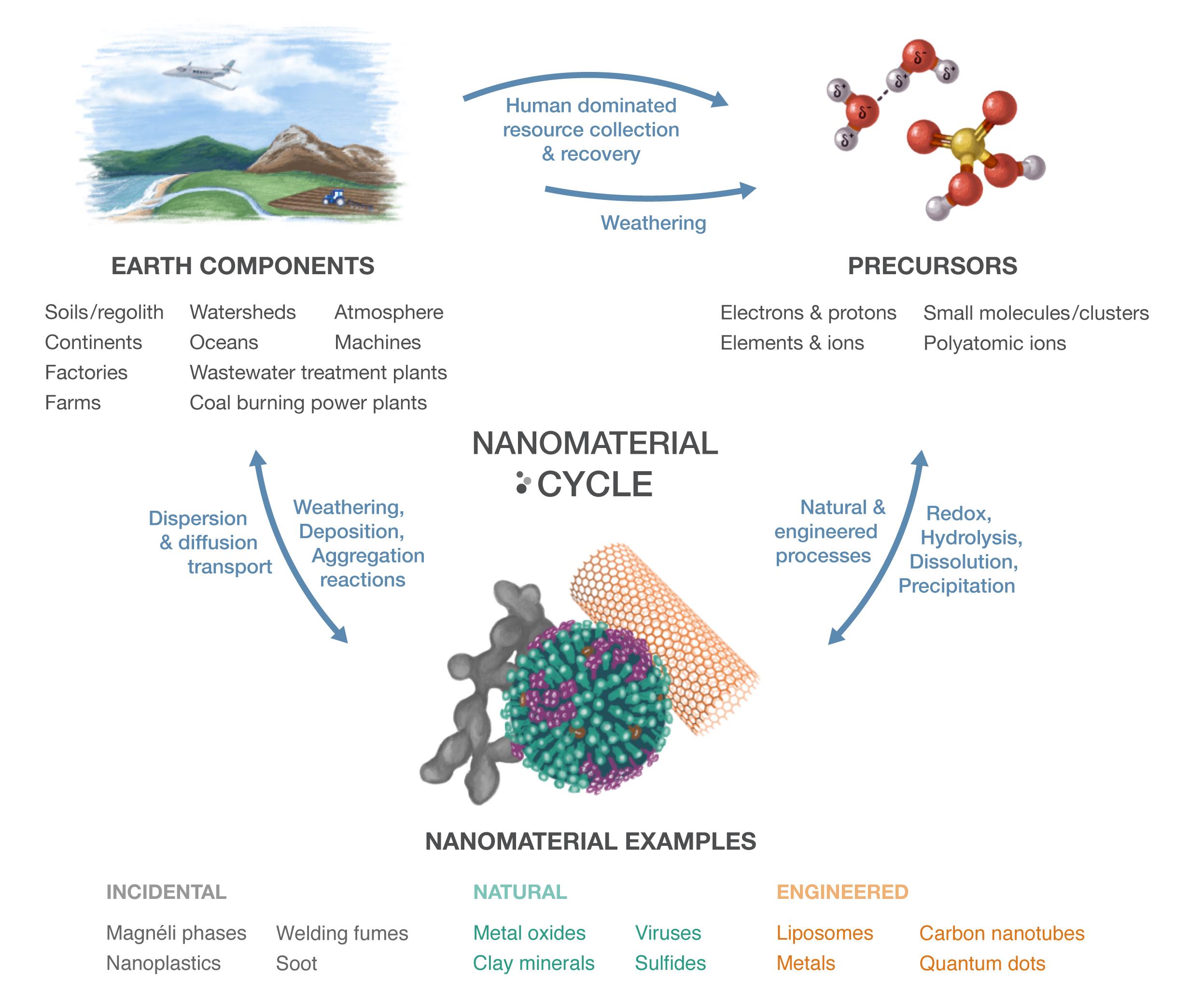 For Earth, Adding a New Cycle
Nanomaterials at the scale of Earth systems are so little understood and so consequential, the authors say, that it is time to consider an addition to traditional studies and models of the Earth's rock, water, and chemical cycles.
"Earth also has a nanomaterial cycle, which also helps explain how the planet works," said Hochella.
That nanomaterials cycle also includes basic precursor materials like electrons, molecules, elements, and ions.
Nanomaterials of all kinds disperse, diffuse, and weather. They cycle back to the planet's natural reservoirs (oceans, watersheds, soils), as well as to modern Earth components like power plants, farms, and factories.
Converging Disciplines, Intelligent Models
Nanomaterials are abundant and complex. They can be both beneficial and dire. Studying them, the authors say, requires collaborative forms of investigation that combine the physical and biological sciences with engineering, the social sciences, and even economics.
They urge other scientists to adopt a "convergent approach" to doing nanoscience at the Earth system scale.
"The complexity of understanding the impacts on nanomaterials in the environment required us to integrate perspectives," said coauthor and geochemist Kevin M. Rosso. He helped write the paper's section on the fundamental properties of nanomaterials.
At PNNL, that diversity of views included a molecular geochemistry perspective from the foundational physical sciences, said Rosso, as well as "the field-relevant geochemical and industrial process perspective" of the applied energy and environmental sciences.
The time is right for this multidisciplinary approach, the paper's authors say. Computing power, conceptual models, and analytical techniques (including electron microscopy) are advancing fast. A convergence of disciplines can combine with these research improvements to create what the paper calls "all types of intelligent and anticipatory conceptual models."
Rosso, a PNNL laboratory fellow, also led the writing effort for the paper's section on advanced computing. It held that improvements in combined theory, simulation, and measurement powers (aided by supercomputing) can help explore nanomaterial properties.
For one, advanced computing can improve predictions of nanomaterial aggregation behavior—"a critical emergent research frontier," Rosso wrote.
The study's authors foresee a time when scientists recognize the roles and impacts of nanomaterials—those that are natural and ancient (clay minerals or metal oxides, for instance) and those that are incidental and engineered.
Co-authors also included PNNL's soil scientist and geochemist Nikolla P. Qafoku and Virginia Tech Professor Mitsuhiro Murayama, a materials scientist and electron microscopy expert with a joint appointment at PNNL.