December 31, 2017
Staff Accomplishment
Jud Virden "Building" Interest with Congressional Committee
Senators hear from PNNL about opportunities and challenges to make buildings more energy-efficient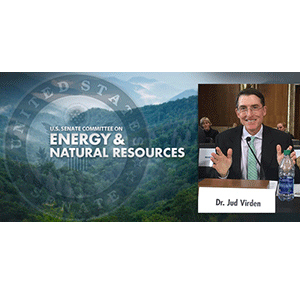 Future energy-control systems in buildings must be low-cost, turn-key, interoperable, and cyber-secure. To achieve those goals, the nation must continue to close gaps in specific science and technology areas.
This was a key message that Jud Virden, PNNL's Associate Laboratory Director for Energy & Environment, delivered to members of Congress on October 31 in Washington, D.C. The U.S. Senate Committee on Energy and Natural Resources invited his testimony at a hearing to examine new efficiency opportunities from advanced building management and control systems.
Supply and Demand
Virden spoke about the importance of energy-efficient buildings to the U.S. economy. The nation's homes and commercial buildings use nearly 75 percent of all U.S. electricity, but 85 percent of commercial buildings do not have automated control systems, he said. If they did, the nation could save 30 percent of that energy. Managing peak energy loads would also increase the reliability and resiliency of the grid at times of peak demand.
How do you achieve this? The goal is to control and optimize each energy-consuming system in every building, such as space heating and cooling, lighting, refrigeration, and equipment operation. You can do this by applying new technologies like low-cost sensing and measurement devices, information technology, and the Internet of Things.
By referring to specific examples of PNNL collaborative experiments in real-world buildings, Virden highlighted new opportunities for reducing peak energy consumption in buildings. As one example, he held up a lipstick-sized Raspberry Pi on which PNNL's VOLTTRON™

 open-source software was installed. Comparing it with the Uber app that uses surge pricing at high-demand times, he explained how a building could optimize its energy use based on the cost and value of grid energy at a particular time.
Mind the Gaps
Virden closed by naming three crucial gaps that research and development must address to make buildings more energy-efficient. The first: find new ways to analyze huge amounts of data. Second, develop new control theories for complex and dynamic systems. Finally, use public-private collaborations to establish best practices for interoperability and cyber security of smart buildings.
Virden used a vehicle analogy to drive home the vision for buildings. "Our cars already use sophisticated sensors and tremendous computational horsepower, yet are easy to use," he said. "We need to get our building energy systems to that point, where they are automated, turn-key, and self-diagnosing."
Sen. Lisa Murkowski of Alaska chairs the Senate Committee on Energy and Natural Resources. Sen. Maria Cantwell of Washington is the ranking member. Other speakers included Daniel Simmons from DOE's Office of Energy Efficiency and Renewable Energy, Bruno Grunau from the Cold Climate Housing Research Center, Tracy Hawkins West from Southern Company Services, and John Wallace from Emerson Commercial and Residential Solutions.
This is Virden's second time giving Congressional testimony. In 2015, he spoke

 to the U.S. House Subcommittee on Energy about innovations in large-scale energy storage.
See the October 31 webcast

; Virden speaks for 5 minutes beginning at 33:38. See Virden's full written statement

 for the record.
Much of PNNL's work in buildings energy is funded by DOE's Office of Energy Efficiency and Renewable Energy

, Building Technologies Office

.
Published: December 31, 2017
Research topics