May 14, 2018
Staff Accomplishment
Elliott Receives Linneborn Prize for Biomass Research
Only the second recipient from the United States to be honored in the prize's 24-year history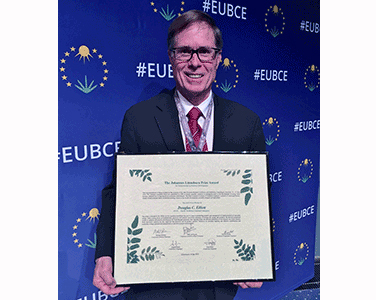 PNNL Fellow Douglas C. Elliott has received the 2018 Linneborn Prize for outstanding, continuous contributions to the development of energy from biomass. He received the award at the 26th European Biomass Conference & Exhibition in Copenhagen, Denmark on May 14, 2018. The Linneborn Prize Committee awards the annual prize, which is named in honor of Johannes Linneborn, a pioneer of wood gasification.
The prestigious Linneborn prize is typically given to Europeans. Elliott is only the second person from the United States to have received the award in the 24-year history of the prize, underscoring his international reputation in biomass development.
He was honored for his 40 years of leadership in advancing the development of fuels and chemicals from biomass and waste. His focus has been on high-pressure batch and continuous-flow processing reactor systems, catalysis systems, and chemical and physical analysis. He has contributed significantly to the advancement of biomass liquefaction and hydroprocessing of product oils, catalytic hydrothermal gasification of wet biomass and wastewaters, and chemicals production from renewable sources.
Elliott formerly represented the United States in International Energy Agency Bioenergy tasks, leading the task on pyrolysis for seven years. He previously received the Presidential Green Chemistry Challenge award for economic conversion of cellulosic biomass to chemicals, as well as three R&D 100 awards and two Federal Laboratory Consortium award for technology transfer.