May 20, 2022
Staff Accomplishment
Congratulations to NNSA Excellence Award Winners
Two teams recognized for work on safe, secure radioactive material shipping
In a virtual ceremony in May, two project teams at Pacific Northwest National Laboratory (PNNL) received National Nuclear Security Administration (NNSA) Office of Safety, Infrastructure, and Operations (NA-50) Excellence Awards for their work in calendar year 2021. The awards recognize the outstanding accomplishments involving innovation, effectiveness, teamwork, overcoming adversity, and enabling future success in (1) completing the design of the Defense Programs Package (DPP)-3 shipping package and submitting the Safety Analysis Report for Packaging (SARP) for formal review, approval, and certification, and (2) developing the transportation system risk assessment (TSRA) for plutonium air transport in support of the national security exemption (NSE). The NSE is essential to meeting the U.S. mission goals and commitments on international collaboration.
Designing a new package for safe and secure shipping
The DPP-3 is a flexible package that will replace the current DT-series packages to ship radioactive materials safely and securely. Although SARP review and approval is just one key milestone in the life cycle of a shipping package, this achievement made sure that the DPP-3 would be available for deployment in time for scheduled shipments. The PNNL project team faced many obstacles in completing the SARP. These included obtaining the needed content for the applicable analyses and balancing competing workload priorities to support the NSE. The project manager was Elizabeth Golovich.
The DPP-3 project team included Harold Adkins, Nate Barrett, Patrick Ferrell (retired), James Fort, Laurie Hay, Brian Hom, Brian Koeppel, Diana Love, Lucas Mackey, Pete Sakalaukus, Tony Savino, Philip Schonewill, Randy Schwarz, Sarah Suffield, Zach Weems, Beric Wells, Daniel Wentz, Emily Wilson, and Colleen Winters (retired).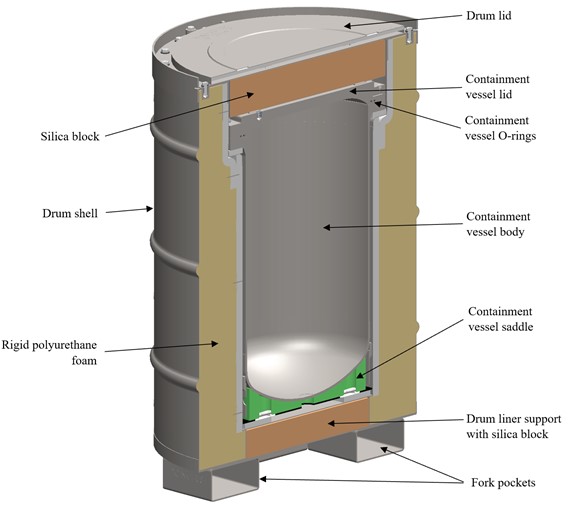 Developing a first-of-a-kind safety basis document
A TSRA is a document that addresses all aspects of a shipping package (structural, thermal, containment, shielding, criticality safety, package operations, maintenance and acceptance tests, quality assurance, and risk analysis). Recent changes to DOE Order 461.1C governing the NSE for transportation of plutonium by air necessitated the development of a new TSRA, and NNSA asked PNNL to take on the task.
Over a span of 17 months, the TSRA team used the existing approved ground transport safety basis document and augmented it to meet the regulations for air transport. The team also conducted a new risk assessment. The resulting first-of-a-kind document was completed ahead of schedule and approved by NNSA. The project manager was Diana Love.
Members of the TSRA team included Harold Adkins, Garill Coles, Brian Collins, James Fort, Laurie Hay, Kriste Henson, Brian Koeppel, Michelle Kubik, Diana Love, Lucas Mackey, Steven Ross, Pete Sakalaukus, Tony Savino, Steven Short, Zach Weems, Emily Wilson, and Travis Zipperer.
Team of experts work both projects
The DPP-3 and TSRA projects were conducted concurrently and a number of subject matter experts worked on both teams. "The projects' accomplishments and the awards that recognize them show how well these individual researchers work together on different teams to achieve significant outcomes. These achievements were realized despite the work restrictions imposed by the pandemic," said Elizabeth Golovich, DPP-3 project manager.
Read more about the DPP-3 accomplishments and previous Awards of Excellence received by these team members.