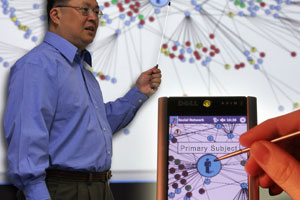 Global terrorism, increased opposition to U.S. interests, greater global pursuit of nuclear power and increased access by adversaries to sophisticated technologies and materials are creating more dynamic and complex threats to national and homeland security.
To address this challenge, PNNL is providing science, technology and leadership to:
predict, prevent and mitigate acts of terrorism through predictive analysis
counter threats posed by the global expansion of nuclear energy and legacy WMD materials
detect the production, characteristics and movement of weapons of mass destruction and effect
respond more rapidly and effectively to events of mass effect.
Awareness and Warning
PNNL has developed predictive analysis tools to enable analysts to derive actionable intelligence from massive, diverse information streams. Multiple federal agencies share common needs for new solutions in this particular area. PNNL's science base is well recognized for providing solutions in information analytics, and is an international leader in visual analytics. PNNL's efforts are focused on next-generation technologies that leverage staff's expertise in human behavior sciences, applied mathematics and information analytics. These advanced technologies address the growing need for communication across jurisdictions and agencies, earlier and more accurate understanding of massive amounts of data, and information that enables decision making. For example:
National Visualization and Analytics Center (NVAC)
NVAC is a Department of Homeland Security resource stewarded by PNNL that provides strategic leadership and coordination for development of next-generation visual analytic technology and tools. The NVAC book, Illuminating the Path: The Research and Development Agenda for Visual Analytics, has had national and international impact in setting the agenda for visual analytics. The center is collaborating with other government agencies, industry and academia to develop, evaluate and deploy new tools for improved prediction and assessment of threats.
Information Analysis
PNNL's 15-year history in creating innovative information analysis tools includes two cornerstone technologies that have been deployed with government agencies and industry—IN-SPIRE™ and Starlight. These tools enable analysts to manage massive amounts of data in various formats, such as unstructured and structured data, and easily query and view relationships among the data.
Sensor-Information Fusion and Triage (SIFT)
PNNL has developed a new software platform for information and knowledge management called SIFT, a new analytical method using both statistical and structural signatures for understanding patterns in complex transactions, new ontological methods of fusing image and text signatures, and a totally new approach to generating synthetic threat data streams.
Cyber security:
PNNL supports clients with traditional development and operational issues related to cyber security through state-of-the-art technology development.PNNL has developed a variety of technologies for improving cyber security, beginning with a system similar to a flight simulator that is being used to train new computer scientists. The "flight simulator" allows systems administrators to experience cyber security attacks in different environments and take actions to effectively mitigate the attacks. In another effort to influence cyber security education, PNNL researchers are providing curriculum guidance to universities so that future graduates know how to produce the most secure software possible. Our technologies can characterize Internet transactions and information to identify potential threats, analyze web sites for operational security concerns, and assess vulnerabilities in the energy industry controls systems.
Nonproliferation
More countries are pursuing nuclear power to ensure the security of their energy needs. This global expansion of nuclear energy, however, comes with increased risk of nuclear proliferation and terrorism as more materials are available. PNNL's science, technologies, policy, and economic analyses are addressing these emerging risks. Our staff are the developing proliferation-resistant nuclear energy systems that would be part of a larger nonproliferation regime. PNNL's 40-year Hanford heritage has enabled it to develop a strong foundation in actinide separations science, the nuclear fuel cycle, international safeguards & export control, nonproliferation technology, and nuclear fuels and materials. Our goals are to help develop and deploy U.S. government policy; support programmatic decisions on new technologies and their deployment; prevent acquisition of nuclear material and information by those who are unauthorized; and enable U.S. industrial competitiveness. For example:
Proliferation-Resistant Fuel Design Research
PNNL is currently conducting research into new proliferation-resistant fuel designs for small nuclear power reactors, which will lead to products that can be deployed under the Global Nuclear Energy Partnership's small reactor program. These innovative reactors will offer clean, secure energy capable of meeting the needs of developing countries that have limited infrastructure.
Managing, securing and accounting of radiological and nuclear materials
PNNL's strong history of radiological science expertise positions it to support international efforts to secure nuclear material, improve accounting of that material, and developing advanced systems and programs to detect materials being smuggled or hidden.
Detection and Characterization
PNNL is creating and delivering next-generation, science-based threat detection and characterization solutions related to explosive, biological, chemical and radiological/nuclear materials for the purpose of detecting, assessing, preventing and deterring movement of weapons of mass effect. PNNL has a heritage and expertise in radiological and nuclear science, a broad fundamental science base and advanced computational science expertise it leverages for detection.
Detector and Sensor Advancements
PNNL has achieved significant scientific detection and sensor advancements, ranging from fundamental science advancements such as the first-ever immobilization of active enzymes on carbon nanotubes for high-sensitivity detection of nerve agent chemicals to field-deployable systems for enhanced detection of toxins.
Radiation Detection Material Discovery
We are investing in applying fundamental science to develop and demonstrate new approaches for the discovery and development of useful new radiation materials. Through this initiative, PNNL staff are working to understand the process of signal generation in radiation detection media, developing new tools and methods for performance characterization, and working to develop and apply material informatics for the problem of material discovery.
Event Planning and Response
PNNL understands the value of engaging end users early in the development process to ensure that new technologies address the technical needs and field challenges facing emergency responders. The Laboratory is focused on developing and deploying technologies that support field data collection, information analysis, and decision making. These tools would provide uniform and rapid situational awareness at all levels, thus enabling effective response following a mass effect event. We provide the technical expertise and operational experience to help communities understand threats, how to mitigate or prepare for them, and what processes and tools would be required for effective and rapid response. These technologies and assessments can benefit emergency responders and their communities on a daily basis and in cases of manmade or natural disasters.
Decision Support Tools
Emergency planners and responders are using technologies developed by PNNL staff for decision support situations related to accidents or large natural or manmade disasters. One such tool - EMAdvantage© - provides situational planning and response capabilities for a large multi-user environment, including enabling real time access to information by hospitals, the Emergency Operations Center and those in the field. WebOSB™ provides operational status boards that allow for sharing highly dynamic information between multiple users and jurisdictions. And the Rapid Risk Assessment tool translates incident information into actionable recommendations that are understandable and can be executed in an operational environment. These decision support tools provide emergency planners and responders with the information they need to make real-time decisions in a rapidly changing environment.
Standards Development and Instrument Testing
PNNL staff are developing standards and conducting evaluations for radiation detection equipment to ensure that emergency responders have the most reliable and appropriate systems. Equipment needs vary according to operational environments, climate and application. PNNL's team leads a national effort to provide emergency responders with a Consumer Reports-style document that contains performance data on pocket-sized personal radiation detectors and hand-held radiation survey meters. These evaluations were conducted in PNNL's Radiological Standards & Calibration Laboratory, a unique facility accredited for radiological calibrations.
Regional Technology Integration Initiative
With leadership in Seattle and the greater Cincinnati region, PNNL worked closely with emergency responders and local government entities to assess the cities' technology needs and how best to acquire and quickly transfer them to the field. The assessments included tools required for responding to natural and manmade threats and attacks on transportation, critical infrastructure, communications, and public health.