Computing Science Education
Students with computing skills
are in high demand
While PNNL is dedicated to increasing and diversifying the STEM workforce, the Office of STEM Education (OSE) also emphasizes learning opportunities for students to develop their computer science skills. Students need a basic level of computer science skills and understanding of concepts—regardless of the career pathway they take. For example, while PNNL employs many computer scientists and cybersecurity specialists, careers in all areas of science and beyond increasingly require computing skills. The demand for computing-literate workers is rapidly growing and underpins PNNL's work and our efforts in STEM education.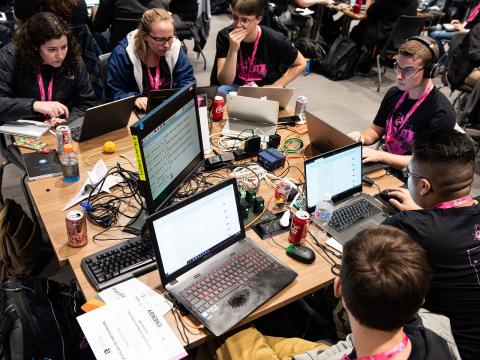 Access to quality computer science education is still limited or absent from many K-12 schools. OSE aims to change that by providing teacher training and extracurricular student programs in computer science. This includes career-focused learning experiences for students, as well as content workshops and professional development for educators. Our efforts build on PNNL's university and community partnerships that increase the opportunities for, and caliber of, computer science education in local, state, and regional institutions.
Through partnerships with middle and high schools, universities, and colleges, OSE works on a number of initiatives to support computer science education. Our staff collaborates with colleges and universities in two different ways—through offering summer cybersecurity camps for students and by serving as trusted advisors to help our partners evaluate how best to include computer science in university teacher preparation programs.
We work directly with teachers and their schools to assure they implement computer science education in alignment with the Washington State Computer Science K–12 Learning Standards. Workshops for middle-to-high-school teachers help develop their understanding of computational thinking, computing skills and concepts, and data visualization. Teachers also learn to creatively integrate these topics with other content areas.
OSE collaborates with PNNL's software engineers, data scientists, and cybersecurity specialists to host tours and workshops for undergraduate student interns where they learn computing skills for research and about cutting-edge computer science topics, such as deep learning, data visualization, and statistical computing. Many of these researchers work closely with our STEM education specialists to develop computing programs and host computer-science-focused competitions.
Computing programs and competitions
PNNL's Virtual Reality for Computer Science program helps teachers integrate meaningful computer science education strategies and technologies into their classrooms through hands-on workshops with STEM professionals. This firsthand experience for teachers helps increase opportunities for all students to gain knowledge and skills in computing and virtual reality (VR) platforms. VR, when used as a teaching resource, provides students and teachers with an immersive learning experience. To date, OSE has collaborated with PNNL's Visual Analytics team to develop two VR apps—Network Collapse and Locating Luna.
PNNL's interactive, award-winning Network Collapse app helps students in grades 6–12 learn about information networks, especially how information is transmitted and protected on networks. Players take on the role of a router and eventually must recognize a cyberattack and select the best tool to protect their network. The Network Collapse Teacher's Guide offers creative ideas on how to use the app in the classroom. The app is aligned with computer science standards that target how networks function, physical and digital security for electronic information, and the relationships between routers, switches, and more. Network Collapse can be downloaded at no cost from the Oculus Go Store.
PNNL's engaging Locating Luna app helps students learn about computing analytics adventures as they search for their dog Luna, who is lost in the swamp. Players navigate the swamp, light torches, and call out to Luna using a headset microphone. Actions are saved in a log file. Logs can be analyzed for metrics to understand where players went, how long it took to find Luna, and other informative data. The app was specifically designed to align with computer science standards targeting data visualization concepts. The Locating Luna app can be downloaded at no cost at the Oculus Go Store.
CyberForce Competition is a fun, real-world, scenario-based contest for college and university teams to test their "mad" cybersecurity skills by protecting and defending an industrial control system and its associated corporate network infrastructure. PNNL hosts this U.S. Department of Energy competition, which encourages innovative defense strategies and techniques in safeguarding cyber assets. Teams are scored on their out-of-the-box ideas and defenses. The competitors' creative defenses stem from real-world limitations provided in the scenario, such as no budget.