Solid phase processing recognized
for superior manufacturing and products
Leaders in industry, government, and R&D are taking notice of solid phase processing (SPP). They've conveyed multiple awards on the revolutionary manufacturing advances and the superior metal alloys and components made possible by SPP, using techniques and tools developed at Pacific Northwest National Laboratory (PNNL).
R&D 100 Awards
PNNL has been honored with two R&D 100 Awards for SPP technologies over the past decade. The R&D 100 Awards are given to the top 100 most innovative technological breakthroughs in the world, each year. ShAPETM won an R&D 100 Award in 2020 and the friction stir scribe technology received an R&D 100 Award in 2017.
PNNL's Shear Assisted Processing and Extrusion, or ShAPETM, technology uses a combination of linear and rotational shear forces to produce extruded products like tubes, wires, and bars, that have significantly improved properties while dramatically reducing energy consumption and manufacturing costs. Metal powders and flakes can be directly extruded, reducing the multiple, costly and time-consuming steps required by conventional approaches. Cast ingots in the unhomogenized condition can also be used as feedstock materials, which is not possible with standard extrusion.
Friction stir scribe is the first technology that makes it possible to join materials with drastically different melting points in a continuous, linear, or curved manner without needing additional adhesives, bolts, and rivets. Conventional processes, such as welding, can't join dissimilar materials with different melting points without sacrificing strength, durability, or safety. Using the PNNL-developed scribe tool, manufacturers can now incorporate new and different materials into a variety of strong, lightweight parts, such as sub-frames for the engine chassis—reducing fuel consumption without sacrificing strength or durability.
A green award
The ShAPE technology also received the Association of Washington Business Green Manufacturing Award in 2021. Among other factors, Association of Washington Business considered energy efficiency maximization, waste minimization, and reduced carbon emissions in production processes.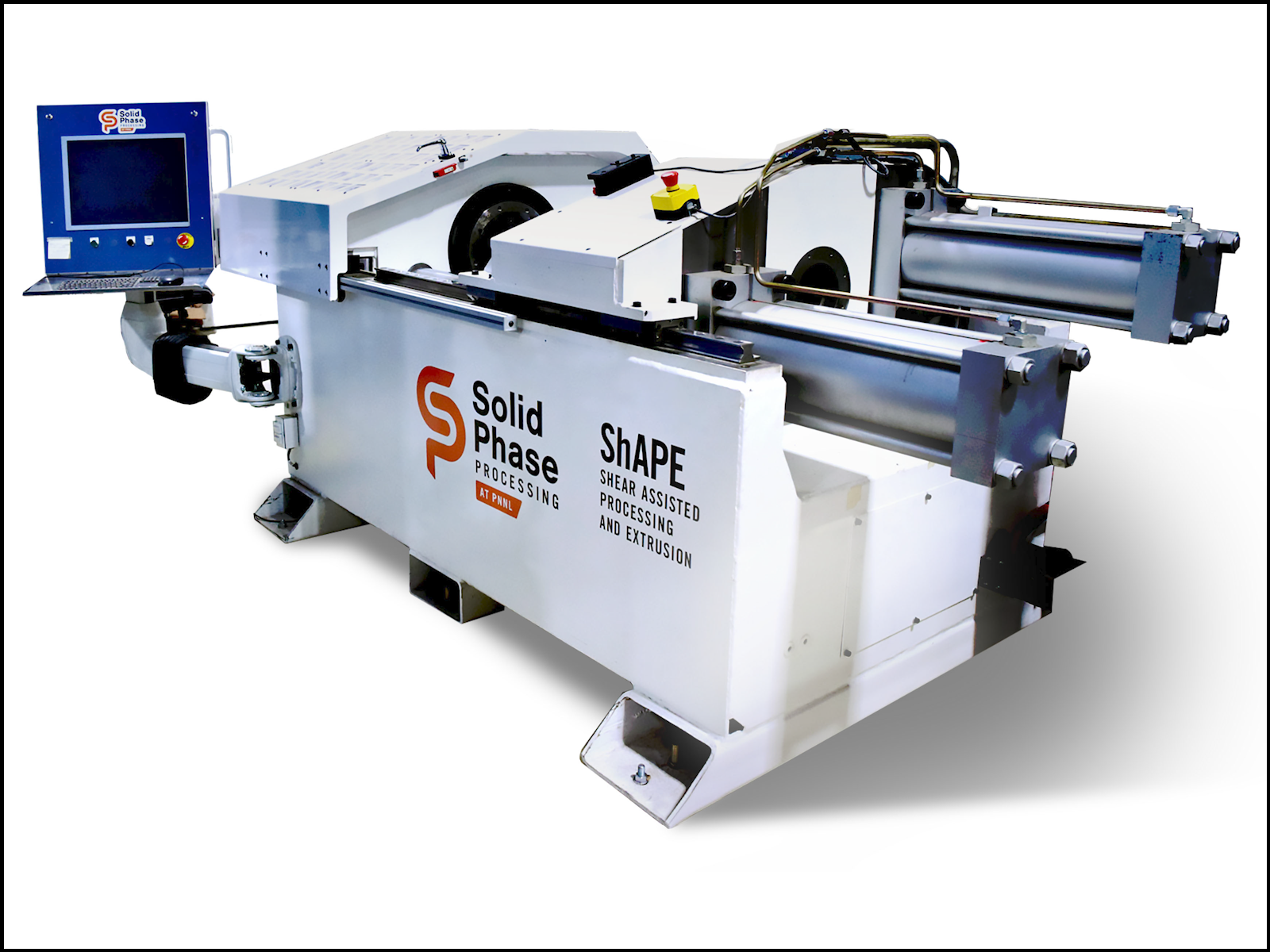 The ShAPE technology is so promising for clean energy innovation the Washington State Department of Commerce awarded PNNL more than $900,000 to develop a next-generation ShAPE machine with significantly more torque for researching advanced manufacturing of lightweight materials.
PNNL developed the technology and a first-of-its kind ShAPE machine with support from the Department of Energy—specifically the Office of Energy Efficiency and Renewable Energy's Advanced Manufacturing and Vehicle Technologies Offices, which are contributing $1.3M for R&D for the new ShAPE machine.